14 Things You Might Not Know About Sephora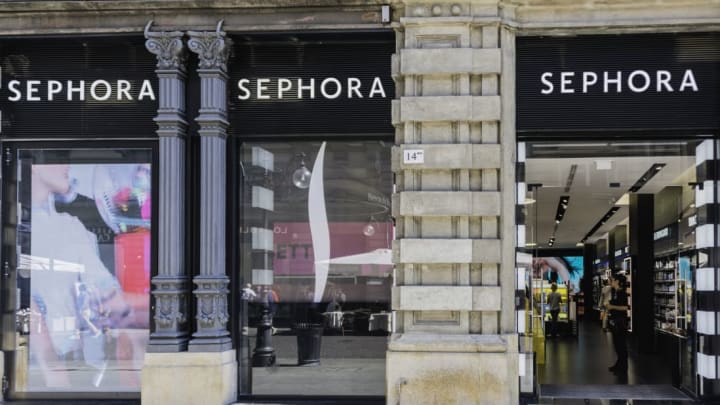 iStock/RiverNorthPhotography / iStock/RiverNorthPhotography
It's the store that's all about that face … and nails, and skin. Makeup mecca Sephora was first born as a perfumery in 1969. French business owner Dominique Mandonnaud wanted to remove fragrances from behind the counter and allow customers to touch, smell, and spritz on the scents. Three-plus decades later, the cosmetics juggernaut—which is currently in the news for shutting down its stores for an hour today (June 5) to host diversity and inclusivity workshops for all of its 16,000 employees—employs the same client-first philosophy. (Did you know you could get a free 15-minute makeup service at any location?) Try on these other facts.
1. BEAUTY IS (SORT OF) IN THE NAME.
The official line is that Sephora originates from the Greek word sephos (which the company claims means "beauty") and the name Zipporah—she was Moses' exceptionally pretty wife in the Book of Exodus. Not everyone buys this explanation, however, noting that "sephos" is nothing like the ancient Greek word for "beauty" or "beautiful."
2. IT'S A TOURIST DESTINATION.
iStock/serts
Approximately 6 million cosmetics-seekers stroll through the company's Parisian flagship store on the Champs-Élysées every year. That's almost as many annual visitors as the Eiffel Tower receives.
3. CHANGED YOUR MIND ABOUT A PRODUCT? THAT'S COOL!
Stores will take back makeup—even opened products!—within 60 days of purchase. Employees admit it's often heartbreaking for them to have to trash barely-used makeup.
4. SHOPPERS CAN SCORE TONS OF PERKS …
Along with complimentary mini makeovers, stores offer a 45-minute session when customers spend $50, and a 90-minute consultation (it includes a makeover and personal shopping session) when they shell out $125. The company's (free) Beauty Insider program also has its benefits. Signing up means you can attend any beauty class gratis and each dollar you spend nets you a point that you can use towards fun gifts. (In some cases, they'll even let you go into a negative points balance to score the product.)
The company also tracks your purchases to give you recommendations for other products. (Bridget Dolan, VP of Interactive Media, told Forbes that 80 percent of their transactions "run through our loyalty program.")  Spending $350 a year catapults you to VIB (Very Important Beauty Insider) status and gains you access to private shopping events and first dibs on new products. Shell out $1,000 annually and you get Rouge Status—that means free two-day shipping on all orders, unlimited in-store makeovers, and invites to chic store events. At one, VIBs got the chance to meet Jennifer Aniston!
5. … AND MORE SAMPLES THAN THEY KNOW WHAT TO DO WITH.
Sephora employees are told that customers shouldn't leave without new products to try. That means you can get a trial size of just about every product they carry. (Most makeup products can be tested in-store and they'll pour any liquid product, such as a night cream or fragrance, into a sample-size vial.) The general rule, say employees, is that customers are entitled to three samples each trip. Shopping online? Each purchase comes with a choice of three freebies. And while the store rarely has sales, you can score big at the site's Beauty Deals section.
6. GETTING A SPECIFIC PRODUCT RECOMMENDATION CAN BE TRICKY.
Employees aren't allowed to refer shoppers to particular brands. So instead of asking for their favorite lip shade, it's smarter to ask which lip products perform the best. (Translation: What are other shoppers buying and not returning?)
7. NEED THE PERFECT FOUNDATION? THEY HAVE AN APP FOR THAT.
Okay, well, it's a device. The handheld Color IQ scans the surface of your skin and then finds the scientifically precise foundation—there are 1,500 options—for your visage. To create the library, the Pantone Color Institute researched and mapped out 110 different skin tones.  
8. THEY HAVE THEIR OWN LANGUAGE.
iStock/wdstock
Each store is divided into three distinct "worlds": fragrance, skincare and color. In a 2008 interview with Jezebel, one employee spilled on the lingo. The sales floor is known as the "stage" (which makes everything else "backstage"), employees are called "cast members," and managers are dubbed "directors." As for the required all-black outfits, they're not uniforms, they're "costumes."
9. EMPLOYEES REALLY ARE BEAUTY EXPERTS …
Some cast members undergo a month of intensive, all-day training at the company's beauty school, Science of Sephora. There, according to the company's website, they learn about "skin physiology, the history of makeup, application techniques, the science of creating fragrances, and most importantly, how to interact with Sephora's diverse clientele."
10. … AND THEIR MEDICINE CABINETS ARE STOCKED.
iStock/arinahabich
Employees have said working at Sephora means constantly receiving new products from companies to try out. A particularly good sales day can also net a salesperson a "gratis ticket" from their manager. Plus, there's the 20 percent employee discount that jumps up to 30 percent during the holiday season.
11. LOOKING GOOD IS A REQUIREMENT.
Part of the employee handbook: thou shall embrace eyeliner. Cast members are told to wear a certain amount of makeup while working.
12. THEY'RE WARY OF RESALE.
One cast member says they limit people from buying more than six identical items (unless they offer a good reason, such as bridal party gifts). Explains the employee, "This is to discourage people reselling our products at their own establishments."
13. UNPOPULAR PRODUCTS USUALLY GET THE BOOT.
Stores keep lists of the products that get returned most often, and the products that don't work are phased out over time. While it's hard to nail down an official list of frequently-returned goods, individual employees will occasionally open up about the company's most loathed and/or most misunderstood makeup.
14. SEPHORA'S APPEAL IS WIDE.
Susan Sontag / JENS-ULRICH KOCH/AFP/Getty Images
In 2014, the L.A. Review of Books dug through the contents of a Power Mac G4 once owned by Susan Sontag and discovered the famed author was on Sephora's Beauty Insider mailing list.
A version of this article first ran in 2015. It was updated in 2019.