25 Things You Should Know About Denver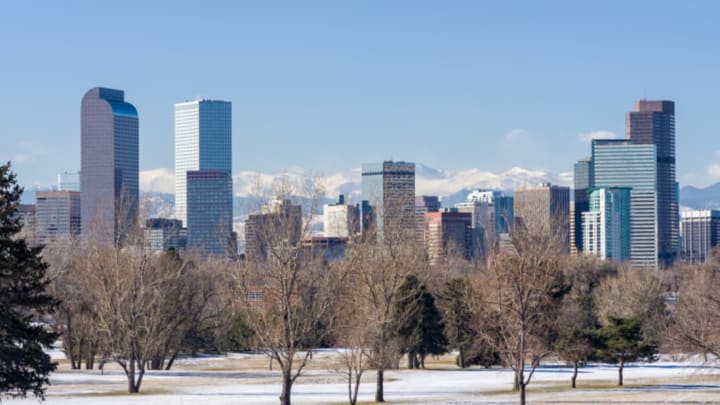 iStock / iStock
Situated at the foot of the Rocky Mountains, Denver is known for sweeping views and for its wide array of outdoor activities. But before all that pristine living, it was a rough-and-rowdy mining town where gangsters called the shots and land claims were won and lost at the poker table. Here, we examine the Mile High City's turbulent past, its rapid growth, and why so many residents are feeling that Rocky Mountain high.
1. It's named after former Kansas Territory governor James Denver, in an effort by early settler William Larimer to curry favor with the powerful politician. Too bad the governor had already retired by the time Larimer bestowed the name.
2. As a result of a snatch-and-grab claims process by miners flooding the area during the Pike's Peak gold rush, the city was initially a hodgepodge of different towns and camps. During a meeting in 1859, all parties agreed to unify under the name Denver in return for a shared barrel of whiskey, courtesy of Larimer. Now that's civic politics.
Denver in 1859 // Wikimedia Commons // Public Domain

3. 
After builders of the Transcontinental Railroad announced they would bypass Denver and run tracks through Cheyenne, Wyoming instead, Denver residents raised $300,000 and built their own connection to the line.
4. A gangster named Soapy Smith used to run the town. Originally from Georgia, Smith (whose real name was Jefferson Randolph Smith) was a con man who specialized in rigged poker games, fake lotteries, and a special "soap prize" swindle that involved duping customers into buying $5 bars of soap, thinking one of the packages contained a $100 bill. He owned several saloons and gambling halls in Denver, including the famously violent Tivoli Club at the corner of Market and 17th Street, and gained enough power to sway local elections. He eventually moved on to Skagway, Alaska, where a posse killed him in a shootout on the Juneau Wharf.
5. A sharp decline in silver prices caused a deep economic depression that began in 1893 and lasted for several years. A famous story from the time goes that a bartender shot and killed a patron who couldn't pay five cents for his beer.
6. In 1902, Denver's Union Station instituted a "no kissing" rule to keep PDA-happy couples from slowing down train service.
7. The city's capitol building might just be the most valuable of any in the nation. Its dome is made out of 24-karat gold, and much of the interior contains the only known quantity of Colorado Rose Onyx, also known as Beulah Red Marble.
iStock

8. 
And speaking of the capitol building, the 13th step leading up to it sits exactly 5,280 feet above sea level—one mile high.
9. Denver residents turned down the 1976 Winter Olympics after winning the bid in 1970, fearing the Games would be too expensive and environmentally damaging. Voters rejected a $5 million public funding initiative in 1972 by a 60-40 margin, leaving the International Olympic Committee scrambling to find a new venue (Innsbruck, Austria, which had hosted in 1964, eventually stepped in). Denver remains the only city to ever reject an Olympics bid after being selected.
10. In addition to more than 200 parks within city limits, Denver also operates 14,000 acres of parkland in the Rocky Mountain foothills. This includes Summit Lake, the highest city park in the country, and the Winter Park Ski Resort more than 60 miles away.
11. Louis Ballast, owner of Denver's Humpty-Dumpty Drive-In, may not have been the first person to slap cheese on top of a hamburger, but in 1934 he became the first to trademark the name "cheeseburger." Smart man. Apparently he tried peanut butter and Hershey bars before finally giving dairy a try.
iStock

12.
Despite its altitude and proximity to the Rocky Mountains, Denver is actually located on the High Plains. It's a relatively flat city, with just over 300 feet separating its highest from its lowest point.
13. It's the least populous city in the nation to have four major professional sports teams: the Broncos, the Nuggets, the Avalanche, and the Rockies. Fans of Major League Soccer's Colorado Rapids would also like to point out they're pretty legit, too.  
14. The Brown Palace Hotel and Spa, built in 1892, has hosted presidents, world leaders and celebrities. It was also the site of a 1911 double murder that captivated the nation and involved rival lovers of a wealthy local politician's wife.
David Shankbone // Flickr // CC BY 2.0
Every year since 1984, Denver has hosted the Great American Beer Festival. Festival goers can sample more than 3000 different brews—not that they should, because they'll also get drunk faster at the higher altitude.
16. At 26.8 miles, Colfax Avenue is one of the longest continuous streets in the nation. Its high crime rate and collection of dive bars and strip clubs have also made it one of the most notorious—Playboy called it "the longest, wickedest street in America.".  
17. There's an imposing statue of a blue mustang out by the airport—locals know it as "Blucifer"—that's said to be cursed. The artist, Luis Jimenez, died after a piece of the 9000-pound sculpture broke off and hit him in the leg, severing an artery.
YouTube

18.
Nearly three years after Colorado legalized recreational marijuana use, Denver residents are proud to report that the sky has not fallen. There are more than 100 retail stores bringing in millions of dollars in sales. The Denver Post even has its own special section, "The Cannabist," featuring the latest in pot news, reviews and recipes.
19. It's one of the sunniest cities in the country, averaging 300 days of sunshine each year.
20. The Denver Mint opened in 1863 as an assay office where miners could bring their gold to be melted and cast into bars. In 1906, the U.S. government expanded the facility, and today it mints upwards of 50 million coins a day.
21. In 1988, city voters agreed to a 1 percent sales tax that would go towards arts and cultural institutions like the zoo, the botanical gardens and the Denver Art Museum. Nearly thirty years later, the Scientific and Cultural Facilities Tax has made Denver one of the most generously funded arts cities in the nation.
22. Elvis once flew there just for a sandwich. But not just any sandwich—the "Fool's Gold Loaf," a sourdough roll stuffed with a pound of peanut butter, a pound of blueberry jam and a pound of bacon. It was a house specialty at the Colorado Mine Company, where The King first had it after a performance. He liked it so much that when he got a craving one day, he took his private jet from Memphis to Denver and had a bulk order delivered to the plane.
23. Red Rocks, the famous concert venue built by nature, has been hosting shows for more than a century. The first, in 1906, featured a 25-piece brass band assembled by former Cosmopolitan publisher John Brisben Walker. Back then, Walker called the sandstone ampitheater "The Garden of the Titans."
iStock

24.
Denverites are some of the healthiest people in the country, with 61% listed as being in "excellent or very good" physical health. Researchers point to the city's year-round sports and activities culture, though it could also have something to do with that mile-high air.
25. It's one of the fastest growing cities in the country, with a population that's more than doubled since 1960. It's also the top city for job prospects and business growth, according to Forbes.