5 Of The Most Amazing Items Ringo Starr Put Up For Auction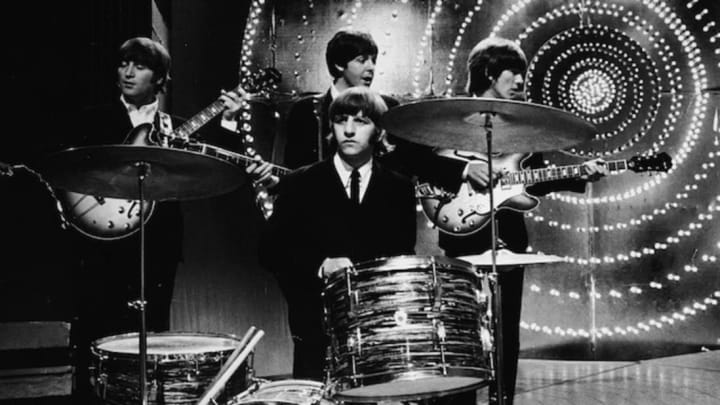 Getty Images / Getty Images
While sorting through his various storage units around the world in preparation for an exhibit at the Grammy Museum in Los Angeles a few years ago, Ringo Starr realized something. "We have so much stuff and a lot of it we haven't seen in 20 to 30 years," he told the Associated Press. "We thought, 'What are we going to do with all this stuff?'" Add to that the fact that Starr and his wife of 34 years, Barbara Bach, were selling their country house in England and closing their apartment in Monte Carlo, and the rock-royalty couple found themselves with too much history and nowhere to put it all.
So they decided to auction off a lot of it. Over 800 items—including musical instruments, career memorabilia, personal effects, valuable antiques, and fine jewelry—will be available for purchase in-person or live online from Julien's Auctions in Beverly Hills, Calif. on December 4and 5. It will be the first time one of the Beatles has ever auctioned off any of their personal property.
Starr and Bach, who married in 1981 after meeting on the set of Caveman, had a difficult time parting with many of the historically and personally significant items. Bach told the AP that they found themselves taking things off the auction list. "But then we'd say, 'Where are we going to put it' and realized it would have to go back in storage, so we said, 'OK, let's put it back in the auction.'"
Ultimately, they decided the items would be better off in the homes of fans, with a portion of the proceeds dedicated to the Lotus Foundation. "We're fed up with having the stuff in storage when it could be put to some good use and also give a lot of people joy," Starr, 75, said. Check out some of the most notable items below.
1. 1963 LUDWIG OYSTER BLACK PEARL THREE-PIECE DRUM SET
There are seven different drum sets used by Starr throughout his life up for auction. Some of the stand-outs include a custom-built Jumbo Silver Sparkle kit that was used in the Beatles' "Hello Goodbye" promotional video and a set commissioned by George Harrison for Starr based on a drum kit used by Hal Blaine. But by far the most significant drum set up for auction is the 1963 Ludwig Oyster used by Starr in more than 200 performances by the Beatles between May 1963 and February 1964. Starr played on this very three-piece kit for the recordings of many early Beatles hits such as "Can't Buy Me Love," "She Loves You," "All My Loving," "I Want to Hold Your Hand," "Money," and "I Wanna Be Your Man." Additionally, it was used in Paul McCartney's first solo album after the band broke up. The iconic kit, which hasn't been seen in public for over 50 years, is expected to sell for close to half a million dollars.
2. A SILVER JACKET FROM HIS INAUGURAL TOUR WITH THE ALL-STARR BAND
Since 1989, Starr has been touring with a rotating cast of notable musicians playing Beatles hits and solo work under the name Ringo Starr and His All-Starr Band. For the All-Starrs' inaugural tour in '89, he wore this Richard Tyler-designed star-studded silver jacket (far right, above) in Toronto, which will be available for purchase. Other outfits on the auction block include the tux Starr wore when he was inducted into the Rock and Roll Hall of Fame as one of the Beatles in 1988, as well as the gown that Bach wore to that induction ceremony.
3. A 1964 ROSE-MORRIS RICKENBACKER
This 1964 Rose-Morris Rickenbacker with a fire-glo sunburst originally belonged to John Lennon, who played it in his home studio and in the Beatles' 1964 and 1965 Christmas shows. In 1968, Lennon gifted the guitar—which was known as the "Beatle-Backer"—to Starr while they were recording The White Album. The doubly significant instrument is expected to fetch between $600,000 and $800,000, although it's not the only item up for auction owned by more than one member of the iconic band. A Gretsch guitar gifted to Starr by George Harrison is expected to sell for $100,000–$200,000, and a 2000 Mercedes Coup that was only ever owned by Harrison and later Starr should go for $60,000–$80,000.
4. AN OMEGA WATCH FROM KEITH MOON
Starr and The Who drummer Keith Moon were well known for their close, affable friendship. Starr's son Zak Starkey, who was both Moon's godson and eventual, unofficial replacement as drummer in The Who, described Moon as "one of my dad's best friends." Moon, who used to babysit for Starr's children, was responsible for giving Zak his first drum set at 12 years old. That set was auctioned off a few years ago from Sotheby's, but another artifact from the famous friendship is available now. A stainless steel 1973 LED watch—the first of its kind available in Europe—gifted to Starr by Moon is expected to sell between $400–$600. For a slightly flashier timepiece, an 18-karat gold "Moonphase" automatic wristwatch by Patek Philippe is available as well—and estimated to sell for $80,000–$100,000.
5. A PAIR OF RINGO'S RINGS
Getty Images
In the late '60s and early '70s, Starr was repeatedly photographed with the same two rings: A black onyx and a pinky ring with a large blue stone.
Getty Images
After wearing them for countless appearances, concerts, and personal events both rings are will soon be up for sale.
Getty Images
To catch a preview of some of these iconic items, head to The Hard Rock Cafe New York in Times Square, where select highlights will be on display for a week starting November 16.