Queen Marie of Romania's Heart Will Find a New Home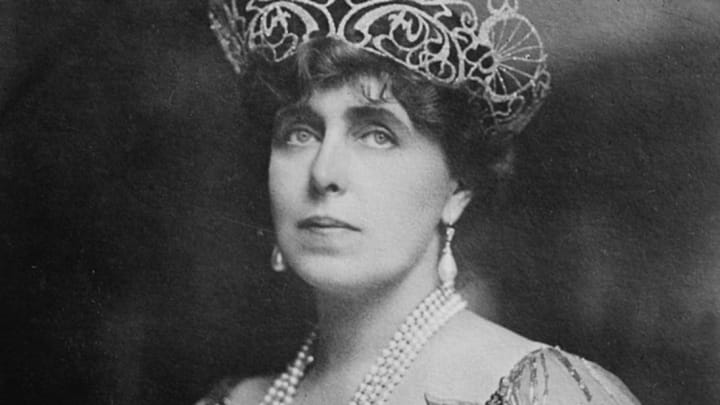 George Grantham Bain collection, Library of Congress via Wikipedia // Public Domain /

 collection

, Library of Congress via Wikipedia // Public Domain
In early November, the heart that once beat inside Queen Marie of Romania (1875-1938) will be transferred from the Bucharest National History Museum to the castle in the Carpathian mountains where she died, according to The Guardian. 
Queen Marie, a granddaughter of Britain's Queen Victoria, was the wife of King Ferdinand I, who ruled Romania from 1914 to 1927. Before her death, she asked that her heart be interred in a chapel in the town of Balchik near the Black Sea, where her family had a castle that was the queen's favorite summer home. However, Balchik was returned to Bulgaria in 1940, and the heart then moved to Bran Castle near Transylvania.
The organ didn't rest easy there either: Marie's descendants say the chapel at Bran Castle "was desecrated during the communist regime," which is when the heart took up its place at the National Museum of Romanian History. (It appears to have been kept in storage in the basement, and not on public display.) The family later requested that the organ be moved to a place with closer ties to the royal family, and officials decided on Pelisor castle in the Carpathian mountains, where Maria died in 1938, as the new location. The heart will be transferred during a formal procession on November 3, then placed inside a small silver casket that will rest on a pedestal behind the couch where Maria died.
Strange as it may seem, the practice of burying a person's heart separately from the rest of them goes back to the Crusades, and it was a not-uncommon request from European royalty for centuries. Famous examples include Richard the Lionheart, Robert the Bruce, and Anne Boleyn, as well as dozens of popes (their hearts are now kept at a church in Rome). Famously, the Romantic poet Percy Shelley had his heart (or what his friends believed to be his heart) removed from the flames during his cremation on an Italian beach. The organ was given to his wife Mary Shelley, who kept it until she died.
Queen Maria's isn't the only famous heart to have been moved recently. In 2014, scientists took the heart of Romantic composer Frédéric Chopin from its place in a crystal urn inside a pillar at the Church of the Holy Cross in Warsaw for a top-secret midnight examination. Their aim was to make sure the alcohol surrounding the heart hadn't evaporated, although other scientists have been hoping to study the organ for insight about the composer's cause of death. The heart was later returned to the pillar, where it still rests; meanwhile, the rest of Chopin is at Pere Lachaise cemetery in Paris.