The Hidden Pooper in Isack van Ostade's A Village Fair, With a Church Behind Oil Painting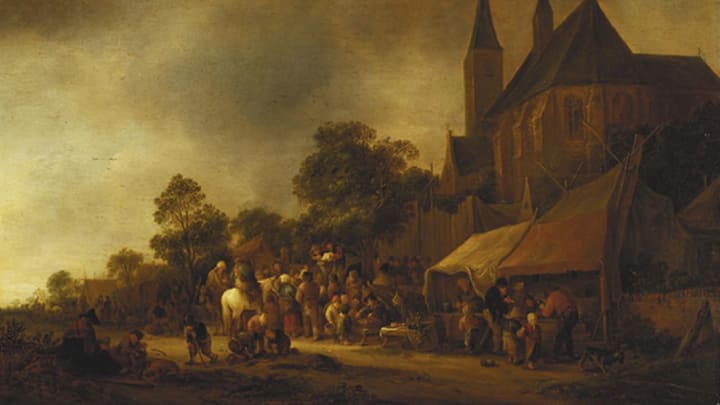 Isack van Ostade, Royal Collection // Public Domain, Wikimedia Commons / Isack van Ostade, Royal Collection // Public Domain, Wikimedia Commons
Art conservators for the UK's Royal Collection were in for quite a surprise when they set about cleaning Dutch artist Isack van Ostade's A Village Fair, with a Church behind, an oil painting completed in 1643. The painting, which was being prepared for an upcoming exhibition, had darkened and yellowed over time. However, when they began examining the work, conservators also noticed that a bush in the corner of the painting was a very recent addition, not a part of the original artist's vision. When they removed it, they found quite a different market scene than they expected.
Let's look a little closer at the bottom right corner of the unrestored painting pictured above:
Now, when the restoration work was done, this is what the painting looked like:
Wait, what's going on in that bottom right corner? Oh, it's a guy pooping.
Obviously, port-o-potties weren't a part of 17th century village life, so a day at the market would also necessarily involve answering the call of nature in a semi-public place. Van Ostade was just being a realist … with a healthy dose of toilet humor.
King George IV bought the oil-on-wood painting while he was still heir to the throne, and hung it in his London house. He must have appreciated the joke, but the curators of Buckingham Palace's art collection did not. In 1903, the painting was restored before it was moved to the palace picture gallery, seemingly with the first addition of a tasteful bush.
This isn't the first painting to contain a hidden surprise for conservators. Peek under the surface of these six other paintings that had something to hide.
[h/t The History Blog]