13 Cultured Facts About Masterpiece Theatre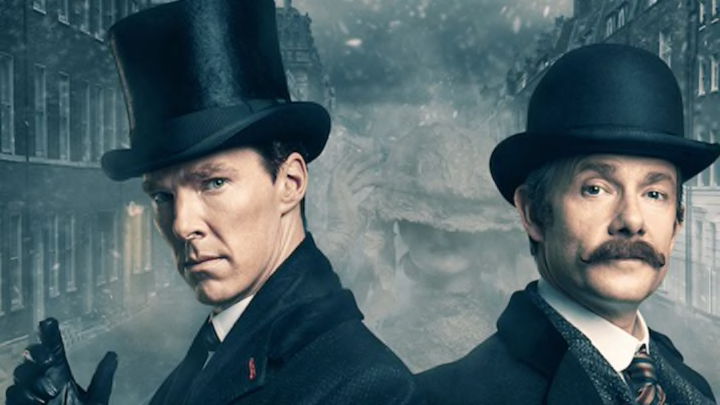 PBS / PBS
It's been parodied by Sesame Street and the Disney Channel, and beloved by millions of culture-seeking television viewers for more than four decades now. Today marks the 45th anniversary of Masterpiece's debut on PBS. Though today's Masterpiece looks slightly different than the Masterpiece Theatre that made its premiere on January 10, 1971, the program has succeeded in remaining "steadfast in our commitment to bringing the best in drama to American public television audiences." Here are 13 things you might not know about the Sunday night tradition.
1. MASTERPIECE OWES ITS EXISTENCE TO THE FORSYTE SAGA.
In the wake of the success of the 1967 adaptation of John Galsworthy's The Forsyte Saga, Stanford Calderwood—then-president of WGBH, Boston's PBS affiliate—floated the idea of partnering with BBC to license some of their dramatic series for broadcast in the U.S. While on vacation in London, Calderwood paid a visit to the network and determined that they were game to give it a try. It wasn't an easy sell, but Calderwood managed to make a deal that would see this partnership come to fruition in the form of Masterpiece Theatre.
2. MOBIL OIL WAS THE PROGRAM'S ORIGINAL SPONSOR.
Though Calderwood only served as WGBH's president for three months, during that time, he managed to convince the Mobil Corporation to underwrite $1 million in order to create Masterpiece Theatre.
3. THE THEME MUSIC WAS DISCOVERED AT A CLUB MED IN SICILY.
When it came time to choose the series' iconic theme music, producer Christopher Sarson opted for Jean-Joseph Mouret's "Rondeau" from his Symphonies and Fanfares for the King's Supper. Though he claimed to some that it was "Just an old piece I found in the library," the truth is that it's the music that woke Sarson and his soon-to-be wife up each morning when they vacationed at a Club Med in Palermo, Sicily in 1962. "We were in these little straw huts and every morning we were summoned to breakfast by that theme. It was just magic," Sarson recalled. "I wanted to use it for Masterpiece Theatre but there was no way I could bear to put a French piece of music on something that was supposed to be English. I went through all kinds of English composers and nothing worked. So, it became the theme. The nice little twist on that is that about five years ago someone from The New York Times went to a Club Med in Mexico and commented on what a classy joint it was because they used the music of Masterpiece Theatre to summon people to meals."
4. IT'S THE LONGEST RUNNING PRIMETIME DRAMA IN THE HISTORY OF AMERICAN TELEVISION.
Now in its 45th year, Masterpiece is America's longest-running primetime drama and the third longest-running series overall; only 60 Minutes, which debuted in 1968, and Monday Night Football, which began in 1970, are older.
5. IT WAS NOT AN IMMEDIATE HIT.
Masterpiece made its debut with the 12-part miniseries, The First Churchills. Though it won an Emmy for its lead actress, Susan Hampshire, and earned a nomination for Outstanding Drama Series, original host Alistair Cooke couldn't believe that the initial program didn't sink the series altogether. "I sometimes marvel that it did not strangle the program in its cradle," he said of The First Churchills in 1991.
6. ALISTAIR COOKE TURNED DOWN THE HOSTING GIG.
Central Press/Getty Images
It took a bit of convincing to get Alistair Cooke to sign on for hosting duties, and even then it was only at his daughter's urging—and very shortly before the program made its debut. Even then, Cooke wasn't totally convinced that the show would be a success. "Alistair Cooke was so uncertain about the show's appeal that he had signed only a one-year contract," wrote Rebecca Eaton, Masterpiece's producer since 1985, in her book, Making Masterpiece. "He was also a creature of habit with a very careful lawyer. He signed only one-year contracts for the next 21 years."
7. COOKE LIKENED HIS ROLE AS HOST TO THAT OF A HEADWAITER.
Cooke, who ended up hosting Masterpiece Theatre for a total of 22 seasons, liked to think of himself as the show's headwaiter, "in the sense that I'm there to explain for interested customers what's on the menu, and how the dishes were composed," he explained. "But I'm not the chef."
8. RUSSELL BAKER DIDN'T WANT TO HAVE TO FOLLOW COOKE.
One year before he was officially announced as Cooke's successor in 1993, Pulitzer Prize-winning writer Russell Baker said no to following in the venerable host's footsteps. "My reply was, 'I'd like to be the man who succeeds the man who succeeds Alistair Cooke,'" Baker admitted about his initial trepidation in taking the gig. Appropriately, it was Baker's daughter who eventually pushed him to say yes.
9. THERE WAS NO HOST AT ALL FOLLOWING BAKER'S DEPARTURE.
Baker served as Masterpiece Theatre's host until 2004, at which point the series opted to continue without a host. And it remained that way for four years, partly because of the challenge of filling that iconic chair. "It's worse than choosing a husband," Eaton told The Boston Globe in 2007 of the search for a new Masterpiece host. "Much worse. But it feels of about the same importance."
10. THE "THEATRE" WAS DROPPED FOR THE 2008 SEASON.
In 2007, Masterpiece Theatre reinvented itself. In addition to dropping the "Theatre" from its name, the series announced that it was splintering into three different seasons—Masterpiece Classic, Masterpiece Mystery!, and Masterpiece Contemporary—and would begin streaming the series, blogging about it, and offering a podcast. "It's just a good idea to look at brands every now and then and polish them up," Eaton said at the time. "The very worst thing you can do is just let it sit there. Even 60 Minutes redid their clock at one point."
Each of the new series had its own host, with Gillian Anderson, Laura Linney, Alan Cumming, Matthew Goode, and David Tennant among the actors who took over hosting duties.
11.
MASTERPIECE
FANS NAMED
UPSTAIRS, DOWNSTAIRS
THEIR FAVORITE SERIES.
Central Press/Hulton Archive/Getty Images
In conjunction with Masterpiece's 35-year anniversary in 2006, PBS surveyed more than 30,000 fans to come up with a definitive ranking of "The Best of Masterpiece," which aired as a special in the spring of 2007. The people declared the original Upstairs, Downstairs their favorite Masterpiece series, followed by the 2002 adaptation of The Forsyte Saga. See the full list here. (If you're wondering why Downton Abbey isn't on the list, it didn't make its Masterpiece debut until 2010.)
12. POLDARK WAS A FAN FAVORITE, BUT ALISTAIR COOKE HATED IT.
Though fans voted 1975's Poldark as their seventh favorite Masterpiece series, Alistair Cooke cited it as his least favorite piece of programming. "I couldn't abide Poldark," Cooke stated in 1982. "I was bored stiff. It seemed to be a bunch of cardboard figures going through the motions of love and hate."
13. DOWNTON ABBEY IS ITS BIGGEST HIT.
Ratings-wise, Downton Abbey is not just Masterpiece's biggest hit, but PBS's greatest success story. "Nobody in their right mind could have predicted what happened, when it sort of went viral," creator Julian Fellowes told The New York Times. It's estimated that more than 120 million people around the world have watched the series at some point. It's also the most nominated non-U.S. series in Emmy history, with a total of 59 nominations and 12 wins (so far).
"How perfect that the final season of Downton Abbey kicks off our 45th anniversary," says Eaton. "Downton Abbey epitomizes the kind of programming we've been offering viewers since 1971: impeccably-told stories with characters who touch peoples' hearts."