25 Key Facts About Pennsylvania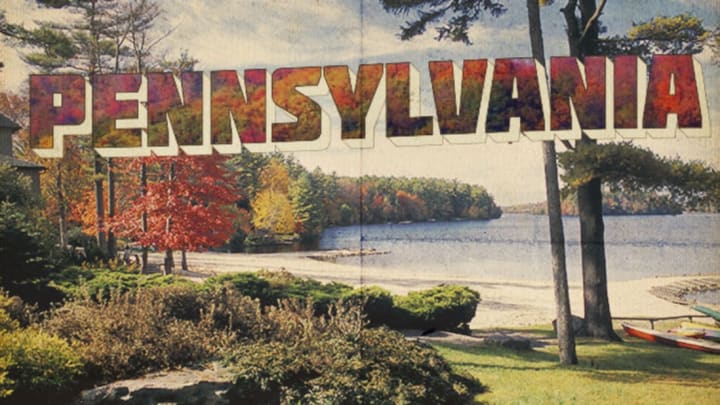 Chloe Effron / Chloe Effron
There's so much more to Pennsylvania than cheesesteaks and the Declaration of Independence. Get to know the Keystone State with these 25 useful facts. (Technically, only some of them are useful, but they're all interesting.)
Image Credit: Aaron Silvers via Wikimedia Commons // CC BY-SA 2.0
1. Legendary groundhog/oracle Punxsutawney Phil has been at it for at least 150 years, leaving his mark on history. Never hesitant to throw his weight around, a Prohibition-era Phil reportedly threatened officials with 60 weeks of winter unless he could have a drink.
Image Credit: Evan-Amos via Wikimedia Commons // Public Domain
2. Pennsylvania is the birthplace of a lot of America's favorite junk food. A short list of Pennsylvania-founded companies includes Rita's Water Ice, Hershey's, Tastykake, Just Born (makers of Peeps), Auntie Anne's, Herr's, Planters, Utz, Wise, and Snyder's of Hanover. Many of these are located in a part of central Pennsylvania that's commonly called the Snack Belt. "You don't come to central Pennsylvania on a low-carb diet, that's for sure," a Visitors Bureau representative told Gourmet magazine.
3. Planning a visit to Pennsylvania's Amish country? Leave your camera at home, or at least don't point it at the residents without their express permission. This is common courtesy anywhere in the world, but it's especially important for the Amish, who believe that photographs violate the Biblical commandment that bans the creation of graven images.
4. Billy Joel's steel-town anthem "Allentown" is a great pop song, as long as you're not a stickler for details. The town described in his song (and steamy video) wasn't Allentown, Pennsylvania, at all, but neighboring Bethlehem; Joel figured "Allentown" just sounded better.
Image Credit: Painting by Frederick Lamb via Wikimedia Commons // Public Domain
5. William Penn didn't become a U.S. citizen until 1984. The founder of the Pennsylvania Colony died in 1718, nearly a half-century before the United States became a thing. In honor of their contributions to American history, Penn and his wife Hannah (who managed the colony after her husband's death) were granted honorary citizenship in the 1980s.
Image Credit: Art & Sarah via Wikimedia Commons // CC BY-SA 2.0
6. The official state dog of Pennsylvania is the Great Dane. When the subject was raised for a vote in the state government, legislators reportedly stood up and "yipped, growled, and barked" their votes in favor. "The arfs have it," said the Speaker of the House. 
7. For one uncomfortable season during World War II, the Philadelphia Eagles and the Pittsburgh Steelers came together to become the Steagles. The move was intended to keep the NFL alive at a time when nearly all able-bodied men had been sent off to war. To ensure they could field at least one team from Pennsylvania, the rival teams' managers decided to work together. This was not a popular move.
Image Credit: Doug Kerr via Wikimedia Commons // CC BY-SA 2.0
8. The borough of Centralia, Pennsylvania, has been on fire for more than 50 years. The town's coal mine caught fire underground in 1962, and with a constant supply of fuel, the fire has been able to keep on burning. Most citizens left years ago, but some stayed behind. As of 2013, the town of Centralia had seven residents.
Image Credit: Reproduction of historical painting "The Bell's First Note" by Jean Leon Gerome Ferris // Public Domain
9. The word "Pennsylvania" is misspelled on the Liberty Bell. The bell was made in the days of creative spelling, before the founders had agreed on the official version.
Image Credit: Stu Spivack via Wikimedia Commons // CC BY-SA 2.0
10. Most cultures have some version of composite meat, and Pennsylvania is no different. The loaf of ground pig parts (historically including pig tongue, skin, hearts, and livers, in addition to regular old meat) known as scrapple is a source of both local pride and tourist curiosity.
11. A keystone is the central piece of a stone arch that helps keep all the other stones in place. Pennsylvania was nicknamed the Keystone State because of its central role in colonial history.
Image Credit: Ron Shawley via WikimediaCommons // CC BY-SA 3.0
12. Pennsylvania is one of a handful of states to have an official state locomotive. It's actually got two: the official state steam locomotive, the K4s (pictured), and the state electric locomotive, the GGI 4859. 
Image Credit: Anthony via Wikimedia Commons // CC SA 1.0
13. Wawa convenience stores have something of a cult following. A 2015 survey of 7000 consumers found the Pennsylvania-based convenience store chain ranking first in both customer loyalty and fresh food. 
Image Credit: Michael Witzel via Wikimedia Commons // CC BY 2.0
14. Pennsylvania's state animal, the white-tailed deer (Odocoileus virginianus) is commonly seen as a parasite-riddled pest animal to East Coasters today, but the species played an important role in early American history. Both Native Americans and settlers depended on the deer as sources of food, clothing, and shelter.
Image Credit:Bobak Ha'Eri via Wikimedia Commons // CC BY 3.0
15. The larger-than-life Rocky Balboa statue at the Philadelphia Museum of Art was a gift from Sylvester Stallone to the city of Philadelphia—a gift the museum didn't necessarily want. Controversy over whether to keep the statue, and where to put it, has continued since Stallone's 1982 donation.  
Image Credit: Derek Ramsey via Wikimedia Commons // CC BY-SA 2.5
16. Driving through Pennsylvania offers some lovely scenery and some pretty amusing sign-spotting, with town names that include Cheesetown, Eighty-Four, and Jugtown, not to mention Virginville, Blue Ball, Big Beaver, Intercourse, and Climax.
17. New Year's Eve is a good time to visit the Keystone State. The following items are dropped to ring in the new year: a giant Peep (Bethlehem), a wrench (Mechanicsburg), 200 pounds of bologna (Lebanon), glowing coal (Shamokin), an enormous pair of yellow pants (Lower Allen Township), and a giant Hershey's Kiss (Hershey, naturally).
Image Credit: Antarctic96via Wikimedia Commons // CC BY-SA 3.0
18. Speaking of Hershey: Pennsylvania chocolate magnate Milton S. Hershey and his wife Kitty were scheduled to depart on the RMS Titanic. They had to change their plans at the last minute and boarded another ship instead. 
19. A hill in Bedford County, Pennsylvania became a tourist attraction when it was discovered that objects appeared to roll up the hill instead of down. Scientists say the effects of Gravity Hill—one of many such hills around the world—are simply a very convincing optical illusion.
Image Credit: Matthew Brady via Wikimedia Commons // Public Domain
20. Abraham Lincoln delivered the Gettysburg Address in Pennsylvania four months after the bloody Battle of Gettysburg. Lincoln's "little speech," as he called it, lasted only two or three minutes, but left an indelible mark on all who heard it, and those who would read it for centuries to come.
21. A mysterious field spanning 7 acres in Upper Black Eddy, Pennsylvania, draws visitors hoping to hear literal rock music: The stones covering the ground there produce "clear, bell-like tones" when struck. To this day, no one knows exactly what causes this phenomenon.
Image Credit: Nicholas via Wikimedia Commons // CC BY 2.0
22. France was a tough place to be during the revolution, especially if you had money. Pennsylvania was easier. So for a decade during the 18th century, the state was home to a colony of some 200 French aristocrats on the lam. 
Image Credit: Jgera5 via Wikimedia Commons // CC
23. If you enjoy a little history with your hamburger, you might want to check out the Big Mac Museum in North Huntingdon, Pennsylvania, located near where the classic sandwich was first developed. Opened in 2007 inside a fully functioning McDonald's, the museum is exactly what it sounds like: a paraphernalia-fueled homage to the fast food chain's most famous sandwich.
24. Pennsylvanian Betsy Ross had a lot more grit than most people realize. As a young woman, Elizabeth "Betsy" Griscolm had eloped with the Episcopalian John Ross, much to the horror of her Quaker family. The decision earned Betsy an excommunication, but she never turned back. Two years after their marriage, Betsy and John started a sewing business—a gutsy move, considering that Betsy had just been cut off from anyone who might patronize her shop. But the Rosses persisted, and the rest, as they say, is history.
Image Credit: Somach via Wikimedia Commons // CC BY-SA 3.0
25. Frank Lloyd Wright's architectural masterpiece Fallingwater is perched over a waterfall in Stewart Township, Pennsylvania. The house is widely considered his best work, and appears on the Smithsonian's list of "places to visit before you die."