25 Evergreen Facts About Washington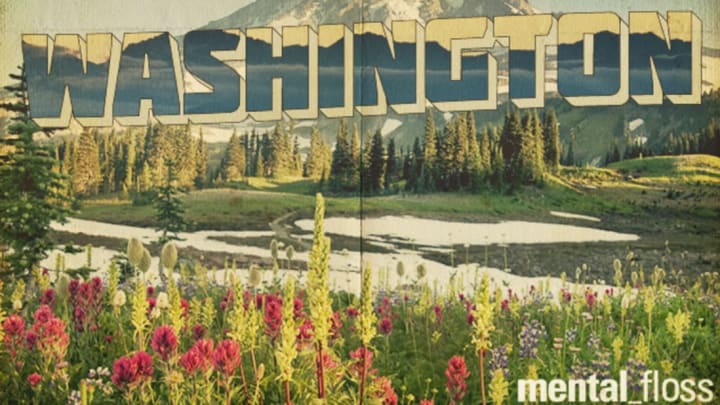 Chloe Effron / Chloe Effron
Admitted to the Union in 1889, America's 42nd state is known for its great coffee and even greater outdoor attractions. Blanketed in lush forests and sprawling farmlands, Washington is one of America's largest producers of fresh produce, rock & roll music, and tech start-ups. Here are 25 facts you might not know about the Evergreen State.
1. You might know that Washington State was named after American founding father George Washington, and that it's the only state named after a president.  But did you know that Washington's capital, Olympia, was named for the Olympic Mountains? Or that the Olympic Mountains were named after Mount Olympus of Greek legend? Explorer John Meares gave the Olympic Mountains their name in 1788, exclaiming, "If that be not the home where dwell the Gods, it is beautiful enough to be, and I therefore call it Mount Olympus." 
istock
2.
John Meares didn't always award his discoveries such flattering names, however. In addition to naming the Olympic Mountains, the explorer also dubbed a headland in southwest Washington "Cape Disappointment," a name that remains to this day. Whether or not you actually find Cape Disappointment disappointing probably depends on whether you're a fan of fog: The area is one of the most consistently overcast in the state, with an average of 106 days of fog a year.  
3. Even though Olympia is Washington's capital, Seattle is its most populated city. In fact, close to 60 percent of Washington residents live in the Seattle metropolitan area.
4. Washington is the biggest producer of apples, raspberries, and sweet cherries in America. As of 2010, more than 90 percent of America's red raspberries and close to three out of every five apples in the U.S. were grown in Washington. The official state fruit is the apple.
5. Washington State is 52 percent forest. The state is home to an incredibly diverse range of flora and fauna, including some of the oldest trees in the country. If you're a lover of the great outdoors (or just fascinated by very old things), Grove of the Patriarchs trail near Mount Rainier is the perfect place to see some of the state's oldest trees: Several are over a thousand years old and more than 25 feet in circumference.
6. Nowadays, it feels like there's a Starbucks on every street corner in America. But the company started out in 1971 with just one store in Seattle's Pike Place Market. It remained a local establishment until the 1980s when it was purchased by Howard Shultz's coffee company Il Giornale. It opened its first stores outside of Washington in 1987 in Chicago and Vancouver, Canada. Shultz remains CEO to this day.
Sali Sasaki, Flickr // CC BY-SA 2.0
7.
Washington State has a long and rich musical history. Seattle is, of course, famous for launching the grunge movement and the careers of Nirvana, Pearl Jam, and Alice in Chains. But a wide range of musicians come from Washington, including guitar legend Jimi Hendrix, hip hop legend Sir Mix-a-Lot, and singer/actor Bing Crosby.
8. Back in Washington's Wild West days, Aberdeen was thought to be the state's toughest town. It was often called "the roughest town West of the Mississippi," and was known for its gambling and violence. Nowadays, it's best known as the birthplace of Nirvana frontman Kurt Cobain. 
Brandy, Flickr // CC BY-ND 2.0
9.
Now the biggest online retailer in America, Amazon.com was started by Jeff Bezos in a converted garage in Bellevue, just outside of Seattle, in 1994. Their move to Seattle proper marked the start of a golden era for startups in the Pacific Northwest (and in Seattle, specifically). Outside of Silicon Valley, Seattle has become one of the fastest growing tech job markets in America in recent years.
10. Washington hosted the World's Fair twice. In 1962, the Century 21 Expo (also known as the Seattle World's Fair) was held in Seattle, where the Space Needle was built for the event. Then, in 1974, the first environmentally-themed world's fair, Expo '74, was held in Spokane. To this day, Spokane is the smallest city to host a World's Fair. 
11. The skeletal remains of the Kennewick Man, one of the most complete ancient human skeletons every discovered, were found by two college students in Kennewick, Washington in 1996. Scientists believe the skeleton is around 9000 years old. 
12. Longview, Washington, is home to several bridges made specifically for squirrels. The first bridge, called Nutty Narrows, was constructed in 1963 by local builder Amos Peters to help squirrels cross a busy street. The bridge was so popular amongst squirrels, residents, and tourists, that four more have been constructed in different styles. 
Ted Drake, Flickr // CC BY-ND 2.0
13.
One of the best remembered, and most bizarre, high school football games in Washington history occurred in 1988 between rival teams the Colfax Bulldogs and the St. Johns Eagles. The game was a rematch, played half a century after the Eagles beat the Bulldogs 14-0 in the original 1938 game. The "Codger Bowl," as it's now known, was played by a group of former high school football stars in their late 60s, and was organized by former Colfax resident and movie star John Crawford. In the end, the Bulldogs beat the Eagles 6-0, and an enormous 65-foot-tall statue was carved to commemorate the game and its elderly players. 
14. If you're hankering for a damn fine cup of coffee and a slice of cherry pie, Twede's Cafe in North Bend has both. It's also the cafe that was used to film the Double R Diner scenes in David Lynch's Twin Peaks.
Elizabeth, Flickr // CC BY-NC-ND 2.0
15.
While Washington is home to many awe-inspiring forests, the Ginkgo Petrified Tree Forest in Eastern Washington is one of the most unique. In the 1930s, highway workers digging up land for a new road found their progress hindered by pieces of fallen tree as hard as rock. These were the fossilized—or petrified—remains of ancient trees. The government decided to set the land aside for a historic preserve, and founded the Ginkgo Petrified Tree Forest, which soon became famous for its fascinating fossils, and for its Wanapum petroglyphs (Wanapum carvings dating back centuries).
agit-prop, Flickr // CC BY-NC-ND 2.0
16.
It's illegal to shoot Bigfoot in Skamania County, Washington. According to one account, the law was put in the books at the height of the Bigfoot craze—not to protect the mythical creature, but to protect citizens from the overly enthusiastic, weapon-toting paranormal enthusiasts flocking to the area. In Texas, meanwhile, hunting Bigfoot is completely legal on private land (as long as you have the landowner's consent).
17. Seattle is home to a Dialysis Museum, which is dedicated to preserving the history of dialysis machines and the treatment of kidney disease in the United States.
18. Founded in Long Beach in 1935, Marsh's Free Museum is more sideshow than field trip fodder. The museum, which is free to visit (but has plenty of tantalizing souvenirs for sale) boasts oddities like "Jake The Alligator Man," a taxidermied "Half-Man Half-Gator."
Kimli, Flickr // CC BY-NC 2.0
19.
Washington is a popular location for filmmaking. Films shot in the state include 2002's The Ring (which used Seattle's fog to great effect), The Hunt For Red October (1990), and 10 Things I Hate About You (1999).
20. The Washington State Fair, also known as the Puyallup Fair, is the largest annual attraction in the state. The fair combines food, amusement park attractions (including a Merry-Go-Round that's been in operation at the fair since 1923), and livestock competitions.
21. During World War II, the Washington State Fairgrounds were put to a darker use. Renamed "Camp Harmony," the grounds were used for the internment of Japanese Americans.
22. According to a 2014 study of restaurant menus around America, prawns are the most distinctly "Washingtonian" food. That is, while they're not necessarily the state's most beloved cuisine or its most frequently served, they are served in Washington more often than in any other state. According to the study, prawn dishes appear on 47 percent of Washington's restaurant menus (as opposed to 9 percent throughout the other 49 states). 
23. Father's Day originated in Washington in 1910. It began as a statewide holiday, created by Spokane resident Sonora Smart Dodd, who wanted to find a way to honor her own father, a civil war veteran and single parent who had raised six children on his own. 
24. The official state folk song of Washington is "Roll on Columbia, Roll On" by Woody Guthrie. Though Guthrie never lived in Washington State, he was inspired by the state during his brief visit in 1941.
25. The official state song of Washington, meanwhile, is "Washington, My Home." However, few Washingtonians know the words to the official song, and in 1985, Whatcom County Commissioner Craig Cole petitioned the State of Washington to change the official state song to "Louie Louie" which was written by Richard Berry in 1955 and first made popular by Tacoma-based group The Wailers in 1960. (The Oregon-based Kingsmen, of course, would go on to record the 1963 version we all still croon in the shower today.)