16 Delicious Facts for National Tortilla Chip Day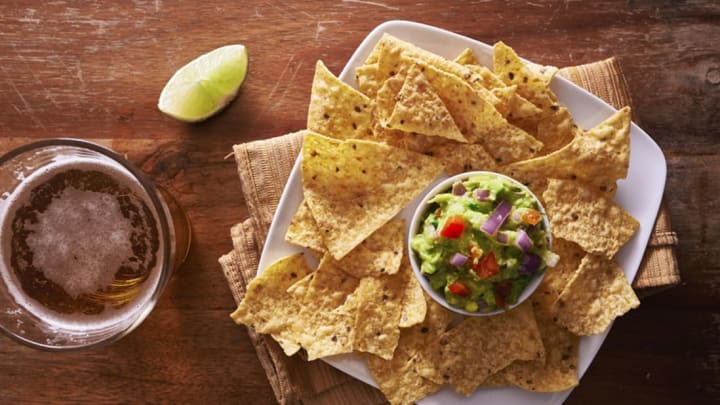 iStock / iStock
February 24 is National Tortilla Chip Day! Here are some facts and history about the famous triangle-shaped treat.
1. The inventor of tortilla chips was probably Jose Martinez of San Antonio, Texas. According to the book Taco USA, Martinez invented mass-produced masa, which is what tortillas are made out of. He found himself with lots of extra masa, so he decided to cut it up and toast the pieces into chips.
2. But the introduction of tortilla chips into modern food culture is most commonly traced back to Rebecca Webb Carranza. In the late 1940s, she was president of the El Zarpape Tortilla Factory in Los Angeles. She had the idea to fry and serve the misshapen tortillas that the machine sometimes produced, and after her family raved over them at a family party, she sold them to the public for a dime a bag. They caught on, and eventually the company shifted its focus to producing only "Tort Chips," as they came to be called. 
3. In 1994 the "Golden Tortilla" award made its debut. It was created to recognize industry innovators, and Carranza was among its first recipients. Unfortunately, the awards only lasted one more year after that event. 
4. Nachos were invented in 1943 by Ignacio Anaya, a maitre'd from Piedra Negras, Mexico. He found himself in a pinch when a group of guests arrived hungry at his restaurant, and he was without a chef. He went to the kitchen and began cutting up tortillas, which he then topped with cheese and jalapeño peppers. He called the dish Nachos Especiales. Reportedly, "Nacho" was his nickname. 
iStock
5. Doritos became popular in 1961 thanks to the smarts of a man named Archibald Clark West. West, who was VP of marketing at Frito-Lay at the time, discovered the chips while on vacation with his family at Disneyland. The chips were leftovers at a restaurant Frito-Lay was sponsoring called Casa de Fritos, and the chef seasoned them with his own special blend of spices and sold them to the public. The idea didn't go over well with higher-ups, but West figured out a way to scrape together funding from other Frito-Lay projects in order to create a prototype, which eventually became a hit when Doritos were released to the national market in 1966.
6. Taco Bell made its debut in Downey, California back in 1962, created by a man named Glen Bell whose customers called his tortilla-wrapped products "tay-kos." There are now over 6300 in existence that all offer various tortilla and nacho combinations and flavors.
7. Tortilla chips are naturally gluten free!
8. Amazon sells 51 different brands of tortilla chips on its site, from Beanitos ($15.59/bag, and actually made of beans) to Santitas. ($2/bag).
Getty Images
9. The state of Texas made tortilla chips and salsa the state's official snack in 2003. The idea was proposed by a group of elementary school students who realized that Texas needed a state snack to go alongside the state pepper (jalapeño), the state dish (chili), and the state fruit (grapefruit). The children contacted their state representative with their idea, and the rest is history. 
10. Doritos were the top-ranked tortilla chip brand in the United States in 2015, with over $1.3 billion in sales. Tostitos came in second, with sales at $601 million. But even with those numbers, tortilla and tostada chips are the third best-selling salty snack in the U.S. Crackers and potato chips were first and second, respectively.
11. In 2012, Minneapolis-based group Y.N. RichKids had a viral summer music hit with their song "Hot Cheetos and Takis." Takis are rolled and fried tortilla chips that come in Guacamole, Fajita, Fuego, Salsa Brava and Nitro flavors.
12. In the animated movie Despicable Me 2 (2013), Gru turned heads with his sombrero made out of tortilla chips. Want a fun edible craft project? If you have an hour, extra flour, and a head-shaped bowl, try making this edible version.
13. Blue Corn (blue corn being a special variety of maize, not traditional corn) tortillas have less starch and 20 percent more protein than white corn tortillas, according to a 2007 study, meaning that their associated chips should be healthier as well (despite the frying process). 
iStock
14. In September 2015, Moe's Southwestern Grill made waves when they promoted their free queso dip day by creating—and smashing—an electric guitar made from a giant tortilla chip.
15. In 2012, UK restaurant chain Brewers Fayre made the Guinness Book of World Records for baking the country's largest tortilla chip, at 110 pounds and 32 square feet. It took over 50 hours to make, and was baked in a oven that was 10 feet deep.
16. Tortilla chips are Jennifer Aniston's favorite snack, and Kristen Stewart loves tortilla soup so much, she shared her recipe with Vogue.