25 Big Facts About Pee-wee Herman
In 2014, Paul Reubens spoke with Mental Floss about the creation of Pee-wee Herman, his beloved comedy character.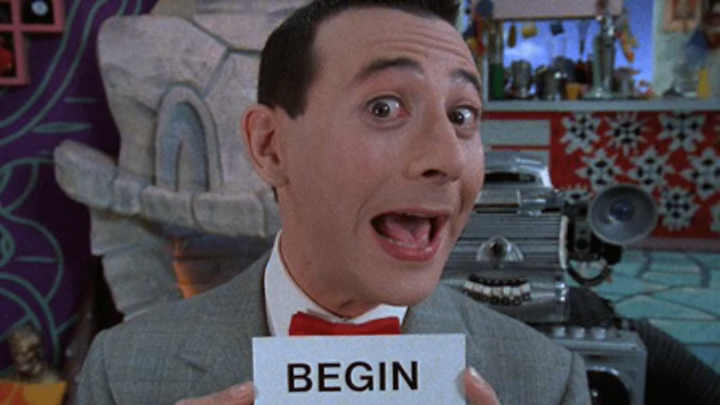 Shout! Factory / Shout! Factory
On July 30, 2023, the entertainment world lost a pop culture icon when Paul Reubens passed away at the age of 70 after a private battle with cancer.
In the summer of 1985, Reubens introduced America's youth—and millions of young-at-heart adults—to a new brand of comedy when his slim suit-loving, bow-tied alter ego Pee-wee Herman stormed the box office with Pee-wee's Big Adventure. Over the next four decades, Reubens' beloved character conquered every corner of the entertainment industry with two movie sequels, one Saturday morning television series, and a Broadway show.
In 2014, Reubens—an enthusiastic Mental Floss reader—helped us uncover 25 things about Pee-wee Herman.
1. Pee-wee Herman began life as a Groundling.
Pee-wee Herman "came about from an extended improv at The Groundlings," Reubens told Mental Floss of the character's origin. "We were just given an assignment to come up with a character that one might encounter in a comedy club and I came up with Pee-wee Herman." Pee-wee's first stage appearance was in 1977.
2. "Pee-wee" was a harmonica.
Reubens said the character's many distinctive traits were "a bunch of stuff all mixed in together. The voice came from a stage production that I was involved in. And then the name came from a kid I knew who was kind of off-the-wall. The name 'Pee-wee' came from a little harmonica I had that said 'Pee-wee' on it. I loved the idea of a nickname, because it sounded so real to me. 'Pee-wee Herman' sounds like a name that is so odd, how would you make that up? If you were going to make up a name, you'd make up a better name. It seemed real to me; it was a nickname with a last name that's also a first name … And it went hand-in-hand with what I wanted to do, which was to make people think this was a real person, not an actor."
3. Pee-wee was his own man.
Shout! Factory
To further enforce the idea that Pee-wee Herman was indeed a real person, whenever Reubens appeared as Pee-wee Herman, the credits simply list "Pee-wee Herman as Himself."
4. Pee-wee's suit was a loaner. (But not a rebel.)
"The director and co-founder of The Groundlings, a man named Gary Austin, loaned me his suit, which I never gave back," Reubens said of Pee-wee's now-famous gray suit. "Someone else gave me a kid's black bow tie, which I later changed out for a kid's red bow tie. And the white shoes were mine. That's just sort of what I put on and I had success with it so I thought, why mess with it? If it ain't broke."
5. Pee-wee got the girl on The Dating Game.
In 1979, two years after making his stage debut with The Groundlings, Pee-wee made his first of three (in-character) appearances on The Dating Game. "That was a little test experiment I was doing early on," Reubens recalled to Interview magazine. "I went to a cattle call audition for The Dating Game, and before I even got home they called me back." On one occasion, he even won the date! 
6. He made his movie debut in 1980.
In 1980, Pee-wee made his first big-screen appearance as a not-so-sweet hotel employee in Cheech & Chong's Next Movie. 
7. The Pee-wee Herman Show was a first for The Groundlings.
On February 7, 1981, Reubens helped take The Groundlings in a new direction when he premiered The Pee-wee Herman Show, a stage show that became the group's first piece of alternative format programming. Shortly thereafter, it moved to The Roxy, where it ran for five months. But it wasn't an adults-only kind of thing; matinee performances proved to be fun for the whole family. Miss Yvonne, Captain Carl, Jambi, Pterri, and Clocky are some of the characters that were there from the beginning. 
8. HBO was the first network to court Pee-wee.
Pee-wee gained national attention courtesy of HBO, which aired a taping of one of The Pee-wee Herman Show's performances in 1981.
9. He kickstarted Tim Burton's career.
Following the success of The Pee-wee Herman Show, Warner Bros. approached Reubens about turning Pee-wee into a movie star. Though the studio originally had another director in mind, several people mentioned Tim Burton's name to Reubens one night at a party.
"I screened Frankenweenie and I spoke to Shelley Duvall, who was a friend of mine who was in Frankenweenie," Reubens told Ain't It Cool News in 2012. "I knew Tim was the director about 15 seconds into Frankenweenie, like the second or third shot of it. I was looking at the wallpaper in this bedroom and the lighting and just going, 'This is the guy who has style and understands art direction.' Those were two really important things for me and my baby, I guess, and you know it just happened to luckily all work out."
10. Pee-wee's Big Adventure was supposed to be a remake of Pollyanna.
The original concept for Pee-wee's Big Adventure took much of its storyline from Disney's classic Pollyanna, with Pee-wee as Pollyanna. Ultimately, this idea was scrapped in favor of the stolen bike road trip idea, though Reubens was able to recycle many of the original ideas for Big Top Pee-wee.
11. Pee-wee's bike sold for $36,600 on eBay.
In 2014, an original bike that was used in Pee-wee's Big Adventure went up for auction on eBay. The seller was hoping to get $15,000 for the iconic prop; he ended up selling it for $36,600. Which isn't quite "a hundred million, trillion, billion dollars," but it's still impressive.
12. Pee-wee's Big Adventure cleaned up at the box office.
Pee-wee's Big Adventure was shot on a budget of approximately $7 million and earned nearly $41 million at the box office. Which, not surprisingly, led to a sequel—1988's Big Top Pee-wee. 
13. Pee-wee's Playhouse was originally going to be an animated series
Following the financial success of Pee-wee's Big Adventure, CBS came to Reubens about creating a children's series around the character—only they wanted it to be animated. "I'd had the stage show originally, so I was much more interested in doing something closer to that, something live-action," Reubens told Rolling Stone. "So when they suggested doing a cartoon, I said 'I'm not really interested in that; let's do a real kids' show.' I was a big Howdy-Doody freak growing up—I was actually on one show when I was a kid, in the audience—and was more interested in doing something like that. Howdy-Doody, Captain Kangaroo, a lot of the local kids' shows that were on a long time ago—those were the influences." 
14. Cyndi Lauper sang the Pee-wee's Playhouse theme song.
Though the series' theme song is credited to Ellen Shaw, Cyndi Lauper copped to being the voice behind it in her autobiography.
15. The Playhouse welcomed a number of soon-to-be stars.
A number of burgeoning stars got their starts on Pee-wee's Playhouse. Among them: Phil Hartman, S. Epatha Merkerson, and Natasha Lyonne. Both Laurence Fishburne and Jimmy Smits also made early-career appearances.
16. Both Rob Zombie and John Singleton were Playhouse production assistants.
John Singleton / Aaron Rapoport/GettyImages
Pee-wee's Playhouse had plenty of talent behind the camera, too. Five years before he wrote and directed Boyz n the Hood—for which he earned two Oscar nominations—John Singleton was a P.A. on the Playhouse set. Around the same time he formed White Zombie—and 17 years before he moved into the director's chair with House of 1000 Corpses—Rob Zombie held the same title. 
17. Phil Hartman left Pee-wee's Playhoue after one season to join the cast of Saturday Night Live.
Phil Hartman / Steve Granitz/GettyImages
Phil Hartman, Reubens' longtime friend and collaborator (they co-wrote Pee-wee's Big Adventure together), left the Playhouse—where he played Captain Carl—after the first season to join Saturday Night Live.
18. Miss Yvonne's hair won an Emmy.
Shout! Factory
Two Emmys, actually. One in 1987 and another in 1989. The show won a total of 15 Emmys throughout its five-season run.
19. Jambi spoke gibberish.
On Shout! Factory's Blu-ray collection, writer John Paragon describes Jambi's famous "Mekka lekka hi mekka hiney ho. Mekka lekka hi mekka chahny ho" chant as gibberish. "So I'm in The Groundlings and we're doing a sketch and it's customers in a Hawaiian restaurant and I'm wearing a Hawaiian shirt and doing Hawaiian gibberish. So that's where that line came from. It was supposed to be bad Hawaiian."
20. Laurence Fishburne had a dark take on Cowboy Curtis.
Shout! Factory
During his original audition for Cowboy Curtis, Laurence Fishburne didn't get the note that the tone of the show was rather silly. "I was in the D.C. area making Gardens of Stone, and I got this call that Paul wanted to see me," Fishburne told Entertainment Weekly. "I had almost no hair on my head because I had been doing this military picture. I [auditioned as] a Yul Brynner-esque kind of cowboy—very dark and serious. [Reubens and Paragon] both looked at me like, 'Could you lighten it up?'"
21. The third season of Pee-wee's Playhouse contains just three episodes.
Because of a 1988 strike by the Writers Guild of America, the third season of Pee-wee's Playhouse is comprised of just three episodes—two regular episodes and one primetime special, Pee-wee's Playhouse Christmas Special.
22. Big Top Pee-wee marked the big-screen debut of Benicio Del Toro.
After a couple of small television roles, Benicio Del Toro landed his first feature film playing Duke the Dog-Faced Boy in Big Top Pee-wee. The film also marked the big-screen debut of Dustin Diamond, who would make his first appearance as Saved by the Bell's Screech Powers just a few months after Big Top Pee-wee's release.
23. Danny Elfman had to compose an all-new score for Big Top Pee-wee.
Like Tim Burton, Pee-wee's Big Adventure marked the first feature film gig for Danny Elfman. Though the music he created for the first film is iconic, because Big Top Pee-wee was produced by a different studio, he was not allowed to use any of the elements from the original score and had to create a new one.
24. Pee-wee came to Broadway in 2010.
Getty Images
On October 26, 2010, Pee-wee was back—this time on Broadway—for a limited-run stage show.
25. Pee-wee's Big Holiday was Pee-wee's first film in 28 years.
In 2016, Netflix released Pee-wee's Big Holiday, Pee-wee Herman's first film in 28 years. Officially, Netflix summarized the plot as follows: "A chance encounter with a mysterious stranger (Joe Manganiello) points Pee-wee toward his destiny—and his first-ever holiday!" For his part, Reubens told Mental Floss (shortly after the movie was announced), "It's a road picture and it's an adventure story. It's similar in tone and structure to Pee-wee's Big Adventure in that it is a road picture—I'm trying to get somewhere. I live in a real little small town and I don't get much excitement."
A version of this story ran in 2014; it has been updated for 2023.