7 Behind-the-Scenes Secrets of Roadies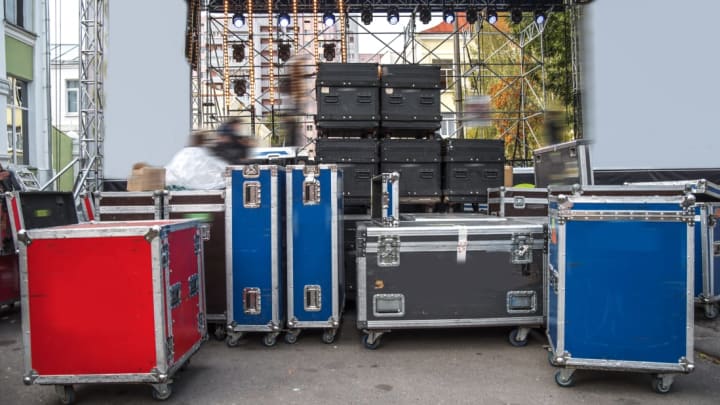 Lindrik/iStock/GettyImagesPlus / Lindrik/iStock/GettyImagesPlus
Although the word roadie may conjure up images of non-stop partying with rock stars, the reality is that most work unglamorous, physically and emotionally demanding jobs. They lug the gear, set up the instruments, manage the stage, run the sound, sell the merch, drive the bus, and generally do whatever it takes to make concerts possible. Mental Floss talked to a few roadies (who probably wish we'd stop calling them that—see below) to get the inside scoop.
1. Roadie is an outdated term.
Some roadies who worked in the 1960s through the 1980s later wrote books bragging about their sexual conquests, wild partying, and drug use while on the road. Although that lifestyle is not completely obsolete—genres such as metal, rap, and hip hop supposedly see more illegal activity than indie, pop, folk, and alternative—most roadies don't refer to themselves as such.
Morgan Paros, a violinist and singer based in Los Angeles, says that the generic term roadie seems slightly derogatory now. Instead, it's better to use terms that more specifically describe individual duties. "Anyone on a tour is generally working very hard to fulfill their role of tour manager, front of house (sound engineer), light tech, stage manager, instrument tech, or merchandise manager," Paros says. "These individuals make everything possible for the performers every night."
2. Roadies work insanely long hours.
Most roadies work 16- to 20-hour days. Waking up early and going to sleep late is part of the job description, as Meg MacRae, a production coordinator who's been on the road with Bon Jovi and the Eagles, attests. A typical day for her starts with a 6 a.m. bus pickup, after which she sets up a temporary production office at the venue. After a long day of problem-solving, booking flights and hotels, and making sure the crew is taken care of, she ends her day at 1:30 or 2 a.m.
3. Roadies get used to roughing it.
Unless they're working for an A+ list performer, most roadies are not living the high life, sleeping in luxury hotel suites and flying on private jets. Being on the road can be hard work. Depending on the band's budget level, the road crew may sleep on the floor of a shared hotel room, or sit in a crowded Ford Econoline or Chevrolet Express van for hours.
Tour conditions offer minimal privacy and maximum mess. "You wouldn't believe how insanely messy a van can get after a 6-week tour of the country," says Michael Lerner of Telekinesis.
David, a front-of-house sound engineer based in New York, also describes the dirty working conditions in many venues. "Consider how grimy some music venues look. The dusty mixing board in the back coated in spilled beer, the germs of hundreds of singers talking/spitting/shouting into the same microphones night after night, and the questionable odors of green rooms inhabited by people who spend a solid portion of their days packed into a van … this is your office. Good luck not getting sick."
4. Roadies usually have good reasons for putting up with it all.
So why do roadies subject themselves to the long hours and less-than-glamorous conditions? Many say they love music so much that they can't imagine working in any other field. "For as long as I can remember, I have always wanted to have a job in music," tour manager and sound engineer William Pepple writes. Some roadies also get into it because they love traveling all over the world, seeing new cities, and meeting new people.
5. Maintaining relationships at home is a big challenge for roadies.
Being a roadie is a lifestyle rather than just a job. Because they travel so frequently for work, roadies often struggle to maintain relationships with loved ones. Technology such as FaceTime and Skype has made keeping up with family, friends, and significant others easier, but it can still be a challenge to find privacy to make phone calls. Roadies who travel on buses have a little more privacy and time to connect with loved ones back home, since bus tours often give them the freedom of waking up in the city where the band's next show is, while road crew on van tours spend the majority of the daytime driving to the next show.
6. They probably have at least one horror story from the road.
Whether it's an unscrupulous promoter cheating the band out of their earnings, a bus overheating, a van breaking down, or driving through dangerous winter storms, roadies probably have at least one horror story. Most awful promoters or venues, though, are usually due to simple misunderstandings. "Most bad days are due to either bad communication or a lack of understanding that most touring people just want simple comforts: a clean shower, clean towels, a safe place to put their stuff, laundry machines, and good food," says Mahina Gannet, who's worked as a tour manager and production coordinator for bands such as The Postal Service, Death Cab For Cutie, and Neko Case.
7. Good roadies are there to work, not just hang out with the band.
Achieving a balance between being professional and having fun is harder on tours because "you are working, living and traveling with your co-workers," Gannet adds. "I'm there to get a job done, and when it's done, I love to hang out. A lot of tour managers I've seen definitely can go to either extreme (some actually thinking they are a member of the band, some so distant the band can't talk to them), but it's like everything else in life. It's about finding your own personal balance."
This piece first ran in 2016 and was republished in 2019.