Behind the Scenes of Run DMC and Aerosmith's "Walk This Way"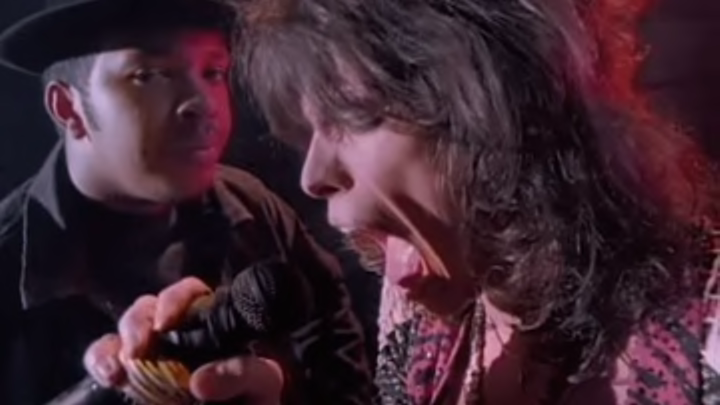 YouTube / YouTube
Thirty years ago, two very different bands met in a studio to partner on a genre-bending song that few people thought would work. Washington Post reporter Geoff Edgers recently crafted an extensive oral history that reflects on the importance of Aerosmith and Run DMC's 1986 collaboration, "Walk This Way"—a song that not only influenced rock and hip hop culture moving forward, but also changed music and pop culture forever. The article features rare interviews with the performers, producers, managers, executives, radio jockeys, and other individuals who were involved or tangentially affected by the song, as well as never-before-seen footage of the day the bands met in a Manhattan studio to record the track. 
Edgers's interviews reveal several facts about the song and about both bands that most fans probably don't know, beginning with the fact that members of Aerosmith still can't agree on who came up with the beat for the original song as it appeared on their 1975 album, Toys in the Attic. Lead guitarist Joe Perry said that he was "fooling around" with the now iconic guitar riff and asked drummer Joey Kramer to play along to it. Frontman Steven Tyler says that he heard it, ran to the stage, and came up with the rest. Kramer says that he did. Aerosmith producer Jack Douglas sides with Tyler, and guitarist Brad Whitford splits the difference.
"Did Steven or Joey invent it? The jury's still out on that one," Whitford said. "Now, Steven is a drummer at heart and he's very inventive and creative. But then you have to take into consideration that Steven would probably take credit for everything that's on every Aerosmith record." The song got its title from a joke in the 1974 Mel Brooks film, Young Frankenstein.
Original credit notwithstanding, everyone agrees that the collaboration 11 years later was then-twenty-something producer Rick Rubin's idea, that Aerosmith was not at the peak of their rock powers and needed something fresh to spark a comeback, and that not even Run DMC was thrilled with the idea. Rubin gave rappers Run (Joseph Simmons) and DMC (Darryl McDaniels) and DJ Jam Master Jay (Jason Mizell) the original record and made them listen to it. Jay saw Rubin's vision, but Run and DMC heard the lyrics and were not onboard, with Run referring to it as "hillbilly gibberish, country-bumpkin bullsh*t."
Tyler and Perry were game (the other members of Aerosmith were either not interested or not invited) and, after some convincing, Run DMC agreed to meet with them to remake the record when Aerosmith had a free day in between concerts.
As the clips in Edgers's article show, the musicians and everyone else in the studio seemed to get along, but Run and DMC still resisted the collaboration. They were recording what Rubin called a "more lackluster version" of the song than the one the world now knows before Jam Master Jay convinced them to take it more seriously and to "switch up" the lyrics to ones that they were more comfortable reciting.
While all of this was happening, Perry and Tyler were overindulging in lines of cocaine (but also working), Russell Simmons was doing what Russell Simmons does, and Rubin was working his magic to bring the classic song together.
Edgers's article is an in-depth recounting of the entire collaborative process and is full of music history gems that only people who were in the room would know (until now). For example, Perry revealed that his bass line may not have been possible were it not for a random assist. "There were these teenagers hanging around in the back on the couch and one of them said, 'I've got a bass at my apartment,'" Perry told Edgers. "He ran back and he was back in 20 minutes. It was the Beastie Boys."
To read the article in its entirety and to see the rare studio footage, head over to The Washington Post.