9 Outdoor Games Today's Kids Probably Don't Know How to Play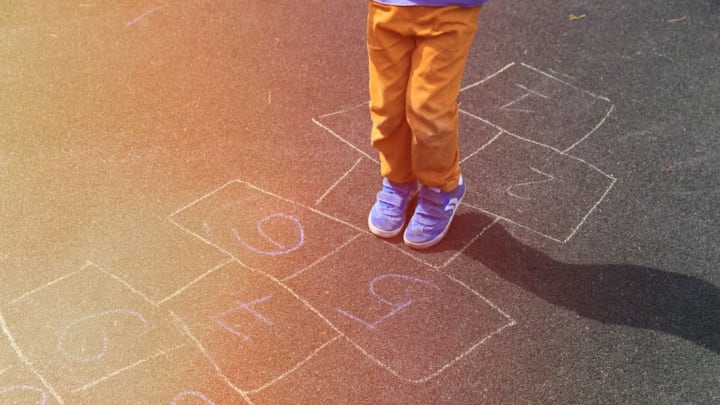 iStock / iStock
Once upon a time, outdoor play was just a natural part of childhood. Of course, back then it wasn't so much a matter of mom and dad knowing that fresh air, exercise, and social interaction were vital to both the physical and intellectual development of a child as much as it was getting us kids out of their hair for a few hours.
Going outside and jumping rope or playing kick the can with other kids in the neighborhood used to be as automatic as eating breakfast. Today, however, these activities are such an anomaly that childhood developmental experts have given them an official technical name—Unstructured Play—and are warning parents that it is becoming as archaic as cursive handwriting and clapping erasers after school. How many of these games did you play?
1. HOPSCOTCH
Though there's an abundance of colored sidewalk chalk available for sale still today, kids rarely use it to draw a hopscotch grid. Back in the day, we usually had a choice of traditional white or maybe yellow chalk (often palmed from the blackboard ledge when the teacher wasn't looking) with which to draw the playing field. Part of the fun of the game was the search for the "perfect" throwing stone (at least one flat side was preferred to avoid unnecessary bounce). Hopscotch wasn't always strictly a kids' game; Roman soldiers used to play the game in full armor as a military exercise.
2. KICK THE CAN
This game is sort of a hybrid of hide-and-seek and tag, but instead of actually touching the players, "It" must spot them and jump over the can (or bucket or other handy receptacle) while calling them out: "Over the can on Sandy—behind the big evergreen in Kosnik's front yard!" If properly identified, that person was "out". However, while It's back was turned, all the hidden players conspired to quietly run over to the can and kick it before being noticed. Much like flashlight tag, kick the can required players to run and hide all over the immediate neighborhood without regard for private property, which may very well have led to the "Hey you kids, get off of my lawn!" trope
3. JUMP ROPE
iStock
The advantage to jump rope was that it could either be a solitary activity or played with an unlimited number of people. All that was necessary was a length of rope (or something rope-like; in a pinch, even an electric extension cord would suffice). There were an abundance of skill games that every kid knew, all of which had their own "chant". For example, "High, low, jolly, pepper" required the jumper to first skip over the rope at a level several inches above the ground, then skip in a crouched position when the rope was lowered, then spin in place while jumping, and lastly trying to keep up while the rope was twirled in double-time. Tripping up meant losing your turn and it was time for the next player to see how many choruses of the song he or she could get through before stumbling.
4. CHINESE JUMP ROPE
Chinese jump rope did originate in China, and there is jumping involved, but the "rope" is a misnomer. The equipment involved was either an official industrial-strength elastic band sold in drug and toy stores every summer in the 1960s as a "Chinese jump rope" or an extra-long circle of thick rubber bands tied together. The two "ends" held the stretched band in place around their ankles, and the jumper was required to perform a series of prescribed maneuvers inside and outside of the band before progressing to the next level.
5. JACKS
iStock
Jacks is another game that dates back to ancient times, although in 400 BCE the players used the tiny ankle bones of sheep instead of the six-pointed metal pieces that were included with a red rubber ball in every birthday party favor bag in the 1950s and '60s. Some of us who never advanced past "twosies" didn't find much enjoyment in a game of jacks, but it was allegedly a great exercise in hand-eye coordination.
6. FOUR SQUARE
The rules for four square varied depending upon your locale; some neighborhoods had more stringent rules and scoring systems than the more casual, laissez-faire "if the ball bounces twice in a square or hits a line you're out" version of the game. In either case, the only necessities for play were a playground ball and some pavement. If you didn't have chalk to outline the playing field, the tar lines in your driveway or cracks in the sidewalk would suffice.
7. RED LIGHT, GREEN LIGHT
Red light, green light required a minimum of three players, but there was no maximum. And the actual play involved something kids love—running as fast as they could when the "Traffic Light' turned his or her back and announced "green light!" When the Traffic Light did an about-face and called out "red light!," however, everyone was required to freeze in place, and anyone caught moving had to return to the starting line.
8. TAG
iStock
There were several dozen variations of  tag, from frozen tag to TV tag to shadow tag. Flashlight tag was always a favorite, mainly because it was played after dark and had that extra element of spookiness and suspense as you ran through the neighborhood hiding in sheds and ducking around hedges. Some game strategies were hard-learned, such as not running behind the garage of a homeowner in the midst of serious remodeling. (You might step on a board with a 3 ¼" nail protruding from it that pierces right through your sneaker and requires a trip to the ER and a tetanus shot. Just sayin'.)
9. RED ROVER
Red Rover was the ideal playground game because more players made for better game play. Two teams of players joined hands and faced each other on opposite sides of the field. The captain of each team took turns summoning a player from the opposite side: "Red Rover, Red Rover, let Jack come over!" Jack would then have to run at top speed and try to break through the joined hands of the opposing team. Of course, prior to his sprint, Jack would have properly vetted the rival team and determined which players might have the weakest grip. If Jack didn't manage to break through, he had to join the opposing team. However, if he did break through the chain, he not only got to return to his own team, but he was also allowed to take one of those weak link players back with him. The amount of rough-housing required for this game almost guarantees that would be banned from today's sanctioned playground activities.