Hamilton Star Jordan Fisher Gives a Tour of Alexander Hamilton's NYC Home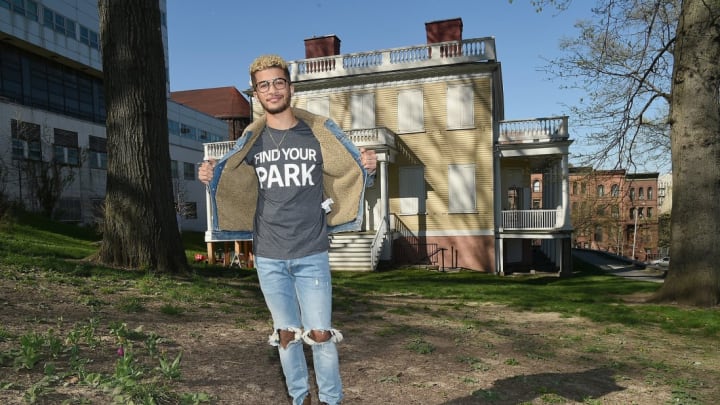 Mike Coppola/Getty Images for National Park Service / Mike Coppola/Getty Images for National Park Service
Growing up, Jordan Fisher was not a history buff. "I was a science guy in school, numbers and science and formula, what made things work and how to bring them forward—not what happened," he told mental_floss. He'd memorize facts about historical figures simply to pass his tests; he didn't care about them. But being cast in the Broadway musical Hamilton—where he played both John Laurens and Philip Hamilton from November 2016 to March 2017—changed all that.
"All it took was humanization. It took putting humanity in these people who had been mythologized, and seeing the relationships and the West Coast/East Coast rivalry in this musical about the construct of our country," he said, adding that he's a "brand new lover of American history—very passionate." Now, Fisher has joined up with the National Park Service and the National Park Foundation to help launch Parks 101—a series that will explore the lesser known histories and stories of America's parks—to give a tour of Alexander Hamilton's New York City home, the Hamilton Grange National Memorial. Mental_floss tagged along as Fisher and Park Ranger Vladimir Merzlyakov gave a tour.
The Grange is located all the way uptown, at 141st Street—which would, in Hamilton's time, have been the country. Hamilton's "sweet project," as he called it, was completed in 1802, just two years before his death, and was moved twice during the next 200 years before ending up in its current location in St. Nicholas Park. Despite the relocations, the house is 75 percent original and has been refurbished to what it would have looked like when the Hamiltons lived there.
The main entertaining room of the house, Merzlyakov said, had three huge triple windows, which—along with three others on the opposite side of the house—could be opened to provide a breeze during hot months. The piano forte belonged to Hamilton and Eliza's daughter Angelica and was given to her by her aunt, Angelica Church. That piano features heavily in Hamilton, although it's Philip, not Angelica, who plays it. The siblings were very close; after Philip was killed in a duel, Angelica was never the same. "She went a little crazy," Fisher said. "She would only refer to Philip even after he died as if he were alive, she would play music and songs that they would sing together as kids … It's very powerful to see that and to actually see a piece that they played. It's pretty incredible."
Fisher compared the formal dining room—which was reserved for guests and special occasions—to that room in your grandmother's house that no one goes in, where the furniture is covered in plastic. Notice that the silverware was turned upside down. "Back then, the silversmith would have his insignia on the back handle of the silverware—so if you spent a lot of money, you'd want the people using it to know that," Merzlyakov said.
Hamilton's study was painted a bright shade of green. "This was an actual choice," Fisher joked. "Green was another way of stunting back then." The color was very expensive, "the reason being that you'd have to use copper to get that green color, and only a handful of people knew how to mix it and make it," Merzlyakov added. The books on the table are Hamilton's—and the one on the top right is signed by Eliza.
Fisher, Merzlyakov, and a bust of Hamilton.
 
Get a tour of the Grange from Fisher by visiting his Facebook page at 6 p.m.
Photos by Erin McCarthy unless otherwise noted.