1. Jimmy Carter is an accomplished author.
While many presidents have turned to writing after leaving office, Carter has proven to be a particularly prolific author. Among the books he's written:
Always a Reckoning, a collection of poetry that's by turns humorous and touching.
Beyond the White House: Waging Peace, Fighting Disease and Building Hope, an account of how Carter and wife Rosalynn have confronted problems of poverty and war around the world.
Faith: A Journey for Us All, where Carter explains his spiritual strength and how it's guided his actions in and out of office.
A Full Life: Reflections at Ninety, where Carter assesses his storied life from his youth in Georgia to his humanitarian efforts during his post-White House years.
The Hornet's Nest: A Novel of the Revolutionary War, a work of fiction in which Carter examines the struggle for independence.
An Outdoor Journal, which details Carter's love of nature.
2. Jimmy Carter was the son of a peanut farmer.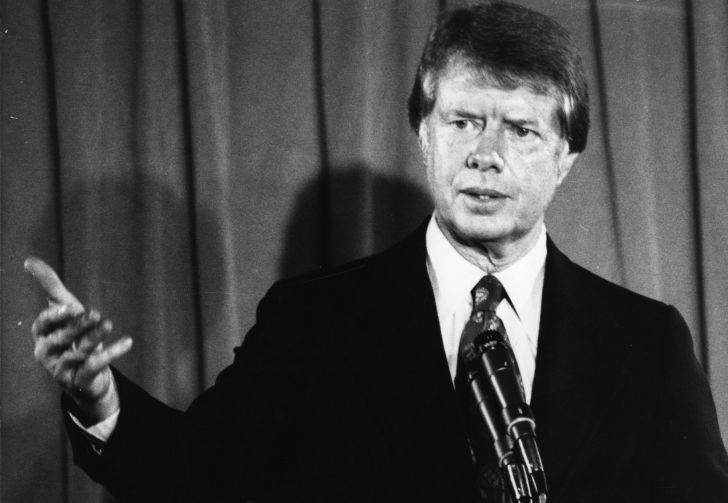 Jimmy Carter was born on October 1, 1924 to James Carter Sr., a peanut farmer, and Bessie Lillian Gordy, a registered nurse. The Carters lived in Plains, Georgia, until Jimmy was 4, at which point they moved two miles away to Archery. Despite the Great Depression, his father's peanut empire flourished, and he had over 200 employees by the late 1930s. (The senior Carter died in 1953.) The family business endured even as Jimmy Carter rose through the political ranks, with Carter Farms owning between 2000 and 3000 acres of land when he won the presidential election in 1976. Once in office, he put the farm into a blind trust.
3. Jimmy Carter had a landmark education.

When he graduated from Plains High School in 1941, Carter became the first member of his father's side of the family to complete high school. He went on to study engineering at Georgia Southwestern Junior College and later enrolled in the Naval ROTC program while at the Georgia Institute of Technology. From there, he entered the Naval Academy in Annapolis, Maryland, in 1943. In 1946, he graduated in the top 10 percent of his class, and in the same year he married childhood friend Rosalynn Smith. Following a storied military career, where he served as an engineering officer on the atomic-powered USS Seawolf submarine, Carter became active in Georgia politics, eventually serving as a state senator in 1962.
4. Jimmy Carter's presidential accomplishments were focused on foreign policy and fuel.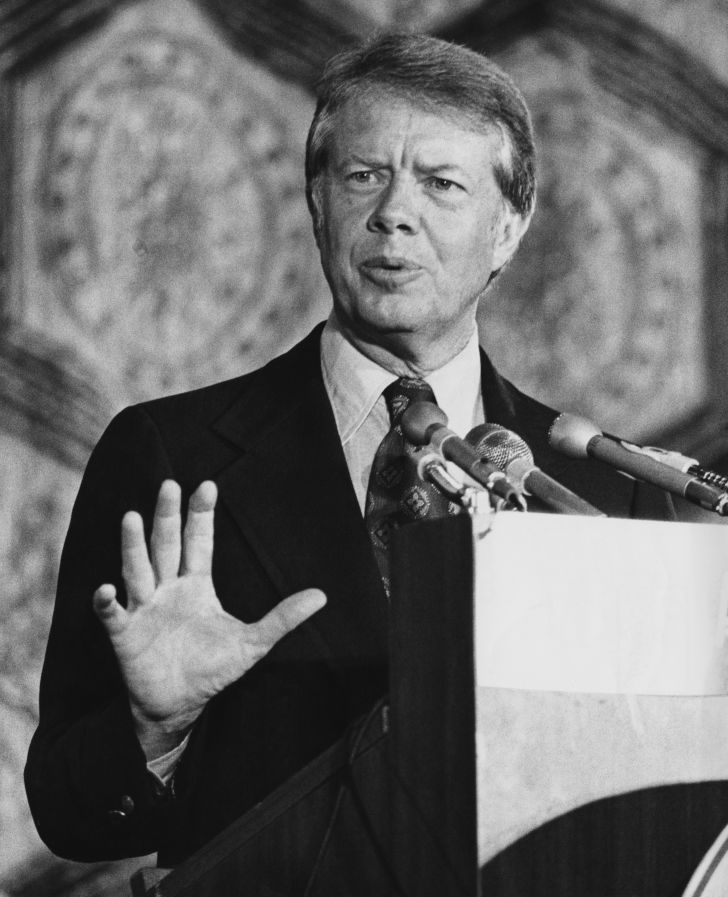 After defeating presidential incumbent Gerald Ford in 1976, Carter sought to make his mark by reducing America's dependence on foreign oil, which decreased from 48 percent of the country's overall consumption to 40 percent by the time he left office in January 1981. To lessen the impact of any supply disruptions, he also asked Congress to speed up the deadline for stockpiling 500 million barrels of oil in the country's Strategic Petroleum Reserves by two years (from the end of 1982 to 1980, instead). Throughout his presidency, though, the oil market remained volatile, and a 1979 spike in oil prices, brought on by the Iranian Revolution, minimized some of those achievements.
Carter was more successful in advocating for human rights, suspending U.S. aid to countries with a history of violations—in particular El Salvador and Nicaragua. And in 1979, he led the Camp David Accords between Israel and Egypt, helping broker a peace treaty between the two countries. However, a perceived failure to negotiate a hasty end to the Iran hostage crisis in 1979, where radical Iranian students took 52 U.S. hostages at the United States Embassy in Tehran, contributed to his inability to secure re-election against Ronald Reagan in 1980. A failed rescue attempt ordered by Carter in April 1980 even ended in the deaths of eight members of the U.S. military. To make a global statement, Iran did eventually free the hostages on January 20, 1981—the day of Ronald Reagan's inauguration. 
5. Jimmy Carter's work with Habitat for Humanity may become his lasting legacy.

Carter remained busy after leaving office. Around 1984, he and his wife, Rosalynn, began volunteering for Habitat for Humanity in and out of Georgia, lending their time and effort to build housing for low-income residents. Every year since, the Carters have engaged in an annual building effort known as the Carter Work Project. As of 2019, they've worked with 103,000 volunteers in 14 different countries to help build over 4000 homes. These humanitarian efforts, alongside numerous others, resulted in Carter being awarded the Nobel Peace Prize in 2002.
6. The Jimmy Carter Presidential Library in Atlanta, Georgia, was almost part of an interstate.
Being from Georgia, it was Carter's express wish that his presidential library would someday be built in the state. The facility, which houses over 40 million pages and 1 million photographs related to his administration, was constructed in Atlanta between 1984 and 1986. Oddly enough, the location selected for the library was once earmarked for an interstate—a plan that Carter once refused to sign off on when he was governor of Georgia between 1971 and 1975.
7. Jimmy Carter and his wife Rosalynn have made presidential history together.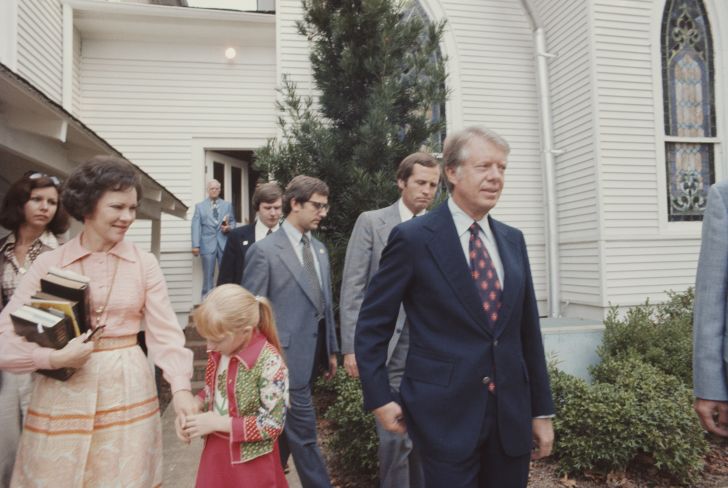 Having married in 1946, Jimmy and Rosalynn Carter celebrated a milestone in 2019. Wed for 73 years, the Carters are officially the longest presidential marriage on record, exceeding the union of George H.W. Bush and wife Barbara by a measure of days. Rosalynn has worked on a number of humanitarian efforts, including a role as vice chair of the Carter Center in Atlanta, which promotes peace and human rights.
8. Jimmy Carter is America's oldest president.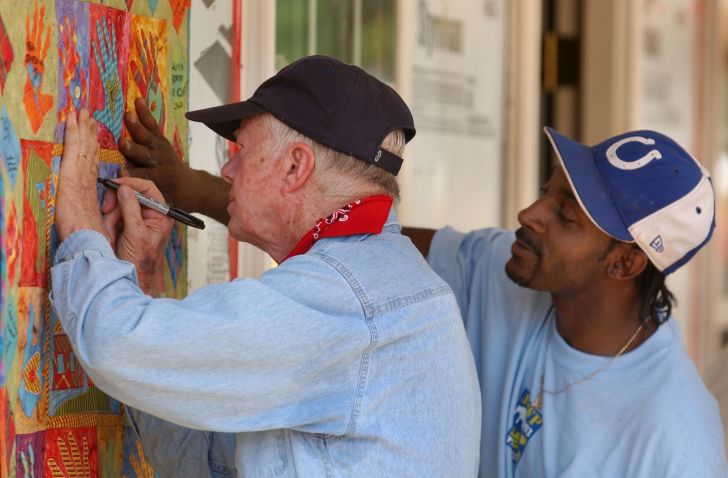 Perhaps doing good work is good for longevity. In 2019, the 95-year-old Carter became the oldest living former U.S. president.
Most Notable Jimmy Carter Quotes: