10 Surprising Facts About Junji Ito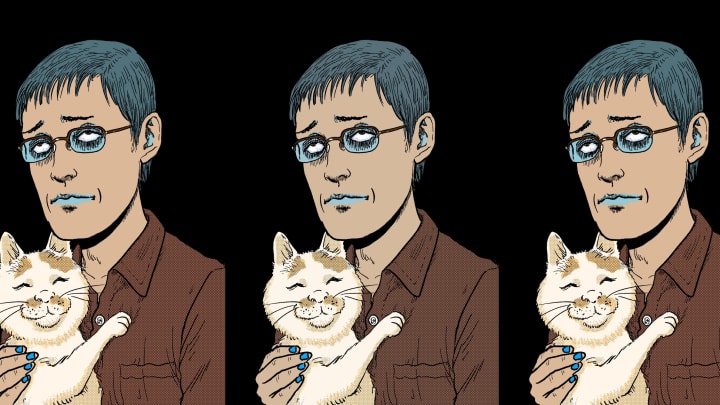 A self-portrait of Junji Ito with a cat. / © Tetsuya Higashikawa/Asahi Shimbun Publications Inc.© Asahi Shimbun Publications Inc.
It's been 35 years since Junji Ito debuted on Japan's manga scene with the first installment of Tomie, a long-running tale of a demonic young woman whose beauty drives her lovers murderously insane. Ito has since become one of horror's most revered creators, writing and illustrating long-form masterpieces such as Uzumaki and Gyo as well as unforgettable shorts like "The Hanging Balloons," "Glyceride," and "The Enigma of Amigara Fault"—that is, when he's not drawing Pokémon or publishing funny, charming comics about life with cats. 
From his first encounters with manga to his diverse range of artistic influences, here are a few things you might not know about the reigning king of horror manga.    
1. Junji Ito started reading horror manga when he was about 5 years old. 
Ito's introduction to manga came courtesy of his two older sisters, who had books by influential manga creators such as Kazuo Umezu (The Drifting Classroom) and Shinichi Koga (Eko Eko Azarak). The first manga Ito remembers reading is Umezu's Mummy Teacher, and he has since named The Drifting Classroom, about an elementary school that is somehow transported to a post-apocalyptic wasteland, as one of his most important influences. Ito has said he felt a strong connection to the material as a young child, explaining that horror manga was like a "parent" to him, "just like a duckling thinks the first person it sees is its mother."
2. His work as a dental technician shaped his art in a surprising way. 
After high school, Ito spent nearly six years working as a dental technician. (He began drawing manga professionally about halfway through that tenure.) When the demands of doing both jobs became too grueling, Ito said in an interview that he "decided to go all in on manga." But while his medical training helped him acquire a general knowledge of anatomy, it was his experience making dentures that most impacted his work as a mangaka, or manga creator. While customizing dental appliances, Ito learned hand-tooling techniques that he would later use to modify pens to make them easier to use or more comfortable to hold.
3. Ito got his start in the pages of a horror magazine aimed at teenage girls. 
In Japan, manga for young adults is divided into two main categories: shojo manga, which are popular with pre-teen and teenage girls, and shonen manga, which are typically marketed to adolescent boys. Ito's first published story, Tomie, appeared in the pages of a shojo magazine called Monthly Halloween. Ito submitted the story to the magazine's Kazuo Umezu Prize competition, where he earned an honorable mention in 1987. Tomie was serialized in various manga publications for 13 years and remains one of Ito's best-known works, inspiring a nine-installment film franchise and an episode of Netflix's upcoming anthology series Junji Ito Maniac: Japanese Tales of the Macabre. 
4. He often draws on childhood fears and experiences for his manga. 
Tomie was partly inspired by the death of a classmate, while "The Hanging Balloons" came from a childhood dream. Ito's monster-fish epic Gyo is a product of a formative experience with Jaws and his parents' stories of life during World War II, and he traces "Long Dream" to a childhood conversation with one of his sisters. 
5. A hand injury, combined with his laborious drawing style, forced him to go digital. 
For years, Ito cultivated a painstaking drawing technique that involved customized tools, white correction fluid, a lightbox, a handheld mirror, and countless bottles of lettering ink. After a hand injury, and in the interest of speed and efficiency, he has since transitioned to digital art, but he hasn't altogether abandoned homemade tools; Ito uses a handcrafted keyboard with specially modified keys. 
6. Ito's influences range from classic horror manga to Baroque painters to French impressionists. 
Besides the works of manga creators such as Kazuo Umezu, Shinichi Koga, and Hideshi Hino, Ito has been inspired by a diverse slate of classical and modern artists. He has cited Johannes Vermeer, Edgar Degas, Salvador Dalí, and H.R. Giger as visual influences, while his literary tastes have been largely shaped by H.P. Lovecraft. Japanese genre films and literature also made lasting impressions on Ito—he grew up watching classic kaidan films (ghosts or horror stories) such as Nobuo Nakagawa's The Ghost of Yotsuya. Ito has adapted at least two short stories by influential mystery author Edogawa Ranpo. 
7. He really likes cats.
But he's living proof that cat lovers aren't always born—sometimes they're forged in the fires of reluctant cohabitation. Prior to his marriage to renowned monster cat artist Ayako Ishiguro, Ito had generally regarded cats with suspicion and considered them "a bit creepy." That began to change when he and Ishiguro adopted two cats, Yon and Mu. Ito's editor noticed that his depictions of cats had changed, deduced that Ito had acquired cats, and suggested that he create a cat-centric manga. Junji Ito's Cat Diary: Yon & Mu, a humorous (but still satisfyingly creepy) autobiographical story about Ito's adjustment to life as a newly minted cat minder, was published in March 2009. Thanks to the success of Cat Diary, you can head over to YouTube to watch the immensely affable Ito tell stories about his cats, react to clips of anime cats, and evaluate photos of cats he's never met. 
8. Ito names "The Enigma of Amigara Fault" as his favorite of all his stories. 
Ito is routinely asked to name his favorite creations, and his go-to answer is a top-three list of short stories: "The Hanging Balloons," "The Long Dream," and "The Enigma of Amigara Fault." When pressed to choose one work he's most proud of, he names "The Enigma of Amigara Fault"—a story about human-shaped holes that compel people to enter them, which famously includes one of the most haunting panels in Ito's substantial body of work. 
9. Junji Ito collaborated with the Pokémon Company. 
In 2014, Ito teamed with Nintendo's Pokémon Company for a Halloween project called KowaPoke, which translates to Scary Pokémon. Ito put his signature spin on two pocket monsters: the ghostly Banette, whom Ito depicted stalking a young girl in an alley, and the ghost-and-poison Pokémon Gengar, who seemed to have materialized in Ito's spiral-infested Uzumaki universe. 
10. He is the first manga creator to win the prestigious Best Writer/Artist Eisner Award.
The Eisner Awards, often referred to as the Oscars of the comics industry, were launched in 1988 to recognize excellence in American comics. The scope of the awards gradually expanded to include international comics, and in 2019, Ito won his first Eisner for Best Adaptation from Another Medium. In 2021, he became the first mangaka to win top honors in the Best Writer/Artist category, for his cosmic horror series Remina and his story collection Venus in the Blind Spot. He won another Eisner the same year, for Best U.S. Edition of International Material for Venus in the Blind Spot. Ito added another Eisner to his collection in 2022 when Lovesickness: Junji Ito Story Collection topped the Best U.S. Edition category.