Well, 'HALO' There: A 60-Foot-Tall Hologram of Halo's Master Chief Popped Up in Cities Around the World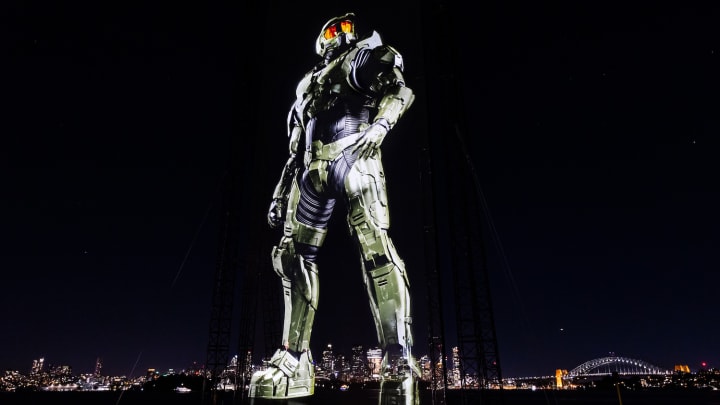 HALO's Master Chief drops in on Earth. / Minute Media
Halo, the hit Xbox combat game franchise-turned-hit Paramount+ live-action television series, has been a dominant part of popular culture for decades. To celebrate the success of the show, the network has dropped a unique advertising campaign in four cities: a massive, 60-foot-tall hologram—or HALOgram—of Master Chief that will probably have you thinking of the massive digital displays in Blade Runner.
Master Chief in Mexico City, Mexico. / Minute Media
The tech went up for one day on Sunday, April 17, in Sydney Harbour, Australia; Toronto, Canada; Sao Paulo, Brazil; and Mexico City, Mexico. Standing 6 stories in height, the animation depicts Master Chief dropping down to Earth to take stock of what he might have to blow into smithereens. It's believed to be the largest hologram ever put on public display.
Master Chief surveys the city of Toronto, Canada. / Minute Media
The project was led by Minute Media (the parent company of Mental Floss), media agency Wavemaker, and tech firm Kaleida. The undertaking was massive: each hologram display weighs 24 tons and features 126 meters of hologram gauze, which displays the image.
Master Chief takes Sao Paulo, Brazil. / Minute Media
Halo debuted on Microsoft's Xbox console in 2001, helping push the new device (which was unveiled by Bill Gates and The Rock at the 2001 Consumer Electronics Show) as a major player in the video game industry. Depicting a war between soldiers and an invading alien race known as the Covenant, it has spawned a number of sequels including last November's Halo Infinite.
Master Chief projected over Sydney Harbour, Australia. / Minute Media
Halo got off to a strong start on Paramount+, becoming the streaming network's most-watched premiere. A second season has been confirmed, though a release date has yet to be announced.