The Hilarious 'Peppa Pig' Mention in 'The White Lotus' Season 2 Was Totally Improvised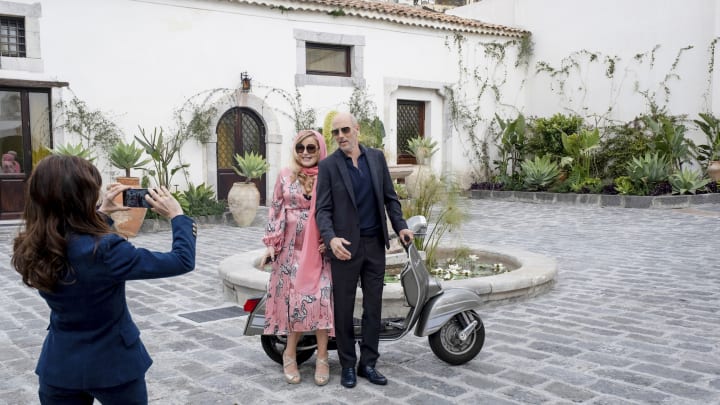 Jennifer Coolidge and Jon Gries in 'The White Lotus.' / Fabio Lovino/HBO
Some people watch HBO's The White Lotus mainly to theorize about who might end up dead, while others simply love to revel in the cringe quality of its characters' interactions. The show's second season had plenty of opportunities for both. (Don't worry—no spoilers here!)
Although it's an anthology series, creator Mike White brought season 1 fan favorite Tanya (Jennifer Coolidge) back for another fraught vacation, this time in Sicily with her new husband, Greg (John Gries), whom she met during season 1. Before the two embark on a day-long outing meant to fulfill all of Tanya's Italian fantasies—primarily riding a Vespa and eating clam pasta—she asks hotel manager Valentina (Sabrina Impacciatore) to guess who she's dressed as.
The answer she's looking for is bombshell Italian actress Monica Vitti, who gained worldwide fame in Michelangelo Antonioni's 1960 classic L'Avventura. But the characteristically caustic Valentina takes one look at Tanya's all-pink get-up and responds instead with "Peppa Pig." That wasn't a Mike White original: As Screen Rant reports, Impacciatore improvised the moment. 
She recounted the story during an Access Hollywood interview, which was also when she found out that the line made the final cut. "I'm so glad it's on the show!" she said. "It was like my third day of shooting, and I was so intimidated by Jennifer [Coolidge]. Because to me, she's a goddess; she's a genius," she said. But when White told the actors they could improvise while shooting that scene, Impacciatore didn't let the intimidation keep her from likening Coolidge's character to an anthropomorphic cartoon barn animal. And it paid off: "[Jennifer] could not stop laughing," she said.
See Impacciatore tell the whole story via TikTok here.
[h/t Screen Rant]