TRAVEL
The 10 Busiest Airports in the World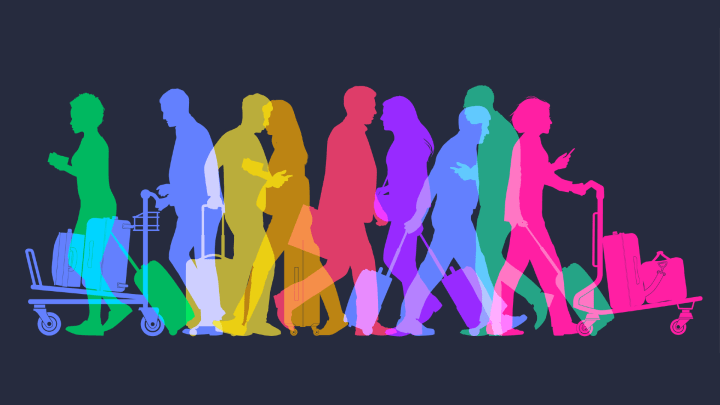 What it feels like to fly out of Atlanta. / smartboy10/DigitalVision Vectors/Getty Images
Every airport feels like the world's busiest airport when you're dodging fellow travelers left and right on the way to your flight gate.
But if you happen to be in Atlanta, you actually are in the world's busiest airport—at least in terms of airline capacity, or the total number of flight seats available in a given time period. (How many of those seats end up getting filled is a different metric: Airline capacity just accounts for every spot on every flight on the schedule.)
OAG, the self-described "world's leading provider of digital flight information, intelligence, and analytics for airports, airlines and travel tech companies," tracks domestic and international airline capacity in airports around the world on a monthly basis. For October 2022, Hartsfield-Jackson Atlanta International Airport took first place with about 4.75 million total seats across domestic and international flights. It's not that surprising: The Georgia airport consistently ranks among the top performers in this particular competition. 
The top three hasn't changed since last month—Dubai International and Tokyo International took second and third place, respectively—and all three saw capacity increases. Istanbul Airport, on the other hand, lost 6 percent of its airline capacity compared to last month, causing it to fall from fourth to eighth place.
Overall, the U.S. undeniably dominates the list. Five of the top 10 are located here, including Dallas/Fort Worth International, Denver International, Chicago O'Hare International, and Los Angeles International (plus Atlanta's aforementioned Hartsfield-Jackson). Domestic air traffic is a huge factor: If you rank airports based on international airline capacity alone (which OAG also did), not a single U.S. airport makes the top 10.
You can see that list here, and check out the busiest airports based on both domestic and international capacity below.
1. Hartsfield-Jackson Atlanta International Airport (United States) // 4.75 million
2. Dubai International Airport (United Arab Emirates) // 4.13 million
3. Tokyo International Airport, a.k.a. Haneda Airport (Japan) // 3.88 million
4. Dallas/Fort Worth International Airport (United States) // 3.75 million
5. Denver International Airport (United States) // 3.71 million
6. London Heathrow Airport (United Kingdom) // 3.68 million
7. Chicago O'Hare International Airport (United States) // 3.62 million
8. Istanbul Airport (Turkey) // 3.47 million
9. Los Angeles International Airport (United States) // 3.41 million
10. Delhi Airport a.k.a. Indira Gandhi International Airport (India) // 3.38 million
[h/t OAG]