15 Inspiring Quotes from LGBTQ Leaders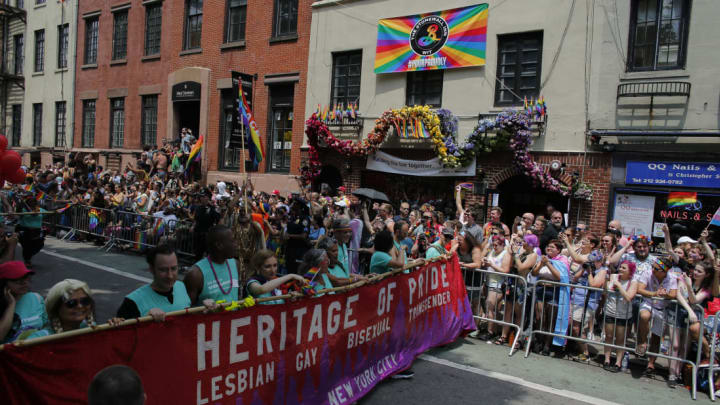 Kena Betancur/Getty Images / Kena Betancur/Getty Images
June 28 marks the anniversary of the Stonewall Riots, when members of the LGBTQ community fought back when police raided the Stonewall Inn, a gay bar in New York's Greenwich Village, in 1969. Each June, Pride Month is celebrated to commemorate the watershed moment that kicked off the modern LGBTQ rights movement. These memorable quotes from LGBTQ leaders—on everything from intersectionality to being an ally—will ring true all year round.
1. Tammy Baldwin // First Openly Gay U.S. Senator
Senator Tammy Baldwin speaks at EMILY's List 30th Anniversary Gala. / Kris Connor/Stringer/Getty Images
"There will not be a magic day when we wake up and it's now OK to express ourselves publicly. We make that day by doing things publicly until it's simply the way things are."
—From her "Never Doubt" speech at the Millennium March for Equality, 2000
2. Essex Hemphill // Poet, Performer, and Activist
"We will not go away with our issues of sexuality. We are coming home. It is not enough to tell us that one was a brilliant poet, scientist, educator, or rebel. Whom did he love? It makes a difference. I can't become a whole man simply on what is fed to me: watered-down versions of Black life in America. I need the ass-splitting truth to be told, so I will have something pure to emulate, a reason to remain loyal."
—From Ceremonies: Prose and Poetry, 1992
3. Charles M. Blow // Journalist, Commentator, and Columnist for The New York Times
Charles M. Blow attends the Brooklyn Artists Ball 2017. / Theo Wargo/Getty Images
"Part of what my discomfort was, in the beginning, is that I wanted something that didn't exist. I wanted something that was so singular, a label that was so singular for me. I was so special—I was so different from everybody else I was meeting. And I wanted a different label. And I had to say, 'Charles, snap out of that. What are you talking about?' All identity labels are umbrella terms to some degree, but this term bisexual is not only serviceable but it is sufficient. And yes, it brings together a bunch of people who are maybe shades different from one another. And maybe that's the beauty of labels: that they force you to be with other people and see the difference."
—From an interview with Michelangelo Signorile about coming out as bisexual in his memoir Fire Shut Up In My Bones, 2014
4. Leslie Feinberg // Transgender Activist and Author
"Like racism and all forms of prejudice, bigotry against transgender people is a deadly carcinogen. We are pitted against each other in order to keep us from seeing each other as allies. Genuine bonds of solidarity can be forged between people who respect each other's differences and are willing to fight their enemy together. We are the class that does the work of the world, and can revolutionize it. We can win true liberation."
—From Transgender Liberation: A Movement Whose Time Has Come, 1992
5. Jason Collins // First Openly Gay Player in the NBA and in a Major American Team Sport
Jason Collins attends "TrevorLIVE LA." / Michael Buckner/Getty Images
"Openness may not completely disarm prejudice, but it's a good place to start."
—From the essay "The Gay Athlete," published in Sports Illustrated, 2013
6. Harvey Milk // Murdered San Francisco City Supervisor and First Openly Gay Man Elected to Public Office
"If a bullet should enter my brain, let that bullet destroy every closet door."
—From a tape recording to be played in the event of his assassination, quoted in Randy Shilts's The Mayor of Castro Street: The Life and Times of Harvey Milk, 1977
7. Zachary Quinto // Actor and Producer
Zachary Quinto speaks onstage during the 2017 GLSEN Respect Awards. / Ilya S. Savenok/Stringer/Getty Images
"In light of Jamey's death, it became clear to me in an instant that living a gay life without publicly acknowledging it is simply not enough to make any significant contribution to the immense work that lies ahead on the road to complete equality. Our society needs to recognize the unstoppable momentum toward unequivocal civil equality for every gay, lesbian, bisexual, and transgender citizen of this country."
—From a blog post in response to the death by suicide of Jamey Rodemeyer, a bisexual teen and YouTuber, 2011
8. Audre Lorde // Poet, Essayist, and Civil Rights Activist
"Sometimes we drug ourselves with dreams of new ideas. The head will save us. The brain alone will set us free. But there are no new ideas waiting in the wings to save us as women, as human. There are only old and forgotten ones, new combinations, extrapolations and recognitions from within ourselves—along with the renewed courage to try them out."
—From Sister Outsider: Essays and Speeches, 1984
9. Alice Walker // Novelist, Essayist, and Activist
Alice Walker attends the "The Color Purple" Broadway Opening Night at The Bernard B. Jacobs Theatre. / Mark Sagliocco/Stringer/Getty Images
"Please remember, especially in these times of group-think and the right-on chorus, that no person is your friend (or kin) who demands your silence, or denies your right to grow and be perceived as fully blossomed as you were intended."
—From In Search of Our Mothers' Gardens: Womanist Prose, 1983
10. Marsha P. Johnson // Transgender Activist and Stonewall Riots Participant
"I'd like to see the gay revolution get started, but there hasn't been any demonstration or anything recently. You know how the straight people are. When they don't see any action they think, 'Well, gays are all forgotten now, they're worn out, they're tired.' ... If a transvestite doesn't say I'm gay and I'm proud and I'm a transvestite, then nobody else is going to hop up there and say I'm gay and I'm proud and I'm a transvestite for them."
—From an interview in Out of the Closets: Voices of Gay Liberation, 1972
11. Cherrie Moraga // Poet, Essayist, and Chicana Activist
"Our strategy is how we cope—how we measure and weigh what is to be said and when, what is to be done and how, and to whom, daily deciding/risking who it is we can call an ally, call a friend (whatever that person's skin, sex, or sexuality). We are women without a line. We are women who contradict each other."
—From This Bridge Called My Back, Fourth Edition: Writings by Radical Women of Color, 1981
12. James Baldwin // Poet, Novelist, Playwright, and Essayist
"If you fall in love with a boy, you fall in love with a boy. The fact that many Americans consider it a disease says more about them than it does about homosexuality."
—From an interview with Eve Auchincloss and Nancy Lynch, 1969
13. Kristin Beck // First Openly Transgender Former U.S. Navy Seal
Kristin Beck attends OUT Magazine #OUT100 Event. / Bryan Bedder/Stringer/Getty Images
"I don't want you to love me. I don't want you to like me. But I don't want you to beat me up and kill me. You don't have to like me, I don't care. But please don't kill me."
—From a CNN interview with Anderson Cooper, 2013
14. Bob Paris // Author, Activist, Bodybuilder, and former Mr. Universe
"Every gay and lesbian person who has been lucky enough to survive the turmoil of growing up is a survivor. Survivors always have an obligation to those who will face the same challenges."
—From his memoir Straight from the Heart, 1995
15. George Takei // Actor, Director, and Activist
George Takei speaks during WE Day Minnesota at Xcel Energy Center. / Adam Bettcher/Stringer/Getty Images
"We should indeed keep calm in the face of difference, and live our lives in a state of inclusion and wonder at the diversity of humanity."
—From Lions and Tigers and Bears: The Internet Strikes Back, 2013
A version of this story ran in 2017. It has been updated for 2021.