11 Famous Works of Art That Were Never Actually Completed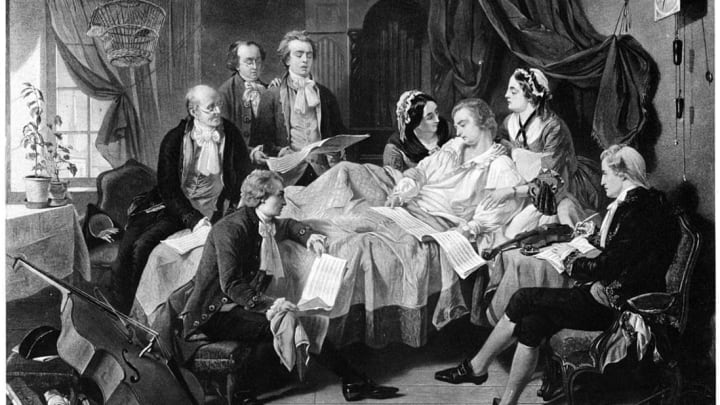 Ann Ronan Pictures/Print Collector/Getty Images / Ann Ronan Pictures/Print Collector/Getty Images
Artists and writers can't always bring their works to grandiose completion. Sometimes they plan too big. Sometimes, life just gets in the way. But just because creators' plans fall short doesn't mean that audiences mind—or even notice. Here are the stories behind 11 classics that left us hanging.
1. Symphony No. 8 (Unfinished) (1822) // Franz Schubert 
Franz Schubert probably died of syphilis, and was nicknamed "Little Mushroom." But don't hold those things against him. His music has proved tuneful and long-lasting, with one of his most enduring works being this unfinished symphony. In truth, as critic Brian Newbould said, it's more of a "finished half-symphony"—it consists of two complete, fully orchestrated movements. Most classical symphonies have four. No one quite knows why Schubert stopped working on the piece, and a friend of his kept it secret until nearly 40 years after the composer's death.
2. The Thief and the Cobbler (1992 // Richard Williams
British animation genius Richard Williams is best known these days for his contributions to Who Framed Roger Rabbit. But he also worked for an astonishing three decades on The Thief and the Cobbler, an animated adaptation of Arabian Nights legends. It turned heads in the animation community (some of its plot points and character designs magically popped up in Disney's Aladdin) but Williams ultimately lost control of the film to his financiers—with about 15 minutes of animation left to complete. It was reworked, re-animated and entirely botched in a theatrical release. Fans have responded in recent years with a "re-cobbled" version, based on Williams's original intentions.
3. portrait of George Washington (1796) // Gilbert Stuart
This iconic, square-jawed image is the basis for the portrait of George Washington on the dollar bill and innumerable reproductions. Our image of the man who could not tell a lie comes largely from this single painting, nicknamed The Athenaeum. But political portraitist Gilbert Stuart never finished his image of the nation's first president. Instead, he kept the canvas—the head and shoulders are finished, but not much else—and used it as a source to paint more than 100 duplicates, which he sold for tidy sums. (The original was no picnic to paint, either—Washington's new pair of false teeth made his mouth all bulgy.)
4. The Silmarillion (1977) // J.R.R. Tolkien
After the publication of The Lord of the Rings in 1954 and 1955, fantasy fans waited breathlessly for the next big book from Anglo-Saxon-scholar-turned-fantasy-author J.R.R. Tolkien. While he turned out a few short pieces, it wasn't until after his 1973 death that The Silmarillion finally emerged. The book had started as far back as 1916, and Tolkien kept whittling away at it into the '70s. His son, Christopher, finally put his father's papers in order, and the collection of legends about Middle Earth raced to the top of The New York Times bestseller list.
5., 6., and 7. The Trial (1925), The Castle (1926), and Amerika (1927) // Franz Kafka
In these three books, Bohemian Franz Kafka (he was actually born in the country of Bohemia) attempted to stretch his short story genius into book-length form. He never quite made it, abandoning his three books in various states of disarray (The Castle can't even finish its last sentence). Kafka died in 1924, at the age of 40. In his will, he instructed his friend Max Brod to destroy all of his unpublished work. Brod promptly published it all instead, cementing Kafka's literary reputation in the process.
8. Requiem (1791) // Wolfgang Amadeus Mozart
Mythology is thick around Mozart's last composition, which was commissioned by Count Franz von Walsegg-Stuppach and obsessed the composer on his deathbed. What we know for sure is that Mozart completed only the first two movements. He sketched out the next several parts, but expired before finishing the piece. Mozart's widow, Constanze, then drafted one of the composer's students, Franz Xaver Süssmayer, to ghostwrite the last couple of sections. However the piece came together, it's regarded as an imposing classic today— and a tempting target for modern composers who have created their own "complete" versions.
9. and 10. Don Quixote (1969) and The Other Side of the Wind (1976) // Orson Welles
Filmmaker Orson Welles left a legacy of partially completed and abandoned projects. Don Quixote was filmed over some 15 years and left in disarray (the death of the actor playing Don didn't help). Surviving fragments of the film were edited into a somewhat confusing 1992 release.
The Other Side of the Wind was different, though. Welles's last full, non-documentary film was nearly done, and filmed from start to finish. It just had the misfortune of being partially funded by a relative of the shah of Iran. After the Iranian revolution, ownership of the film was thrown into question, and Welles never edited it all together. Director and author Peter Bogdanovich had labored mightily to do so, but those pesky rights issues kept the movie out of bounds for years. In 2018, the film had its world premiere at the 75th Venice International Film Festival.
11. Kubla Khan (1798) // Samuel Taylor Coleridge (1798)
Samuel Taylor Coleridge meant for his now-classic poem to be 200 or 300 lines long. The whole work came to him in a hallucinatory dream, and after waking up he started writing it down. But Coleridge was then interrupted by a "person on business from Porlock" and forgot the rest of the poem. "A person from Porlock" has thus become literary shorthand for an intruder who breaks a writer's train of thought. Nabokov and Heinlein, among others, have made the reference. And Hitchhiker's Guide to the Galaxy author Douglas Adams used the incident as a major plot point in Dirk Gently's Holistic Detective Agency.