Step Inside This Stunning, Nature-Inspired Art Gallery in Tulum, Mexico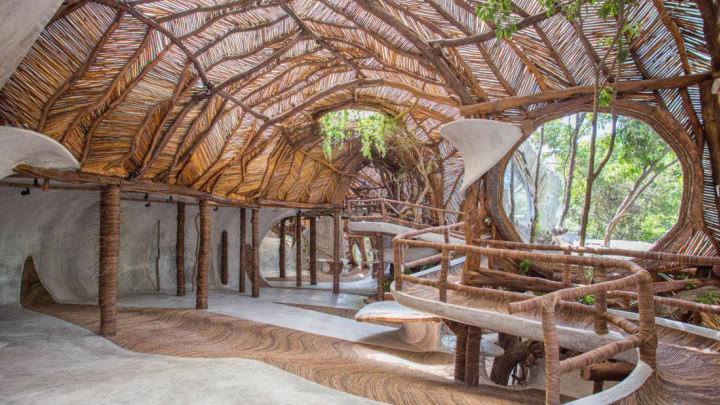 Courtesy of Fernando Artigas / Courtesy of Fernando Artigas
Upon closer inspection, this building in Tulum, Mexico, doesn't seem like a suitable place to house an art exhibit. Everything that makes it so visually striking—its curved walls, uneven floors, and lack of drab, white backgrounds—also makes it a challenge for curators.
But none of these factors deterred Santiago Rumney Guggenheim—the great-grandson of the late famed art collector and heiress Peggy Guggenheim—from christening the space an art gallery. And thus, IK LAB was born.
"We want to trigger the creative minds of artists to create for a completely different environment," Rumney Guggenheim, the gallery's director, tells Artsy. "We are challenging the artists to make work for a space that doesn't have straight walls or floors—we don't even have walls really, it's more like shapes coming out of the floor. And the floor is hardly a floor."
Courtesy of Fernando Artigas
Courtesy of Fernando Artigas
Courtesy of Fernando Artigas
Courtesy of Fernando Artigas
IK LAB was brought to life by Rumney Guggenheim and Jorge Eduardo Neira Sterkel, the founder of luxury resort Azulik. The two properties, which have a similar style of architecture, share a site near the Caribbean coast. IK LAB may be unconventional, but it certainly makes a statement. Its ceiling is composed of diagonal slats resembling the veins of a leaf, and a wavy wooden texture breaks up the monotony of concrete floors. Entry to the gallery is gained through a 13-foot-high glass door that's shaped a little like a hobbit hole.
The gallery was also designed to be eco-conscious. The building is propped up on stilts, which not only lets wildlife pass underneath, but also gives guests a view overlooking the forest canopy. Many of the materials have been sourced from local jungles. Gallery organizers say the building is designed to induce a "meditative state," and visitors are asked to go barefoot to foster a more sensory experience. (Be careful, though—you wouldn't want to trip on the uneven floor.)
The gallery's first exhibition, "Alignments," features the suspended sculptures of Artur Lescher, the perception-challenging works of Margo Trushina, and the geometrical pendulums of Tatiana Trouvé. One piece by Trouvé features 250 pendulums suspended from the gallery's domed ceiling. If you want to see this exhibit, be sure to get there before it ends in September.
[h/t Dezeen]