Mississippi's Phantom Barber of Pascagoula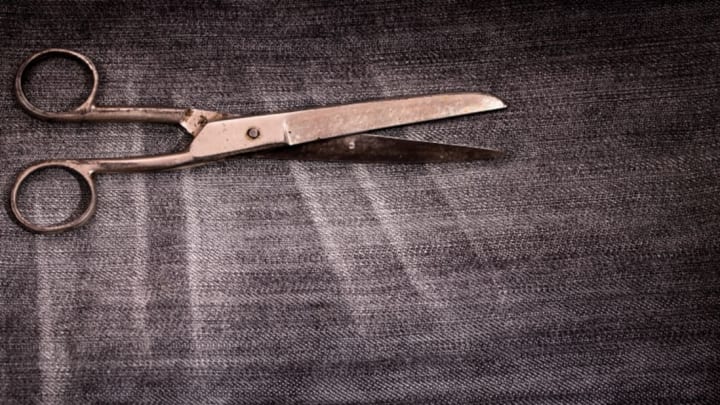 istock / istock
If you want to learn about someplace, you can always pick up a textbook. But if you want to get to know a place, you're going to have to dig a little deeper. And what you find there might be a little strange. The Strange States series will take you on a virtual tour of America to uncover the unusual people, places, things, and events that make this country such a unique place to call home.
This week we're in the Magnolia State—Mississippi—the home of Jim Henson, B.B. King, and The King himself, Elvis Presley.
In the early days of World War II, warship construction helped the tiny fishing town of Pascagoula, Mississippi grow from a population of 5000 to nearly 15,000, seemingly overnight. Although a larger population meant an economic boost for local businesses, it also meant the police force was struggling to keep the larger population in line. Aside from the expected uptick in drunken brawls and burglaries, there was one menace wandering the streets that kept people awake at night—The Phantom Barber of Pascagoula.
His reign of terror began on Friday, June 5, 1942, when young Mary Evelyn Briggs and Edna Marie Hydel at the Our Lady of Victories convent were shocked to find a man climbing out of their bedroom window. The two girls were unharmed, although each of them was missing a lock of hair. Briggs later described the man as "sorta short, sorta fat, and he was wearing a white sweatshirt."
The Barber struck again on Monday at the Peattie home, where he cut a slit in the window screen and crawled inside to snip the hair of little 6-year old Carol Peattie as she lay sleeping next to her twin brother. This time the Phantom Barber had accidentally left a clue—a sandy footprint near the window.
The next incident occurred the following Friday night, when the home of Mr. and Mrs. Heidelberg was invaded. Like before, the window screen was cut and the invader came inside. But instead of taking his typical trophy tuft, he used a heavy iron bar to attack the couple, taking out some of Mrs. Heidelberg's front teeth and knocking her husband unconscious. Unfortunately, it all happened so quickly that neither could describe their attacker.
The police deputized six men and brought in bloodhounds to pick up a scent. The dogs followed the trail to a pair of bloodstained gloves in the nearby woods, but that was as far as they got. The police theorized that the assailant might have stashed a bicycle in the woods to make his escape.
The final attack came on a Sunday night, when the hair of Mrs. R.R. Taylor was cut. She said she had been woken up by "something with a sickening smell" passing over her nose. The next thing she remembered, was waking up and getting violently ill. Police later determined the Barber must have cut the window screen, stuck a chloroform-soaked rag over Taylor's face, and then collected his lock of hair.
For two more months, residents lived in fear, though no additional Barber attacks occurred. Then, suddenly, police announced they had caught the Phantom Barber—William Dolan, a 57-year old chemist. Dolan had sparred with Mr. Heidelberg's father, a local magistrate, over a legal issue, so it was thought he attacked the couple to seek revenge. Although this didn't directly tie him to the Phantom Barber invasions, police claimed a large bundle of human hair was found behind his home. The FBI later identified some of the hair as belonging to Carol Peattie, the Barber's youngest victim.
Despite his insistence of innocence, Dolan was quickly found guilty of attempted murder and sentenced to 10 years in prison. He was never charged with any crimes related to the hair snatching incidents, but in the eyes of the public he was the Phantom Barber.
Six years later, Mississippi Governor Fielding Wright reviewed the case and asked that Dolan take a lie-detector test. Upon passing, Dolan was given a limited suspended sentence and then eventually set free in 1951.
In hindsight, some modern historians wonder if Dolan was guilty of any crime at all. He was arrested at a time when the public was in a state of panic and the police were desperate to close the Phantom Barber cases. It would have been very easy to plant the hair during Dolan's arrest and then tamper with the evidence sent to the FBI for analysis. In addition, Dolan was a known German sympathizer and considered a traitor by many townsfolk, so his arrest for the attack on the Heidelbergs was met with little resistance; good riddance to bad rubbish, as the old saying goes. Was Dolan the Phantom Barber of Pascagoula, or a patsy who took the fall to quell the anxieties of a small town? We may never know for sure.
Have the scoop on an unusual person, place or event in your state? Tell me about it on Twitter (@spacemonkeyx) and maybe I'll include it in a future edition of Strange States!
Peruse the whole Strange States series here.