The Top '90s Toy in Each State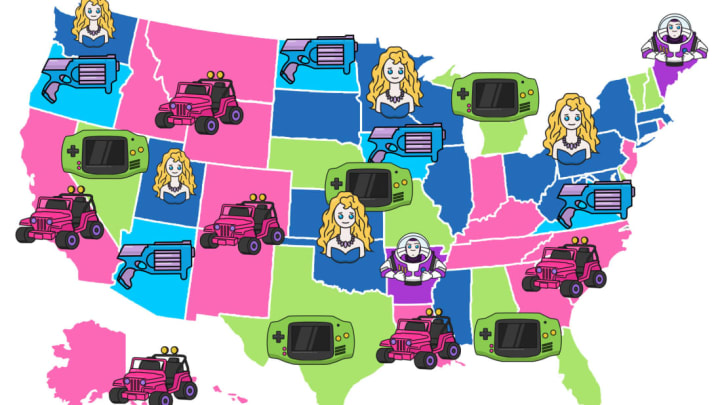 All Home Connections / All Home Connections
Late '80s and '90s babies can probably recall a few of their favorite childhood toys in vivid detail, whether it's the Easy-Bake Oven, Tamagotchi, Polly Pocket, Socker Boppers, Lite Brite, or Betty Spaghetty (toys that rhymed were apparently a hot commodity back then).
If you just felt a wave of nostalgia crash over you, there's more in store. A team of analysts from All Home Connections figured out the most currently popular '90s toy in each state by looking at Google Shopping trends over the past year. They also checked out the average cost of each toy on eBay and were shocked to see that Floam (a type of moldable slime) can go for over $100—likely due to the resurgence in slime toys.
Their analysts started with a list of 50 popular toys and whittled it down to just 33 all-star games, dolls, action figures, and miscellaneous playthings. If you were ever the proud doll mom or dad of Felicity, Addy, or Josefina, you're in good company: American Girl Dolls are the most popular toy in 10 states. The company was an instant success when it launched in 1986, and over 32 million of the history-inspired dolls have been sold since then.
Power Wheels are the most popular toy in five states (Georgia, Indiana, Louisiana, South Carolina, and Tennessee), while LEGOs are kind of a big deal in three states (California, Montana, and New Mexico). From there, it gets a little more individualized, with a few lesser-known toys making the final cut.
What toy does your state love most? Keeping scrolling to see the full map, and check out the All Home Connections website to see a breakdown of average eBay prices.
All Home Connections