The 40 Most Popular British Royal Baby Names of the Past 200 Years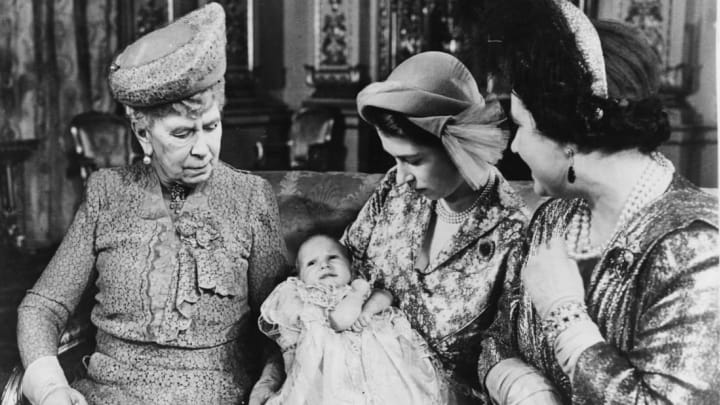 Central Press/Hulton Archive/Getty Images / Central Press/Hulton Archive/Getty Images
For the average parents-to-be, choosing a moniker for your impending bundle of joy can be a source of much stress and strife. Pick too wild a baby name and your kid risks years of ridicule for being named after a trendy fruit. (Sorry, Avocado.) Opt for too popular a name and the child is likely to be one of 500 Jacksons (or Jaxons) in his graduating class. Now imagine the pressure to select just the right baby name is amplified by the fact that you're a member of the British Royal family.
It's a situation that Prince William and Kate Middleton know all too well—and now the Duke and Duchess of Sussex (a.k.a. Prince Harry and Meghan Markle) do, too. After announcing the birth of their first child, a son, on Monday, May 6, the couple has now officially announced his name: Archie Harrison Mountbatten-Windsor, who will reportedly have no title, and will simply go by Master Archie.
Guessing the name and gender of the Duke and Duchess's royal baby has been a profitable endeavor for oddsmakers for the past several months. But if betters were putting money on history, they likely came out a loser on this one—as neither Archie nor Harrison is a common royal moniker.
Expedia recently did some research to collate a list of the most popular British royal baby names of the past 200 years, going all the way back to Queen Victoria in 1819 … which just happens to be the most popular royal female name (though the last time a royal Victoria was christened was in 1897).
On the male side, Albert wins the day with 12 royal Alberts (beginning with Queen Victoria's husband). George, the name of William and Kate's firstborn, comes in second with a total of 10 royal males having that handle.
Here's a full list of the most popular names. For even more detailed information on Expedia's research, click the family tree below.
Most Common Royal Male Names
Albert, 12 royals with this name
George, 10
Charles, 8
Edward, 7
Christian, 5
Frederick, 5
Louis, 5
Arthur, 5
William, 4
Henry, 4
Alexander, 4
John, 3
Philip, 3
Douglas, 2
Ernest, 2
Patrick, 2
Friederike, 2
Auguste, 2
Francis, 2
Andrew, 2
David, 2
Augustus, 2
Antony, 2
Most Common Royal Female Names
Victoria, 9 royals with this name
Mary, 7
Louise, 6
Alexandra, 6
Elizabeth, 5
Alice, 4
Margaret, 3
Charlotte, 3
Augusta, 2
Helena, 2
Maud, 2
Agnes, 2
Helene, 2
Caroline, 2
Olga, 2
Louisa, 2
Diana, 2