A 400-Year-Old Bible Stolen From Pittsburgh's Carnegie Library Has Been Recovered in the Netherlands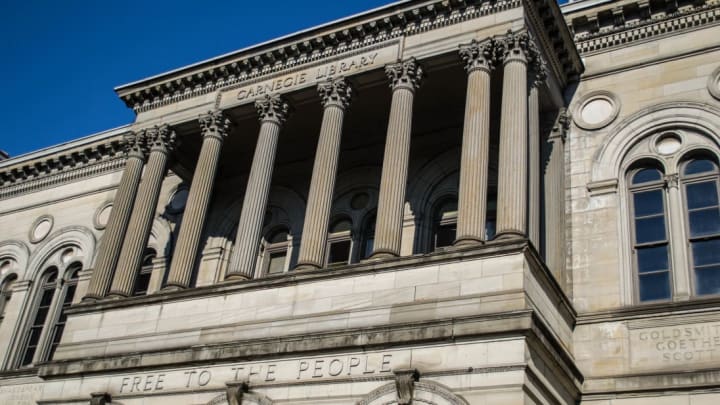 It's not often that stolen or forgotten library books get returned to their rightful owners—especially if they're highly valuable. And yet, as the Pittsburgh Post-Gazette reports, the custodians of Pittsburgh's Carnegie Library got a pleasant surprise when a missing 400-year-old Bible was returned to them this week.
The Geneva Bible, which was published in 1615 following the release of the King James Bible, was among hundreds of rare items that were stolen from the Carnegie Library's collection as part of a decades-long scheme. It had been sold to the Leiden American Pilgrim Museum in the Netherlands for $1200, but arrangements were made to return it to Pittsburgh when the museum's owner found out it had been stolen. The Bible is similar to one that was brought to the New World on the Mayflower in 1620, according to Robert Allan Jones, the special agent who oversees the Pittsburgh FBI office.
"This Bible is more than a piece of evidence in a case," Jones said at a press conference. "It is a priceless artifact of religious significance to people of many faiths."
It's also a rare version of a Geneva Bible, called a Breeches Bible. This name references a printing change to the third chapter of Genesis, in which Adam and Eve were said to have woven fig leaves into breeches to cover their naked bodies.
The theft was allegedly an inside job that spanned two decades, bringing the total damage to $8 million and making it one of the largest library heists ever recorded. A library archivist and a local bookseller were charged with the crime.
So far, investigators have been able to recover more than 40 books and a number of maps, plates, and pamphlets. The Carnegie Library's rare books room has been closed since 2017 because it's an active crime scene, but library staff hope to work towards its reopening over the next year.
[h/t Pittsburgh Post-Gazette]