11 Inspiring Facts About Eleanor Roosevelt
On October 11, 1884, Eleanor Roosevelt was born in New York City. Her lifetime achievements are almost too numerous to list, but these amazing facts should remind you why she's still celebrated as one of America's finest first ladies and diplomats.
1. ELEANOR WAS HER MIDDLE NAME.
From a very young age, Anna Eleanor Roosevelt much preferred her middle name and would usually introduce herself by it as she grew older. For the record, Roosevelt wasn't wild about her childhood nickname either: Her mother, Anna Hall Roosevelt, found the girl comically old-fashioned and often referred to her as "Granny."
2. SHE WAS ORPHANED AT A VERY YOUNG AGE.
When Anna Roosevelt passed away in 1892, her husband Elliott, who struggled with alcoholism, was exiled from the family. Following these tragic events, 8-year-old Eleanor was left in the care of her maternal grandmother, Valentine Hall. Unable to shake his demons, Elliott (Teddy Roosevelt's younger brother) attempted suicide by jumping out of a window in 1894. Despite surviving this fall, he suffered a seizure shortly thereafter and died on August 14, 1894—leaving his children parentless.
3. SHE LOVED FIELD HOCKEY.
What did Roosevelt consider the happiest day of her life? The day she made her private school's field hockey team.
4. ON HER WEDDING DAY, THEN-PRESIDENT TEDDY ROOSEVELT WALKED HER DOWN THE AISLE.
"I am as fond of Eleanor as if she were my daughter," Teddy Roosevelt once wrote of his niece. On March 17, 1905—just a few months into his second term—the Bull Moose had the honor of giving Eleanor away on her wedding day. "Well, Franklin," the commander-in-chief later joked to her new spouse, and his cousin, "there's nothing like keeping the name in the family."  
5. SHE ORGANIZED SEVERAL WOMEN-ONLY WHITE HOUSE PRESS CONFERENCES.
At the time FDR was first elected president, female journalists had traditionally been excluded from serious media events at 1600 Pennsylvania Avenue. Eleanor helped to somewhat level the playing field by hosting a series of ladies-only press conferences, which pressured papers into hiring more women reporters and helped Eleanor win over female voters on behalf of her husband. 
6. SHE ONCE WENT FLYING WITH AMELIA EARHART.
The courageous aviator inspired Eleanor to apply for her very own piloting license and even took the First Lady out for an airborne spin from D.C. to Baltimore in 1933. Years later, after Earhart unexpectedly vanished, a grief-stricken Roosevelt told the press "I am sure Amelia's last words were 'I have no regrets.'"
7. SHE WROTE A SYNDICATED NEWSPAPER COLUMN FOR 27 YEARS.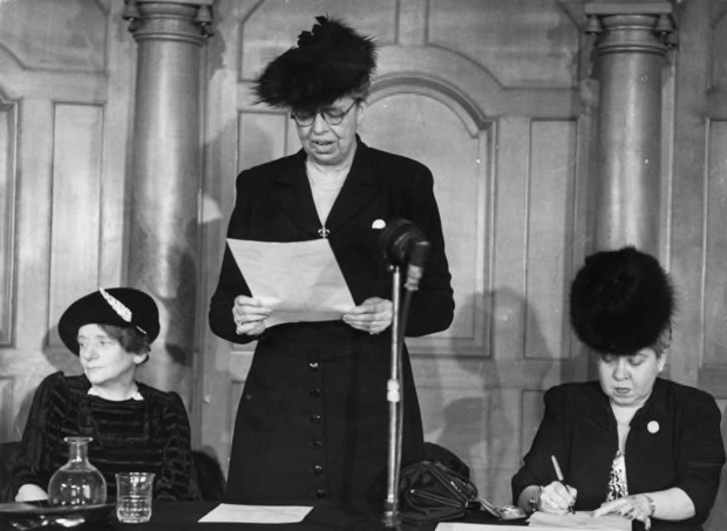 From 1935 to 1962, Eleanor composed six weekly articles about her political views and personal life. Simply entitled "My Day," the column featured Roosevelt's musings on such topics as Prohibition, Pearl Harbor, and Joseph McCarthy's Communist witch hunt. A disciplined professional, Eleanor missed only a single week's worth of material, following her husband's untimely death in 1945.   
8. SHE DEFIED BIRMINGHAM, ALABAMA'S SEGREGATION LAWS IN A POWERFUL PROTEST.
In 1938, the Southern Conference for Human Welfare held its inaugural meeting in Alabama's "Magic City." Upon her arrival, Roosevelt sat directly beside an African American associate, ignoring the designated whites-only section en route. After being told that Birmingham's segregationist policies prohibited whites and blacks from sitting together at public functions, the First Lady asked for a ruler.
"Now measure the distance between this chair and that one," she said after somebody produced one. Upon examining this gap separating the white and black seating areas, the first lady placed her chair directly in its center. There she defiantly sat, in a racial no-man's land, until the meeting concluded. "They were afraid to arrest her," one witness claimed.
9. SHE STARRED IN A MARGARINE COMMERCIAL.
In fact, Roosevelt advertised a range of products—from mattresses to hot dogs. Her appearance in the 1959 TV spot above helped establish margarine as one of America's favorite spreads. This appearance netted the former first lady $35,000, which she used to purchase 6000 care packages for impoverished families.
10. SHE HELPED DRAFT THE UNIVERSAL DECLARATION OF HUMAN RIGHTS.
Harry S. Truman appointed Roosevelt as a United Nations delegate in 1946. In this role, she became a driving force behind the U.N.'s Declaration of Human Rights, which over 50 member-states eventually worked together to compose.
11. SHE EARNED 35 HONORARY DEGREES.
FDR, meanwhile, only received 31 Among the institutions which bestowed degrees upon the First Lady-turned diplomat were Russell Sage College, the John Marshall College of Law, and Oxford University.
This article originally ran in 2014.