11 Spooky Gifts for Horror Lovers
You don't have to wait until the winter holidays to buy gifts for the special people in your life. If you know someone who can quote every line from The Exorcist, the season of giving starts in October, right in time for Halloween. From horror movie swag to creepy housewares, these gift ideas are perfect for any time of year.
1. Pennywise Funko Pop!; $13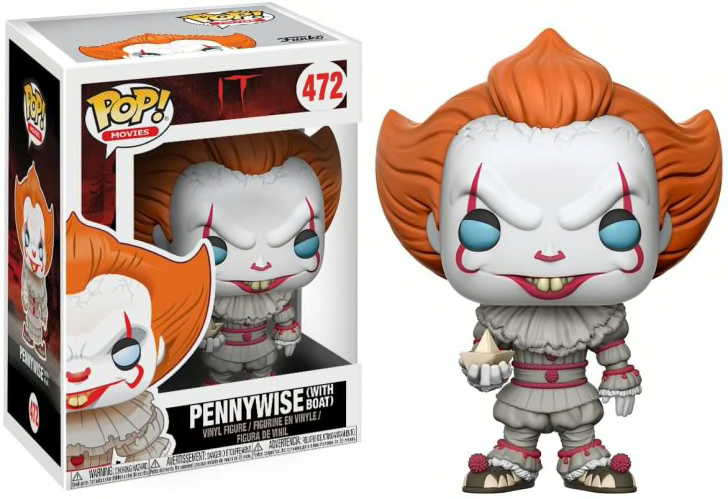 Everyone's least favorite clown is here to terrorize your desktop. This Funko Pop! doll from the It movies comes in a variety of styles, including one with Georgie's ill-fated paper boat.
Buy It: Amazon
2. Universal Classic Monsters Blu-Ray Collection; $60
For the horror fan in your life that loves the classics, this Blu-ray set features six early Universal monster movies that defined a genre. Watching the original portrayals of Dracula, Frankenstein, and the Wolfman on screen will give any cinephile a deeper appreciation for modern horror movies.
Buy It: Amazon
3. Men, Women, and Chain Saws: Gender in the Modern Horror Film; $18
Some horror fans love mindlessly consuming scary movies, while others spend hours thinking about them after the credits roll. The book Men, Women, and Chain Saws by Carol J. Clover is the perfect gift for the academic horror buff. It dissects the role gender plays in horror films, looking at everything from the slasher/victim dynamic to the final girl trope.
Buy It: Amazon
4. Silence of the Lambs Face Mask; $12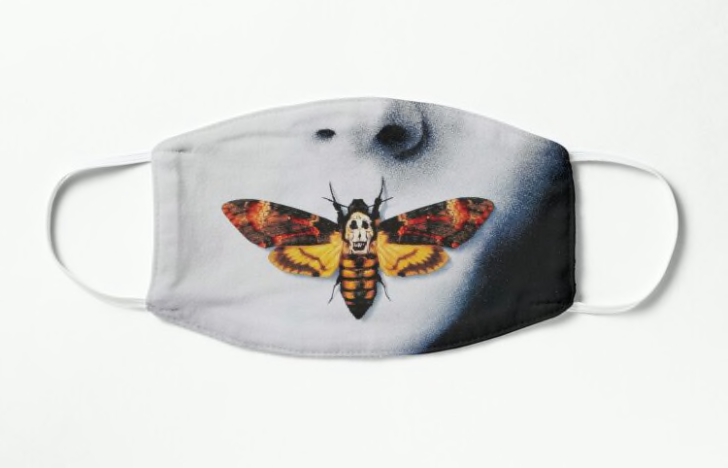 Take the iconic poster from 1991's Silence of the Lambs out into the real world with this polyester face mask from Redbubble. It's reusable and can be thrown in the washing machine, so it'll last well beyond the Halloween season.
Buy It: Redbubble 
5. Horror Villains Mug; $15.95
Do you know someone who has trouble waking up in the morning? Drinking coffee from this mug—which is features Freddy Krueger, Jason Voorhees, Leatherface, and Michael Myers—should scare them awake.
Buy It: Amazon
6. Horror Movie Tiki Mugs; $30 each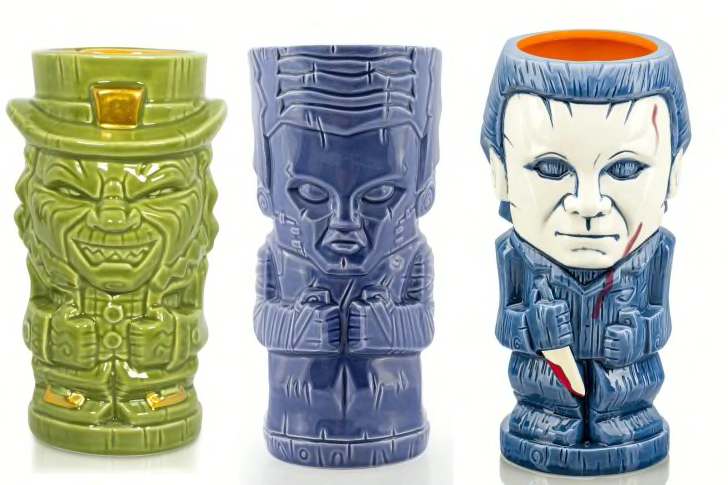 These festive horror-themed mugs from Geeki Tiki allow you to make a zombie inside Michael Myers or use Freddy Krueger as the perfect vessel for your painkiller. There are plenty of other options, too, including one mug modeled off the Leprechaun and another on Regan from 1973's The Exorcist. If you want to go vintage, opt for this Bride of Frankenstein mug.
Buy It: Toynk
7. The Exorcist Poster; $20
The poster for The Exorcist, designed by legendary artist Bill Gold, is one of the most iconic movie images of all time. This 24-by-36 inch print makes whatever room it's displayed in feel a little unsettling.
Buy It: Amazon
8. Handbook For The Recently Deceased Journal; $11
You don't have to say its name three times to conjure this book into your life. The Handbook for the Recently Deceased from Beetlejuice is available for mortals to purchase. But you won't find instructions for living your best afterlife inside—instead, it's filled with blank notebook pages for your own writing.
Buy It: Amazon
9. Stephen King Book Cover Throw Blanket; $43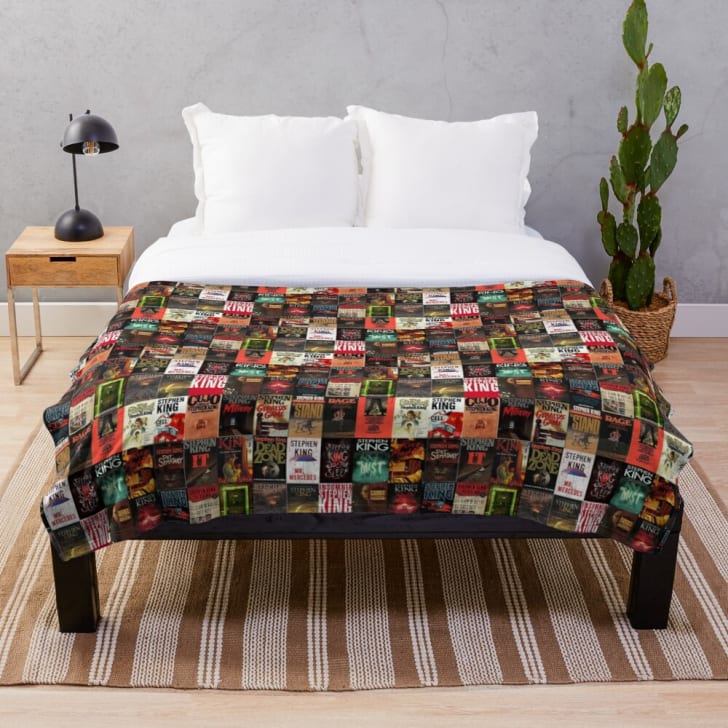 Cuddle up with 1981's Cujo and snuggle with 1978's The Stand, thanks to this throw blanket decorated with some of Stephen King's landmark books covers. The throw is available in multiple sizes, or you can use the same design as a pillowcase or tote bag.
Buy It: Redbubble 
10. The Art of Horror Movies: An Illustrated History; $26

Become more than a horror movie fan—turn yourself into a historian with The Art of Horror Movies: An Illustrated History. In this 250-page coffee table book, author Stephen Jones charts the 100-plus-year history of the genre, with decade-by-decade breakdowns of landmark releases. From the early silent movies through the Universal monster years and into the present day, this title will help you better appreciate the art of the horror film.
Buy It: Amazon
11. Creature From the Black Lagoon Film Cell Bookmark; $10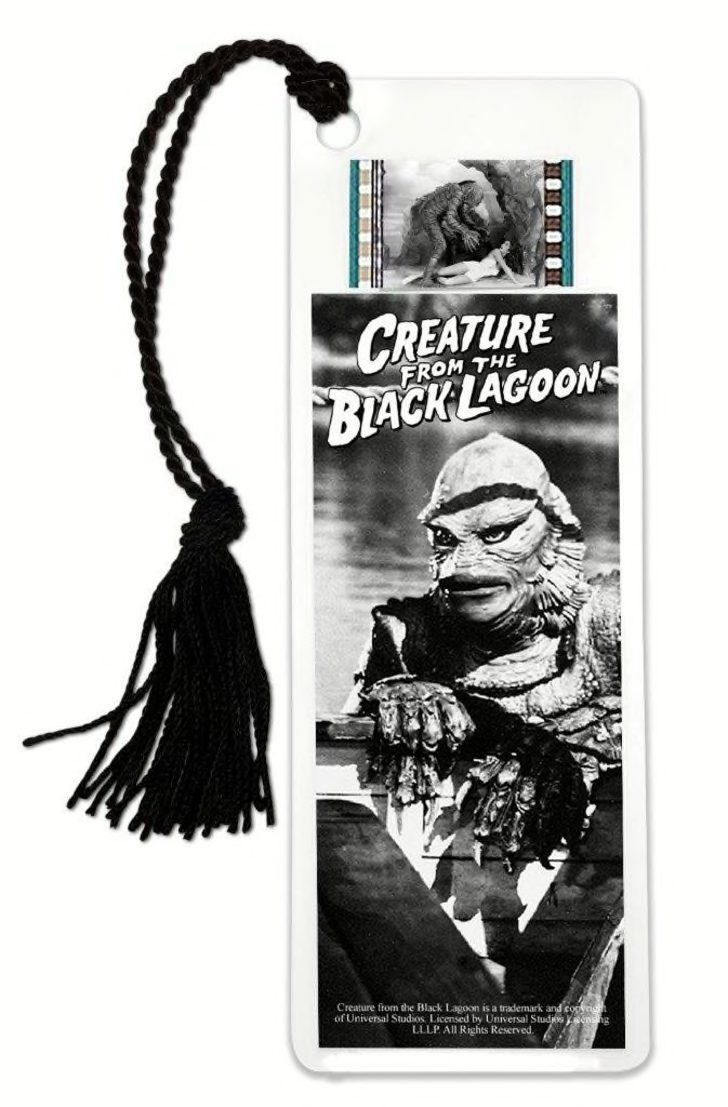 The iconic promotional art from Creature From the Black Lagoon would be enough to make this bookmark appeal to horror lovers. But it also comes with a real cell from an original film reel, bumping its status up from novelty gift to collector's item.
Buy It: Amazon
Sign Up Today: Get exclusive deals, product news, reviews, and more with the Mental Floss Smart Shopping newsletter!