Serving Green Bean Casserole at Thanksgiving? Dorcas Reilly's Original Recipe Is Still the Best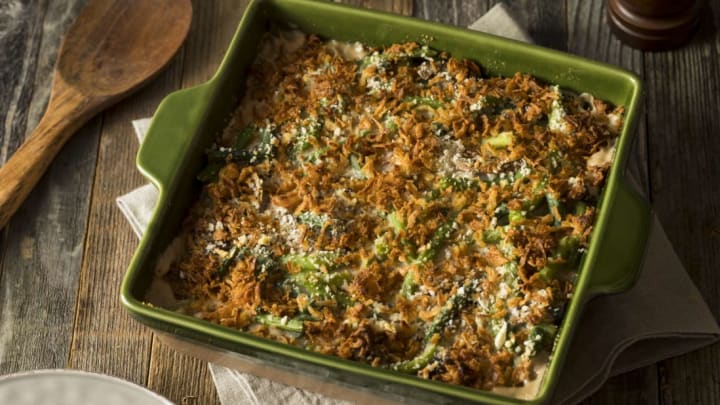 bhofack2/iStock via Getty Images / bhofack2/iStock via Getty Images
Many of the foods that make up a traditional Thanksgiving dinner have long and complex origin stories. That's not the case with green bean casserole. We know exactly who created the dish and when it first appeared—and the original six-ingredient recipe can still be found on the backs of Campbell's Cream of Mushroom Soup cans today.
Campbell's test kitchen supervisor Dorcas Reilly, who passed away in October 2018 at age 92, made Thanksgiving history when she whipped up the recipe for green bean casserole—originally called The Green Bean Bake—in 1955. Her job involved developing dishes that featured the company's ready-made soup products as star ingredients. Hundreds of her creations were printed on the backs of soup cans, but none had the same level of impact as her vehicle for green beans and condensed mushroom soup.
Reilly's green bean casserole recipe doesn't call for any fancy techniques or hard-to-source ingredients. It consists of one can of Campbell's Cream of Mushroom Soup, half a cup of milk, four cups of green beans, a teaspoon of soy sauce, a dash of black pepper, and one and one-third cups of French fried onions. After setting aside half of the onions for a topping, the other components get mixed together in a casserole dish and baked for 25 minutes in a 350°F oven. The remaining onions are then sprinkled on top, and the casserole goes back in the oven for five minutes until the inside is hot and bubbly and the top is brown and crisp.
The dish was originally conceived as a way to sell Campbell's products, but the fact that it uses prepared, shelf-stable ingredients helped make it a hit. The Associated Press featured it in a 1955 story on Thanksgiving, and home cooks were happy to incorporate the easy recipe into their frantic holiday cooking routines.
Reilly's original casserole is still a cherished part of Thanksgiving dinners today. According to Campbell's, about a third of all Cream of Mushroom Soup cans sold are used to make her "Green Bean Bake." If you don't already have a soup can at home, you can find the recipe on Campbell's website.
A version of this story ran in 2019; it has been updated for 2022.