13 Ugly Christmas Sweaters That'll Steal the Show at Any (Virtual) Holiday Party
Ugly Christmas sweaters have proved to be much more than a passing fad, and the digital marketplace is teeming with every variation imaginable. And it's not limited to just holiday-themed designs, either. Today, you're just as likely to find a gaudy Santa sweater as you are a Darth Vader or Harry Potter one.
Just because the bulk of your holiday gatherings and parties will be virtual this year doesn't mean you shouldn't wear your holiday spirit quite literally on your sleeve. If you're not sure where to start, how about one of these flashy, festive, not-so-ugly Christmas sweaters.
1. Star Wars Ugly Christmas Sweater; $29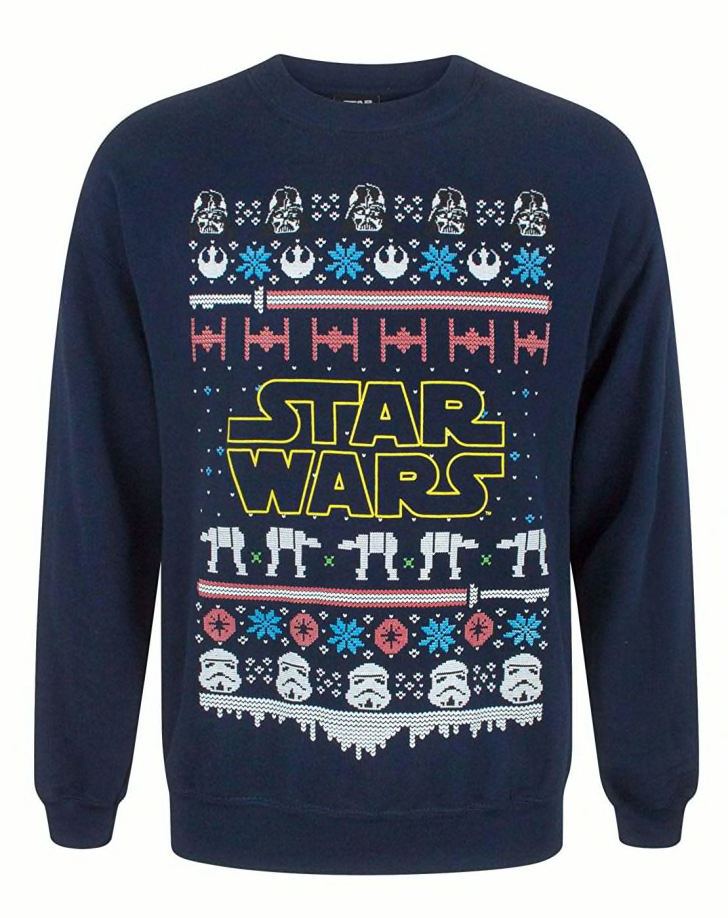 There's no new Star Wars film coming to theaters this year, but that doesn't mean you can't don your best intergalactic duds to celebrate the holidays. This sweater features AT-AT walkers, lightsabers, TIE fighters, Stormtroopers, and Darth Vader himself, set against a snowy backdrop worthy of Hoth.
Buy It: Amazon
2. Krampus Ugly Christmas Sweater; $55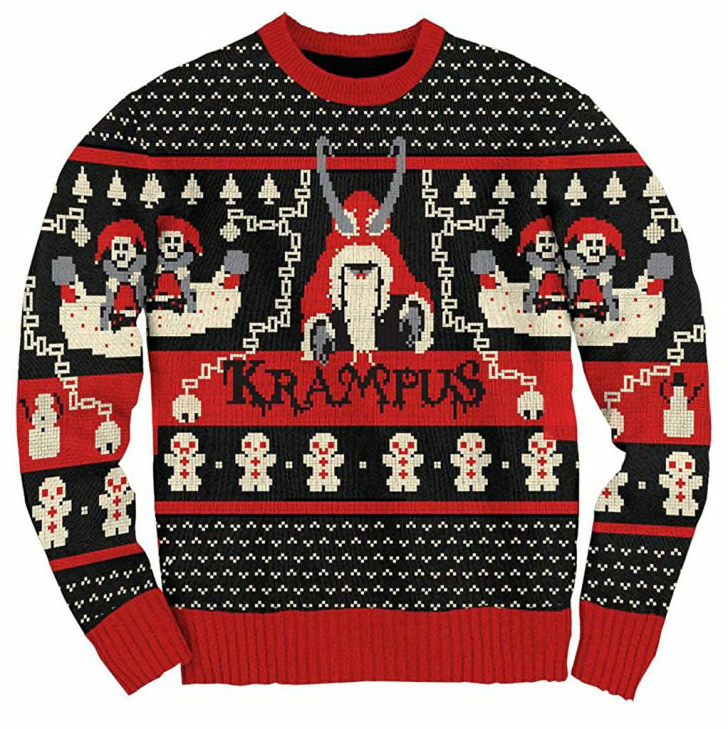 Is jolly old St. Nick a little too jolly for you? Then embrace your inner villain this year in a Krampus sweater. But did you know that despite being a monster, Krampus still hangs out with Santa Claus? Be sure to bone up on a few more facts about the classic Central European Christmas demon—then share them at your holiday gathering.
Buy It: Amazon
3. Harry Potter and Ron Weasley Initialed Christmas Sweaters; $40

Any Potterhead will instantly recognize the initialed sweaters that Mrs. Weasley hand-knits for her loved ones each year. Now you can unwrap your gifts this Christmas morning while clad in a cozy fleece version of Harry's, while your partner dons Ron's maroon one.
Buy It: Amazon
4. Llama Ugly Christmas Sweater; $30-$40
If this hotel's holiday llama visits are any indication, the animals are better at spreading Christmas cheer than you might've thought. And since firetruck red isn't everyone's color, Amazon also carries similar sweaters (with a variety of other festive llamas) in blue, green, black, and more.
Buy It: Amazon
5. The Office Ugly Christmas Sweater; $30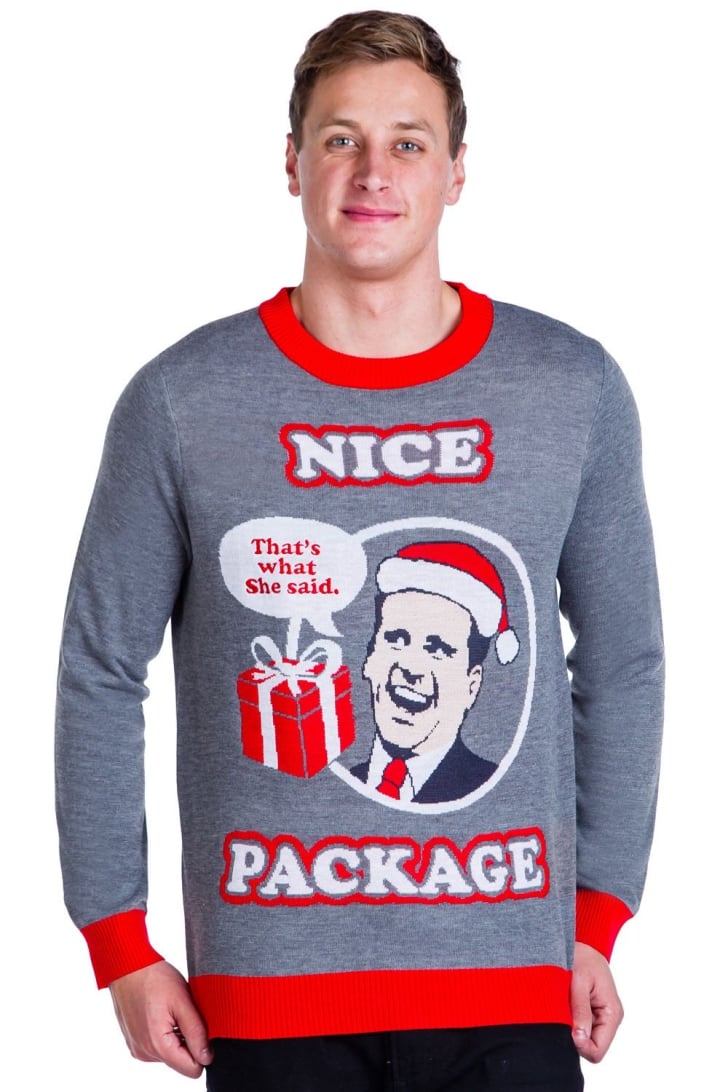 Have an Office superfan on your gift list this year? Tipsy Elves has a whole line of new ugly Christmas sweaters dedicated to the quirky denizens of Dunder Mifflin, but this one of Michael lands right at the top of the list. Here are 12 other gift ideas any fan of The Office will definitely love.
Buy It: Amazon
6. Light-Up Cactus Ugly Christmas Sweater; $35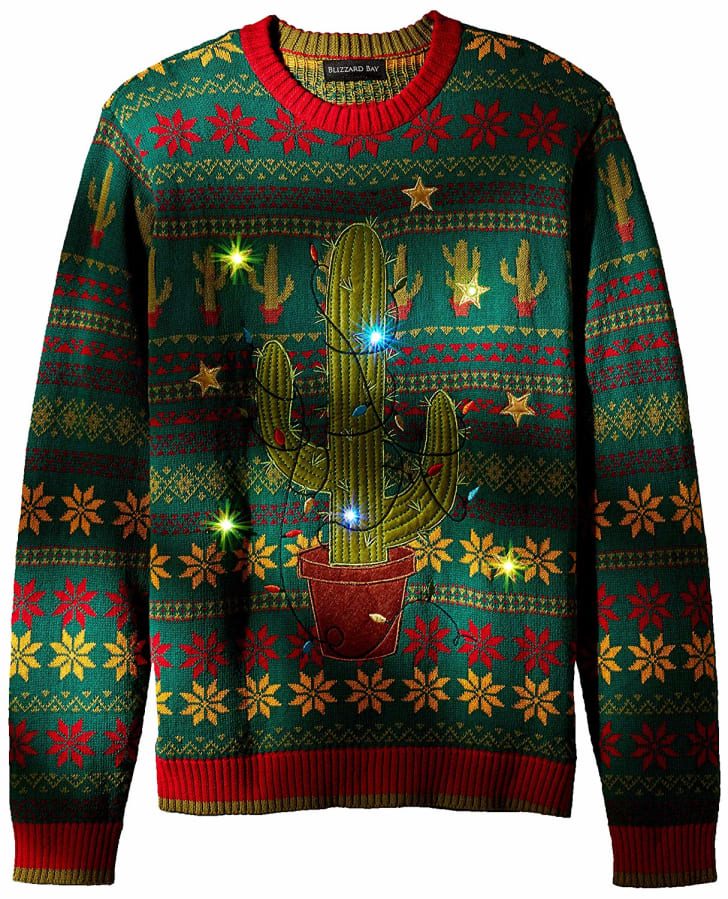 This adorable cactus sweater is a great way to show people that giant, evergreen conifers aren't the only plants that look good in lights—and these bulbs actually work, too, so you can be extra festive.
Buy It: Amazon
7. Abbey Road Ugly Christmas Sweater; $40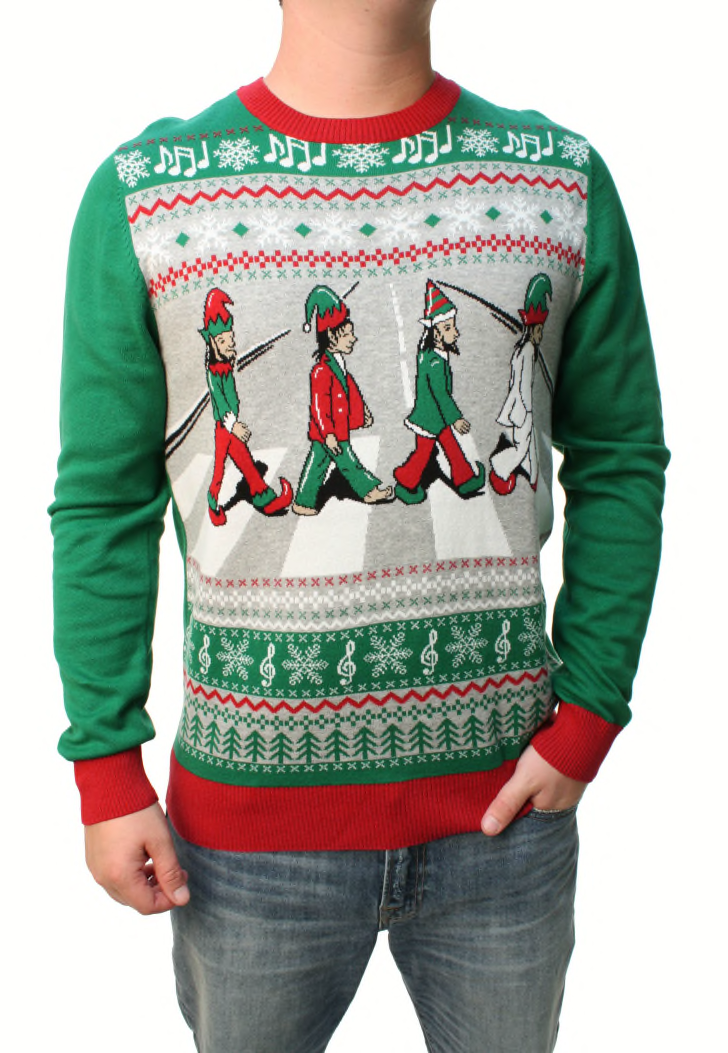 John Lennon, Paul McCartney, George Harrison, and Ringo Starr somehow still look like the portrait of rock 'n' roll, even when dressed as pointy-toed, pointy-eared elves. Fuse your passion for both Christmas and The Beatles with this hilarious reimagining of the Abbey Road album cover.
Buy It: Amazon
8. Unicorn Ugly Christmas Sweater; $30-39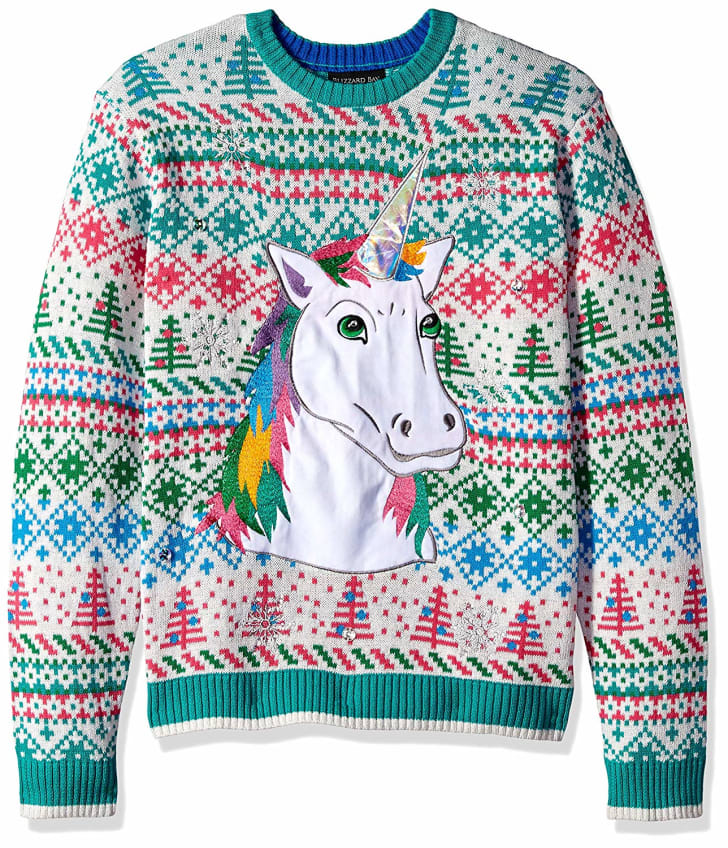 Looking for a way to stand out in a sea of red and green at your office Christmas party? The rainbow-maned unicorn on this mostly pink and teal cotton sweater can definitely help you out. So go out there and be as bold and majestic as you want to be this year.
Buy It: Amazon
9. Menorasaurus Ugly Hanukkah Sweater; $33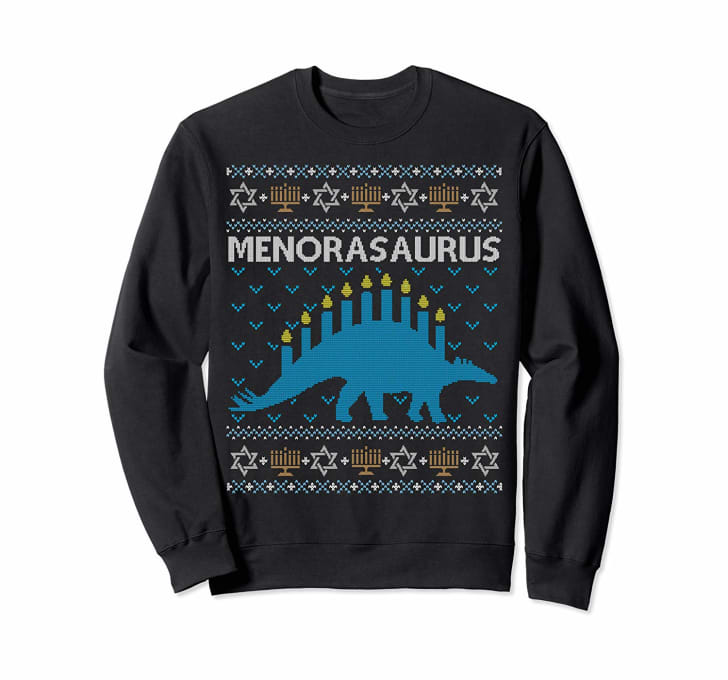 Forget Ross's holiday armadillo from Friends—this bright blue, candle-bearing Stegosaurus look-alike is a quirky reminder that menorahs are every bit as festive as Christmas trees. You can also buy this sweater in two different shades of blue or gray.
Buy It: Amazon
10. Gaudy Garland Ugly Christmas Sweater; $40

Speaking of Christmas trees: Steal the show from the one in your living room by dressing as a walking, talking, tinsel-y evergreen in this oh-so-jolly holiday sweater. And after you've taken down the tree, you can even put this festive pullover in the washing machine.
Buy It: Amazon
11. Cat Ugly Christmas Sweater; $30-$39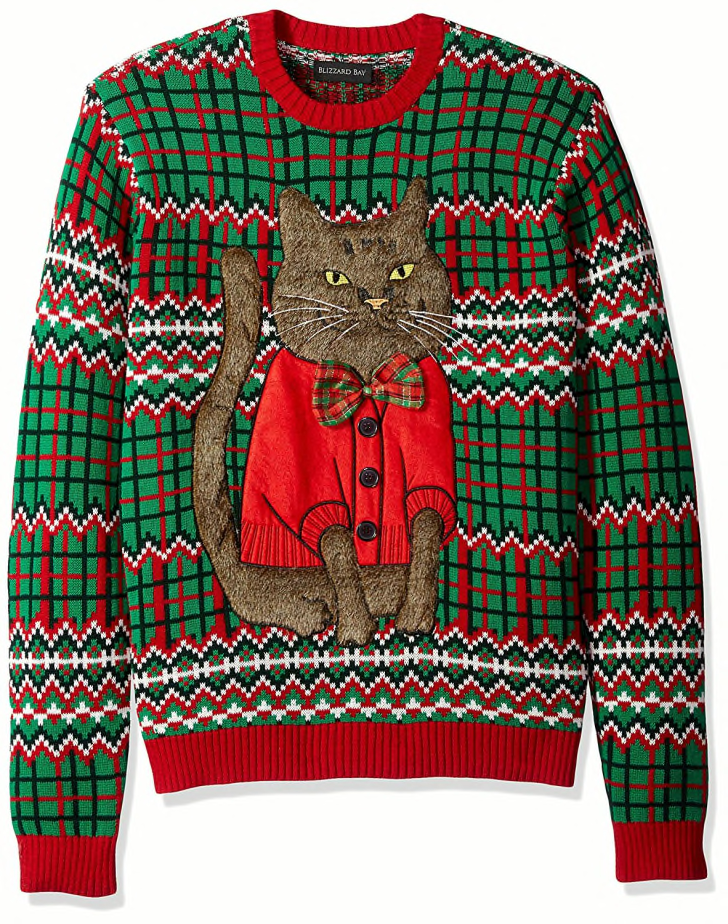 The cat on this sweater might be thrilled about wearing a button-up cardigan and plaid bow tie this holiday season, but we can't promise your actual cat will feel the same way.
Buy It: Amazon
12. DR. SEUSS GRINCH FACE UGLY CHRISTMAS SWEATER; $24-$25
Nothing says "Merry Christmas!" quite like the mischievous grin of the Grinch (before his heart grew three sizes, of course). This eye-catching green number is perfect for anyone as cuddly as a cactus and/or as charming as an eel.
Buy It: Amazon
13. THE UPSIDE DOWN MERRY CHRISTMAS SWEATSHIRT; $20-$25
Stranger Things forever changed the way we see multicolored Christmas lights, and this sweater—featuring right-side-up bikes, upside-down evergreens, and a rampaging Demogorgon—is the same fusion of '80s-themed eeriness and holiday cheeriness.
Buy It: Amazon