Write a Letter to Shakespeare's Juliet for a Chance to Spend Valentine's Day in Her Romantic Verona Home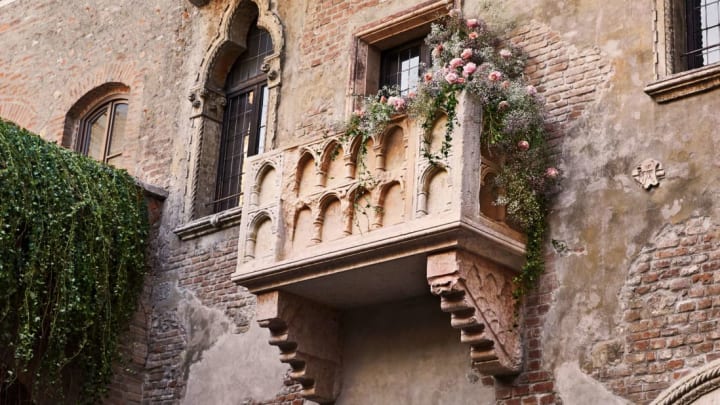 Airbnb / Airbnb
Shakespeare didn't specify which luxurious Italian estate was home to Juliet and her family in Romeo and Juliet, but hopeless romantics have linked a certain 13th-century house in Verona to the Capulets for many years. A balcony was even added during the 20th century to mirror the famous scene from Shakespeare's play.
Now, Airbnb is offering one pair of star-crossed lovers the opportunity to stay in the house for Valentine's Day. To apply, you have to write a letter to Juliet explaining why you and your sweetheart would be the ideal guests for the one-night getaway. The winner will be chosen by the Juliet Club, an organization responsible for answering the 50,000 letters addressed to Juliet each year.
Airbnb
If you're chosen, you won't just get to spend the evening reenacting the few happy parts of Romeo and Juliet—you'll also be treated to a candlelight dinner with a cooking demonstration by Michelin-starred Italian chef Giancarlo Perbellini, access to a personal butler for the duration of your stay, tours of both the house and the city of Verona, and the chance to read and answer some letters sent to Juliet. Even the bed you'll sleep in is especially romantic—it's the one used in Franco Zeffirelli's 1968 film adaptation of Romeo and Juliet.
Airbnb
Airbnb
And, of course, you'll be giving yourself the ultimate Valentine's Day gift: Freedom from the pressure to plan a perfect Valentine's Day. The contest is open now through February 2, 2020, and you can apply here.
Mental Floss has affiliate relationships with certain retailers and may receive a small percentage of any sale. But we choose all products independently and only get commission on items you buy and don't return, so we're only happy if you're happy. Thanks for helping us pay the bills!