The Real History Behind The Sound of Music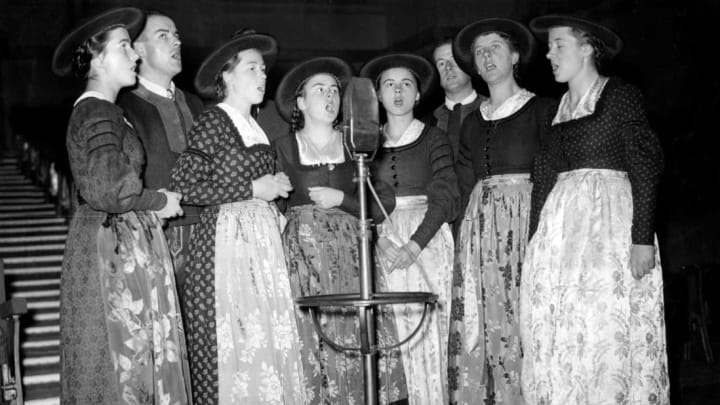 The von Trapp family performs on a London radio show in December 1937. / Imagno/Getty Images
In March 1965, the von Trapp family gathered in a New York theater for a special presentation of 20th Century Fox's new film The Sound of Music, about their early life in Salzburg, Austria. When Julie Andrews's character, Maria, glided down the aisle to her suave, soon-to-be husband, Georg von Trapp (Christopher Plummer), the real Maria rose from her seat, entranced, and began to walk toward the movie screen.
While Maria von Trapp might have been the only viewer who got to watch her own wedding reenacted with a Hollywood-sized budget, audiences everywhere were equally captivated by the idyllic charm of the seven talented von Trapp children and their pleasantly lawless governess-turned-stepmother. The Sound of Music became one of America's highest-grossing films of all time, and the beloved soundtrack—written and composed by Richard Rodgers and Oscar Hammerstein—is probably the main reason that generations of non-musicians can effortlessly spout off the notes of the tonal scale.
Unsurprisingly, certain elements of the von Trapps' story were altered for the silver screen. The movie had been adapted from Rodgers and Hammerstein's 1959 Broadway musical of the same name, which was inspired by a German film from 1956, which was based on Maria von Trapp's 1949 book, The Story of the Trapp Family Singers.
"It's like the parlor game where you whisper a word in your neighbor's ear and he whispers it and it goes around the room," Johannes von Trapp, Maria's youngest child with Georg von Trapp, later told BBC News in 2015. "By the time it comes back, it's usually changed a bit."
How Do You Find a Tutor for Maria?
In 1926, when one of Georg von Trapp's children, Maria, fell ill with scarlet fever and could no longer manage the 4-mile walk to school with her siblings, he asked the Reverend Mother at a nearby abbey to send him a suitable tutor. She chose Maria Augusta Kutschera, a 21-year-old novice with a teaching background.
The would-be nun flanked by her five stepdaughters in 1940. In the back row, from left to right, are Agathe, Hedwig, and Johanna; Maria and Martina are in the middle. / C.M. Stieglitz, New York World-Telegram and the Sun Newspaper Photograph Collection, Library of Congress // No Known Restrictions on Publication
Kutschera, who was orphaned at age 9, had endured a difficult childhood in Vienna at the hands of uncaring, sometimes abusive relatives, and entered the State Teachers College of Progressive Education once she finished school. While there, she stumbled into a Palm Sunday mass (which she thought was a Bach concert) and found herself so moved by the priest's address that she completely abandoned the atheistic values with which she had been raised.
"Now I had heard from my uncle that all of these Bible stories were inventions and old legends, and that there wasn't a word of truth in them," von Trapp wrote in her autobiography, Maria, My Own Story. "But the way this man talked just swept me off my feet. I was completely overwhelmed."
After graduating, Maria relocated to Nonnberg Abbey, a Benedictine monastery in Salzburg, where she—like her movie character—had a tough time adjusting to the regimented nature of life in a religious institution. Kutschera's health began to suffer, too, since the abbey didn't allow her the fresh air and exercise that she was used to. So when the opportunity to head off to the von Trapps' lavish villa for what was supposed to be a 10-month assignment presented itself, Kutschera immediately accepted.
Brown Paper Packages and Wedding Rings
Baron Georg von Trapp was a 46-year-old decorated war hero who had retired from the navy after World War I. When his wife, Agatha, passed away from scarlet fever in 1922, von Trapp was left to raise their seven children—Rupert, Agathe, Maria, Werner, Hedwig, Johanna, and Martina—on his own. Though von Trapp did design a unique whistle call to summon each child, he wasn't much like the cold, unfeeling father that Plummer portrayed throughout the first part of The Sound of Music; Johannes von Trapp described him to BBC News as "a very charming man, generous, open, and not the martinet he was made out to be." Kutschera had entreated the filmmakers to soften that characterization, to no avail. She herself, on the other hand, was much more volatile than Julie Andrews's doe-eyed, mild-mannered depiction ever implied.
"One moment to the next, you didn't know what hit her," Georg's daughter, Maria, said in an interview. "We were not used to this. But we took it like a thunderstorm that would pass, because the next minute she could be very nice."
Georg von Trapp in 1910. / George Grantham Bain Collection, Library of Congress, Wikimedia Commons // Public Domain
In spite of her sometimes ill temper, each of the von Trapp children formed close relationships with Kutschera as she tutored young Maria. Music had always been a central part of the von Trapps' upbringing, and their mother had often played the violin or piano while they sang along. By Maria's recollection, the von Trapps had already memorized more than 100 songs before they met Kutschera, meaning she hardly needed to introduce them to do, re, or mi. What she did introduce them to were madrigals, complex pieces of music first made popular during the Renaissance that featured multiple voices and were often performed a cappella style.
While Kutschera passed her time teaching, singing, and cavorting around the grounds with her jolly companions in tow, Georg von Trapp began to fall in love with the woman who had quickly become such a vital member of the family. The feeling wasn't exactly mutual.
"I really and truly was not in love. I liked him but didn't love him," Kutschera, who was nearly 25 years younger than Georg—and only six years older than his eldest child—wrote in her autobiography. She did, however, love the children dearly; so when Georg asked her to marry him and become a second mother to his children, she accepted.
"God must have made him word it that way because if he had only asked me to marry him I might not have said yes," Kutschera wrote. She did struggle with her decision to desert the abbey, but the nuns helped convince her that God had simply shown her a different path.
Maria and Georg von Trapp with their 10 children in 1939. / New York World-Telegram and the Sun Newspaper Photograph Collection, Library of Congress // No Known Restrictions on Publication
Georg and Maria married on November 26, 1927, and their union proved to be a happy one. "I learned to love him more than I have ever loved before or after," Kutschera wrote. They had three more children, bringing the total to a round 10: Rosmarie in 1929, Eleonore in 1931, and Johannes in 1939.
The von Trapps were not untouched by the wide-reaching effects of the Great Depression, and they took in boarders to escape financial ruin when their bank shut down. One of those house guests, Father Franz Wasner, became an unofficial talent manager for the family—though Georg wasn't keen on letting his family make their act public.
"It almost hurt him to have his family onstage, not from a snobbish view, but more from a protective one," Eleanore told The Washington Post in 1978. He eventually relented, accepting that it was God's will for the family to share their musical gifts with others. The concerts, of course, also provided additional income.
Not Climbing Every Mountain
The von Trapps toured all over Europe during the mid-1930s, and even nabbed first place at the Salzburg Music Festival in 1936. At the same time their international renown expanded, so too did the Nazi influence in Austria. But when the family received an invitation to sing at Hitler's birthday party, they declined.
Father Franz Wasner conducts Maria von Trapp and her children in 1950. / George Konig/Keystone Features/Getty Images
It wasn't the only time Georg spurned Hitler's advances; he also turned down a request to join Hitler's navy, and refused to fly the Nazi flag at the von Trapp villa. Increasingly concerned with their family's safety in the midst of a regime so quick to silence even a whisper of opposition, Georg and Maria, who was pregnant with Johannes, decided it was time to evacuate. Rather than traipsing across the Swiss Alps, the 11 von Trapps, along with Wasner and their secretary, Martha Zochbauer, embarked on a transcontinental concert tour that took them first to Italy by train, and later to New York on the SS Bergensfjord in September 1939.
Johannes was born in Philadelphia that same month, and the family kept touring intermittently. In the early 1940s, they purchased a farm in Stowe, Vermont, which they eventually developed into a vacation resort called the Trapp Family Lodge.
Rupert and Werner automatically became naturalized citizens by serving in the U.S. military during World War II, and their stepmother and sisters were granted citizenship in 1948—one year after Georg died of lung cancer.
By the time the Von Trapp Family Singers formally disbanded in 1955, most of its members weren't even relatives. The children had grown up, started their own families, and pursued their own, rather varied, careers: Rupert practiced medicine, Hedwig became a music teacher, and so on. Maria, ever the matriarch, kept managing the lodge until her own death in 1987, at the age of 82.
Though filmmakers might have blurred Maria's rough edges, added a high-stakes escape from right under Nazi noses, and taken many other liberties in the retelling of the story, The Sound of Music still immortalized Maria's legacy and maintained a focus on the most important themes in the von Trapps' lives: devotion to family, resilience in the face of adversity, and, of course, a boundless love of music.