15 Fun Gifts for an Amateur Naturalist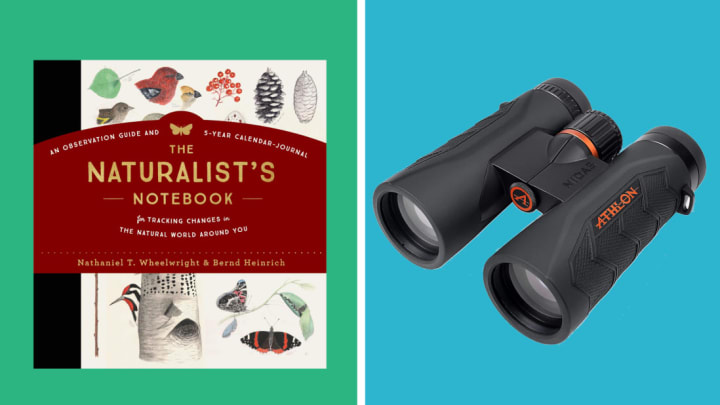 Storey Publishing, LLC/Athlon/Amazon / Storey Publishing, LLC/Athlon/Amazon
This article contains affiliate links to products selected by our editors. Mental Floss may receive a commission for purchases made through these links.
All anyone really needs to study the natural world is a hearty amount of curiosity—but the right goods and gear can certainly help. A quality pair of binoculars will level up a person's birdwatching game, and a flower press will transform a fleeting blossom into a timeless keepsake. Here are 15 gifts to delight the amateur naturalist in your life.
1. Athlon Optics Midas G2 UHD Binocular; $288
Athlon/Amazon
A good pair of binoculars will transform that blurry orb in the sky into a crisp, easily identifiable bird—and when it comes to quality, the Athlon Optics Medas ED 8x42 binoculars punch above their price tag. These durable, easy-to-adjust binoculars will let you zoom in on far-away plants and animals and provide you with a clear, bright view.
Buy it: Amazon
2. Nature's Hangout Window Bird Feeder; $29
Nature's Hangout/Amazon
Give the gift of an up-close look at backyard birds with this stick-on acrylic window feeder. Its suction cups are strong, so the feeder won't crash to the ground if any heavier birds happen to land on it—in fact, reviewers report that it stays up even under the weight of a "chubby squirrel."
Buy it: Amazon
3. The Naturalist's Notebook; $13
Storey Publishing, LLC/Amazon
This notebook lets your amateur naturalist become the expert of their own backyard or favorite park. It's formatted like a five-year calendar, so they can log years' worth of observations and see how their local environment changes over time. They can use it to track the regular creatures and plants who call their yard home or to mark special occasions, such as a rare wildlife visit or an unusual bout of weather.
Buy it: Amazon
4. Scats and Tracks of North America; $19
The Roman & Littlefield Publishing Group, Inc/Amazon
Ever stumble upon a mysterious pile of animal poop? This field guide will help the amateur naturalist in your life learn to recognize the scat and tracks of nearly 150 North American animals. Identifying animal scat and tracks is a great way to figure what wildlife is hanging around, without actually seeing the animals themselves.
Buy it: Amazon
5. Scuddles Gardening Tools Set; $24
Scuddles/Amazon
Bringing more pollinators to the yard means dedicating some space to native plants. Help your amateur naturalist create their own native plant garden—or any garden—with this set from Scuddles, which includes key tools like a trowel, weeder, and gloves, all tucked within a handy tote.
Buy it: Amazon
6. Microfleur 9-inch Max Microwave Flower Press; $65
Microfleur/Amazon
With the Microfleur Max Microwave Flower Press, your naturalist-in-training will be able to transform various types of flora into lasting keepsakes, all while maintaining their vibrant colors. Simply wedge the specimens between the two platens and pop the press into the microwave. Once the botanical beauties are dry, they can be used for a variety of crafts, framed, tucked into letters to loved ones, pasted into a journal, or used to decorate objects like glassware and candles.
Buy it: Amazon
7. Bird Feathers: A Guide to North American Species; $50
Stackpole Books/Amazon
This book provides a basic overview of everything your naturalist may wonder about the feather that just fluttered down from the sky. It helps identify not only the type of bird, but also the part of a bird that the feather belonged to. (Just make sure you caution your amateur naturalist to stick to admiring the feathers where they found them—collecting the feathers of many native North American birds without a permit is prohibited.)
Buy it: Amazon
8. National Geographic Hobby Rock Tumbler Kit; $60
National Geographic/Amazon
Turn dull stones into dazzling gemstones with this rock tumbler from National Geographic. The kit comes with a few rocks, but you can also use your own. Adding a bit of extra shine to your rocks will take your collection to the next level.
Buy it: Amazon
9. Veichin Shadow Box Frame; $18
Veichin/Amazon
Your naturalist will need a place to display all the treasures they collect on their nature walks. This shadow box frame is easy to open, giving them ample opportunities to refresh and rearrange their collection.
Buy it: Amazon
10. Brown Oyster Mushroom Grow Kit by Forest Origins; $32
Forest Origins/Amazon
Bring the joy of discovering a mushroom-covered log into your amateur naturalist's home with this kit from Forest Origins. Not only will it add a bit of fungi funk to their decor, it also serves as both a science and culinary project: Unlike the random mushrooms they'll wander across in the woods, your naturalist can safely snack on these.
Buy it: Amazon
11. Yaya Organics Extra Strength Tick Repellent; $20
Yaya Organics/Amazon
Anyone planning to spend any time trudging through the woods needs to be mindful of ticks. This DEET-free tick repellent uses organic oils to deter the blood-sucking pests, so your naturalist can spray their shoes and clothing without worrying about exposure to harsh chemicals.
Buy it: Amazon
12. Wingspan; $50
Stonemaier Games/Amazon
When your amateur naturalist isn't out in the field, they may enjoy a night at home with friends playing Wingspan, a bird-themed board game that has continued to rack up positive reviews since it debuted in 2019. Its 170 bird cards are both scientifically accurate and gorgeously illustrated. The aim of the game is for players to attract the best variety of birds to their wildlife preserves, with different birds having various point levels. The original game covers just North America, though there are European and Oceania expansion packs available as well.
Buy it: Amazon
13. LED Lighted Zoom Pocket Microscope with Aspheric Lens System; $14
Carson/Amazon
With this lightweight, portable microscope, naturalists can get a super close-up view of whatever flowers, lichens, feathers, and rocks have caught their eye. It uses an aspheric lens, which provides a crisp image of any magnified subject.
Buy it: Amazon
14. GearLight LED Head Lamp; $15
Allen Company/Amazon
Here's one for the night owls. This headlight will let your giftee take a walk in the woods to see what's prowling around after dark. The beam of light will reveal things like moths, spider eyes glowing in the grass, or perhaps a nocturnal critter preparing for its nighttime hunt.
Buy it: Amazon
15. Adult Unisex Safety & Hunting Vest; $21
Allen Company/Amazon
In general, naturalists try to wear unobtrusive colors so they don't startle wildlife. But if your giftee likes to explore landscapes hunters can also access, they'll need to dress a bit flashy to stay safe. This unisex safety vest can easily slip over a more neutral-toned outfit, and the closures can be adjusted to fit over a bulkier jacket.
Buy it: Amazon
Sign Up Today: Get exclusive deals, product news, reviews, and more with the Mental Floss Smart Shopping newsletter!
A version of this story originally ran in 2020; it has been updated for 2021.