See 6 of the World's Most Iconic Structures From Above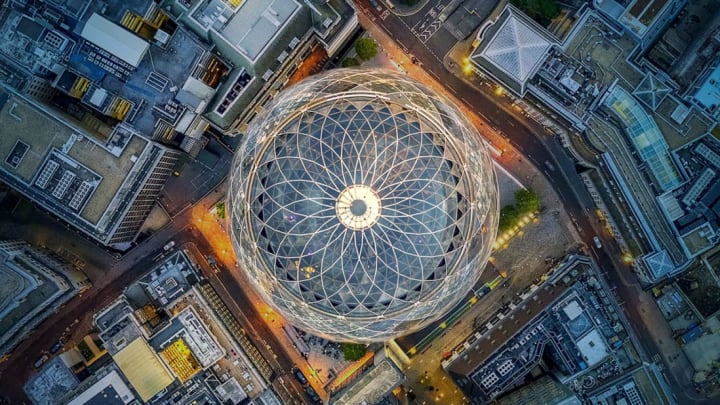 Budget Direct / Budget Direct
The Eiffel Tower, the Colosseum, the Statue of Liberty—these are some of the most photographed landmarks on Earth. Though they're instantly recognizable to most people from the ground, the aerial views of these structures may look less familiar. 
We've already shown you what the world's largest airports and most popular beaches look like from above. To get a bird's-eye view of iconic landmarks from around the globe, check out the photos below from Budget Direct.
1. Sydney Opera House // Sydney, Australia
Budget Direct
The Sydney Opera House is famous for its outer shells, which are made from white tiles that reflect the changing sky throughout the day. This design feature is on full display in this overhead shot.
2. The Statue of Liberty // New York City, United States
Budget Direct
Lady Liberty's ornate base is usually overshadowed by the statue itself. Here you can see its stunning 11-point star shape—a vestige of an old fort built the year before the War of 1812.
3. The Gherkin // London, England
Budget Direct
London's second-tallest skyscraper is famous for its bullet-like shape and intricate exterior.
4. The Eiffel Tower // Paris, France
Budget Direct
When viewed from above, the Eiffel Tower's four iron legs form a giant X.
5. The Colosseum // Rome, Italy
Budget Direct
With no roof, the many levels of the Colosseum's 2000-year-old interior are exposed in this aerial view.
6. Shwedagon Pagoda // Yangon, Myanmar
Budget Direct
Shwedagon Pagoda in Myanmar is said to be the world's oldest Buddhist stupa at 2600 years old. Devotees have maintained it over the years, which is why the gold roof in this shot looks so pristine.