How Martin Luther King Jr. Kept Star Trek Flying High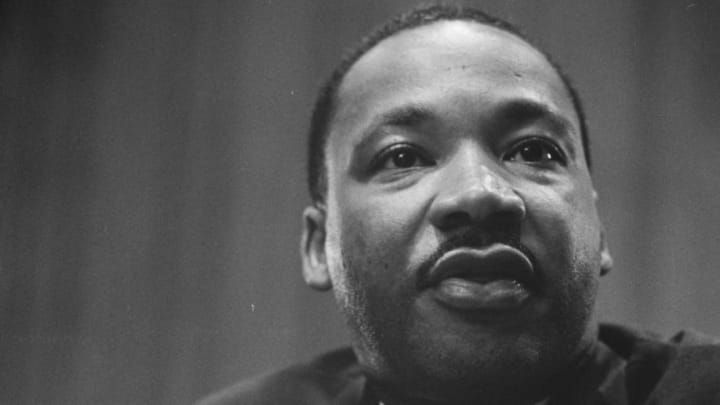 Martin Luther King photographed in 1964. / Marion S. Trikosko, Library of Congress // Public Domain, Wikimedia Commons
While the original Star Trek (1966-1969) is remembered primarily for helping televised science fiction evolve from being slightly silly to philosophical, it had enormous relevance to current events. Creator Gene Roddenberry viewed the residents of the 23rd century as having moved beyond prejudicial behavior, though the crew of the USS Enterprise often encountered alien life forms with biases of their own—a perfect vehicle to explore civil rights.
It's no surprise that one of the key advocates for equality of that era—Martin Luther King Jr.—was a regular viewer of the series. And a conversation he had with one of its stars helped the show remain intact for the duration of its three-season run.
In the series, Nichelle Nichols portrayed Lieutenant Nyota Uhura, the ship's communications officer. After finishing the first season, Nichols—who had a background in musical theater—had started thinking about pursuing a career on Broadway. She got as far as informing Roddenberry of her decision to leave the show. Rodenberry advised her to think it over for a weekend.
Nichols agreed. That Saturday, she attended a fundraiser for the National Association for the Advancement of Colored People (NAACP) and was advised that a fan of Star Trek wanted to meet her.
The fan was King. Taken aback, Nichols thanked him and mentioned she intended to leave the show.
"You cannot do that," King told her.
King went on to explain that Uhura was a highly influential presence on television—a Black woman who held a position of authority who wasn't singled out either for her race or gender. The role was so important, King said, because it was a rare example of equality on television. He even let his children stay up to watch Star Trek.
Citing King's words, Nichols decided to remain with the show, which ran for two more seasons. And as it turned out, King had been prescient about her influence. In the third season episode "Plato's Stepchildren," Nichols and co-star William Shatner embraced for what would be one of television's earliest significant interracial kisses. (Between humans, anyway.) Though the context was softened—Uhura and Shatner's Captain James T. Kirk's passion was manufactured by behavior-controlling aliens, and some of the lip-locking was obscured by camera angles to appease conservative television stations in the South—it nonetheless presented a visceral image that would stand out in the sterile television landscape of the era.
Nichols returned to Star Trek for an animated series and, later, a long-running theatrical franchise, appearing in six Trek films total. She also worked with NASA in the 1980s to assist in recruiting minority and women astronauts. Many Trek fans have gone on to say that Nichols stood out as an early and positive role model for Black women on television, an achievement due in large part to Nichols's talents and in some measure to King's insistence that she remain in the 23rd century for just a little while longer.