Thank The Golden Girls Fan in Your Life for Being a Friend With a Dozen Red 'Roses'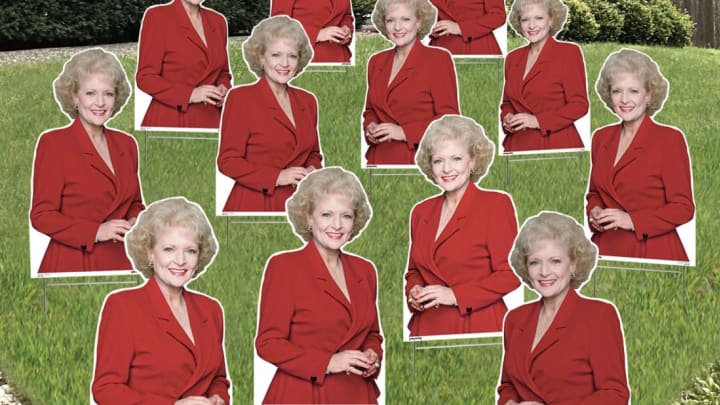 Pairs best with cheesecake. / Prime Party
If there's one thing better than a dozen red roses on Valentine's Day, it's a dozen red Roses. As in Rose Nylund, the loving, lovable Golden Girl played by Betty White.
As Simplemost reports, it's now possible to deck out your loved one's lawn with 12 yard signs, each bearing an image of Rose Nylund, clad in red. Presumably you'd be purchasing them for someone who's a big enough fan of The Golden Girls to get the reference immediately—but the punny collection does also come with a sign that reads "A Dozen Red Roses, Just For You!" if only for the sake of confused passersby.
Each Rose is about 12 inches wide and 22 inches tall, so there's pretty much no chance your hilarious gift will go unnoticed by its recipient (or, for that matter, anyone else in the neighborhood). Her bright red suit is appropriately eye-catching, and her smile almost seems to imply that she's in on the joke, too. According to the product listing on Prime Party, the signs are manufactured from "commercial-grade corrugated plastic material," and fade-resistant ink; in other words, they won't easily deteriorate in heavy rain or blinding Miami sunshine.
She's neater than hard salami! / Prime Party
The whole set will cost you $80, which might be around what you'd spend on a fancy floral arrangement. But if you're looking for something a little cheaper (or just smaller), Prime Party also sells a single 15-inch-by-23-inch sign for $20, printed with a dozen identical images of Rose Nylund.
Why stop at lawn decorations? Here are 10 other gifts that The Golden Girls fans will love.
[h/t Simplemost]