Don't Miss the Lyrid Meteor Shower Lighting Up Skies in April 2021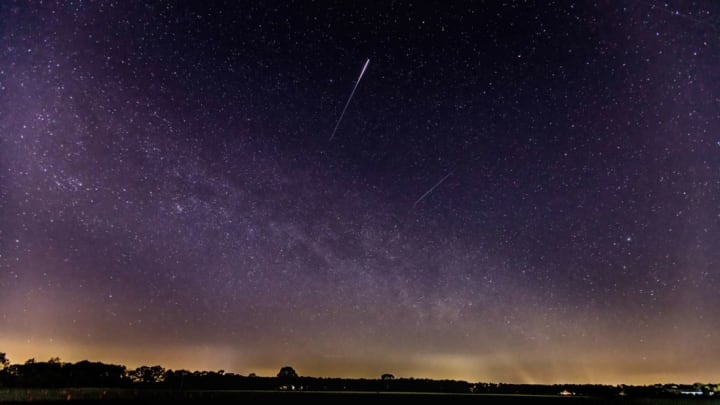 DeFodi Images/Getty Images / DeFodi Images/Getty Images
The Lyrids appear in Chinese writing dating back to roughly 690 BCE, making them one of the earliest meteor showers on record. On the night of April 21, the annual shower will make its appearance for 2021. Here's everything you need to know to catch the event.
What Is the Lyrid meteor shower?
The Lyrids are named after Lyra—the constellation the shooting stars appear to radiate from every year in late April. The meteor shower is a result of Earth passing through the tail of the comet C/1861 G1 Thatcher. When our planet moves through this debris field, the space rocks burn up in Earth's atmosphere, causing spectacular lights to streak across the night sky.
The Lyrids are one of the weaker annual meteor showers visible from Earth. On peaks nights, they usually produce no more than 20 shooting stars per hour. The event is also unpredictable: On rare occasions, spectators are treated to incredible surges of up to 100 meteors per hour. For this reason, the Lyrids are worth checking out for diehard astronomy enthusiasts.
When to See the Lyrids
The best time to see the Lyrid meteor shower in 2021 is the night of Wednesday, April 21, and early in the morning on Thursday, April 22. To see as many shooting stars as possible, wait for the hour between moonset and sunrise on April 22. The dark skies will provide prime viewing conditions for the spectacle.