The Most Popular Children's Book From Every Country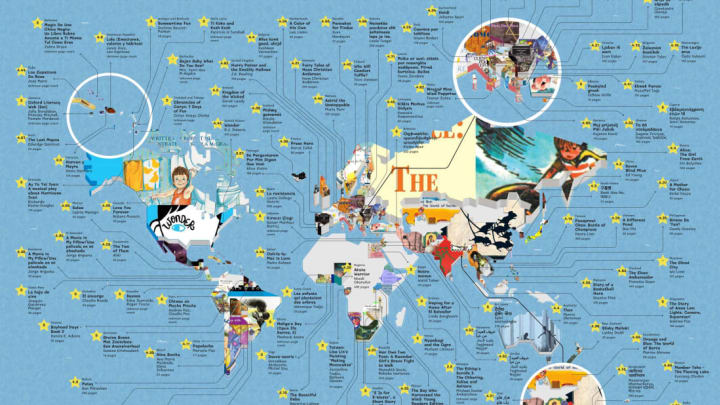 How many have you read? / TheToyZone
There's nothing wrong with introducing your most beloved Roald Dahl and Beverly Cleary classics to the next generation. But if you broaden your scope beyond your own bookshelves—or even your local library's well-stocked ones—you might find some new favorites to add to the list, too.
Toy review site TheToyZone mined the depths of Goodreads to find the 20 children's books from (almost) every country with the most user ratings. They then took the top-rated one from each and compiled them all into a map of the world's most popular children's literature. The books are geo-located based on where their authors are from, and you'll definitely see some predictable titles. Harry Potter and the Deathly Hallows is the UK's most popular book, for example, and Hans Christian Andersen's fairy tales took the top spot in Denmark.
Remember Heidi? / TheToyZone
The honor in the U.S. went to R.J. Palacio's Wonder, which got a Hollywood movie adaptation in 2017 starring Jacob Tremblay, Owen Wilson, and Julia Roberts. Other names you might recognize on the map include Ed Young, author of Lon Po Po and Seven Blind Mice; and actor Lupita Nyong'o, whose picture book Sulwe is the most popular selection in Mexico, where she was born.
Some works you may know better by the titles chosen for their English editions—like Argentinian author María Elena Walsh's Dailan Kifki, about a girl who adopts an elephant that shows up on her doorstep. In the U.S., it's been published as An Elephantasy.
Time to test your Spanish. / TheToyZone
Scroll down for the world map, and see more continental breakdowns here.
Classic tearjerker Love You Forever coming in hot for Canada. / TheToyZone