10 Provocative Facts About Madonna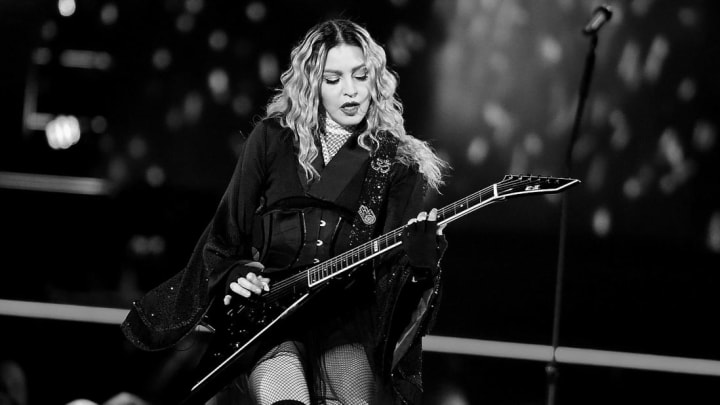 Madonna in 2016. / Paras Griffin/Getty Images
Whether you know her as Madge, Madame X, the Material Girl, or the star of Shanghai Surprise, you undoubtedly know Madonna. The singer and songwriter first emerged in the early 1980s and has enjoyed decade after decade of being hailed as one of our greatest entertainers. To date, she has sold 335 million albums and holds the record for one of the highest-grossing solo touring live artist of all time (only Ed Sheeran and Pink Floyd's Roger Waters have out-earned her).
At 63, she's still recording and performing, and cementing her career as one of constant reinvention. For more, including her blow-up with Pepsi and her (brief) tenure on jury duty, keep reading.
1. Madonna got her start by forming bands.
Madonna Ciccone was born on August 16, 1958 to parents Silvio Ciccone and Madonna Fortin. She grew up in Michigan and was raised by her father and stepmother, Joan Gustafson, after her birth mother succumbed to breast cancer when Madonna was just 5 years old.
Madonna cites her innate rebellion against her stepmother as part of her iconoclastic attitude that's been present throughout her career, but as far as school and performing were concerned, she was extremely disciplined. After attending the University of Michigan for two years on a dance scholarship, Madonna dropped out to pursue a performing arts career in New York and France and counted nude modeling among her occupations. In 1980, she began pursuing music, first with bands including Madonna and the Sky and The Millionaires before finally going solo in 1981. Her first album, Madonna, was released in 1983, and featured the now-familiar singles "Holiday" and "Lucky Star," among others.
2. Madonna scandalized MTV.
In September 1984, just prior to the release of her second album, Like a Virgin, Madonna performed the title track at the inaugural MTV Video Music Awards. Rather than give a typical performance, Madonna—in full bridal attire—wound up gyrating on the floor, prompting some music industry observers to declare her career over. Instead, controversy became Madonna's calling card: Like a Virgin hit number one on the Billboard chart and sold over 5 million copies, which at the time was a milestone for a female recording artist.
3. Madonna acted on Broadway.
Despite mixed reviews for her performances in feature films, including 1986's Shanghai Surprise and 1993's Body of Evidence, Madonna's acting career still went places—including Broadway. In 1988, she co-starred in Speed-the-Plow, a David Mamet comedy about a studio production head (Joe Mantegna) who gets wrapped up with a conniving writer (Ron Silver). Madonna played Mantegna's secretary, Karen, who tries to use their strained dynamic to her advantage. Madonna reportedly asked to audition for the part and was hired, though some critics speculated her casting was more to drive box office than out of merit.
Still, she had her supporters. The New York Times theater critic Frank Rich wrote that she exhibited "intelligent, scrupulously disciplined comic acting." Madonna appeared in the play from May to August 1988.
4. Madonna upset Pepsi with "Like a Prayer."
Madonna in 1989. / Bob Scott/Getty Images
Controversy came for Madonna yet again in 1989, when the singer released a music video for her "Like a Prayer" single that used religious iconography throughout. The salacious nature of the video angered some in the Catholic community, and the criticism soon roped in Pepsi, which had signed Madonna to a $5 million endorsement deal. Her commercial for the soft drink was sometimes confused for the incendiary music video, prompting Pepsi to pull the ad.
5. Madonna's Sex caused a stir.
In 1992, Madonna released a photography book, Sex, in which she's depicted in a series of lewd and lascivious poses—sometimes by herself, sometimes with guest bodies like Naomi Campbell and Vanilla Ice via the lens of photographer Steven Meisel. The volume, which accompanied her album Erotica, was titillating enough to cause controversy. The $49.95 tome was sold in a mylar cover to dissuade people from browsing, though not from buying: 500,000 copies were sold in the first week alone.
Her later publishing effort was considerably more tame. In 2003, Madonna wrote The English Roses, a five-part children's book series.
6. Madonna was once assigned to jury duty.
Madonna at the Grammys in 2014. / Jason Merritt/Getty Images
In 2014, Madonna obliged her civic obligations by showing up for jury duty in New York City. The singer reported to the courtroom and headed directly for the clerk's office, where she was quickly dismissed. It's believed her celebrity would have been an undue distraction during the trial.
7. An album leak got one Madonna fan 14 months in prison.
In 2014, both Madonna and her fans were dismayed to see that tracks from her upcoming 2015 album, Rebel Heart, had been leaked by a hacker later identified as Adi Lederman. The songs were unfinished at the time Lederman obtained them via the cloud and email accounts of Madonna's collaborators. He was eventually arrested and charged with computer trespassing, prohibited secret monitoring, copyright infringement, and obstructing an investigation. Lederman was given a plea deal and sentenced to 14 months in prison. Madonna later said the incident was so unnerving that she briefly lost interest in making music.
8. Madonna was banned from coming backstage at Hamilton by Lin-Manuel Miranda.
Madonna in 2015. / Mike Coppola/Getty Images
Madonna's attendance during a 2015 off-Broadway performance of the smash musical Hamilton did not go smoothly. According to Deadline, Madonna reportedly "did a lot of texting" during the show, which angered creator and star Lin-Manuel Miranda. The playwright tweeted that he requested an unnamed celebrity "who was texting all through Act 2" be prohibited from coming backstage. He later deleted the tweet.
9. Madonna turned down a role in The Matrix.
In 2021, Madonna told talk show host Jimmy Fallon that she turned down the role of Trinity in 1999's The Matrix, a film that would go on to become a box office sensation. (The role eventually went to Carrie-Anne Moss.) She also said she rejected offers to be Catwoman in 1992's Batman Returns and Nomi in 1995's Showgirls. Those roles went to Michelle Pfeiffer and Elizabeth Berkley, respectively.
10. Madonna is directing her own biopic.
Madonna at the 2021 MTV Video Music Awards. / Theo Wargo/Getty Images for MTV/ViacomCBS
Madonna's life could probably be fodder for an ongoing series, but right now plans appear to be for her story to be told in a feature film directed by Madonna's top choice—herself. In 2020, Madonna announced that she was making a movie depicting crucial times in her life, including her early days among artists like Andy Warhol and Jean-Michael Basquiat in New York, her music controversies, and filming 1996's Evita. Her initial co-writer was Diablo Cody (2007's Juno), though Cody doesn't appear to be involved currently.
The as-yet-untitled biopic doesn't yet have a release date, but Madonna has experience behind cameras. She directed W.E. in 2011.