Dropped Eyeballs and Cussing Crows: The 15 Weirdest Headlines of 2021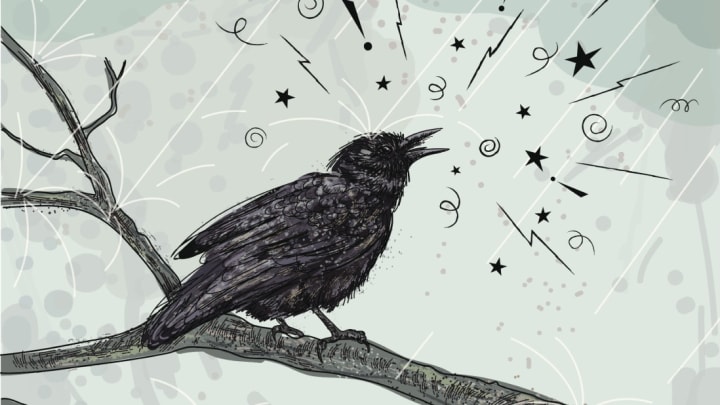 2021, everyone. / Diane Labombarbe/iStock via Getty Images
When we reflect on 2021, we'll probably realize the most important story of the year was Dwayne "The Rock" Johnson refusing to return to The Fast and the Furious franchise owing to personality conflicts with Vin Diesel. The ongoing COVID-19 pandemic comes in a close second.
But not every headline needs to reflect the state of the world in such profound ways. Some are just glimpses into little micro dramas full of extremely peculiar people, animals, and situations. Check out the stories that stood out in a very strange year:
1. Ukrainian Couple Handcuff Themselves to Each Other to 'Fix Relationship'
A bold move that might just pay off.
2. A Profane Crow Made Friends at an Elementary School Before Being Expelled
A heartwarming tale of a crow named Cosmo who made f-cking friends with some kids before school officials f-cking ruined it for everyone.
3. Meet the Tongue-Eating Louse, Which Does Exactly What You Think It Does
When you need a reminder nature is not only scary but quite possibly evil.
4. Meet Mr. Goxx, a Crypto-Trading Hamster Who Is Out-Investing Warren Buffett
Every idea presented in that headline is factually correct.
5. Watch: Scientists Discover What Happens When You Drop an Eyeball From a Five-Story Height
Science may be consumed by a pandemic, but that doesn't mean you can't find time to toss organs over the side of a building.
6. Misbaken Identity: Mysterious Beast Reported in Poland Turns Out to Be a Croissant in a Tree
Surely the premise of a future children's book.
7. Brood X Cicadas Are Screaming About Sex in Georgia, and Cops Are Tired of Hearing About It
The libidinous cacophony of these long-dormant insects is not the business of law enforcement.
8. This New Zealand School Is Using a Chicken as a Traffic Officer
In which you keep reading expecting for the next paragraph to take a very sad turn.
9. 'I'm Not a Cat,' Says Lawyer Having Zoom Difficulties
A civil forfeiture case via Zoom turned into surrealist performance art when an attorney couldn't turn off a cat filter.
10. Oreo Just Released Special Pokémon Cookies, and Fans Are Trying to Eat 'Em All
The speculative collector's market reaches new highs—or lows—with a frenzy over cookies.
11. Florida Man With Drugs Around Penis Denies They Were His
A traffic stop results in the discovery of narcotics tied around a man's genitals, but he insisted they didn't belong to him.
12. Italian Man Tries to Dodge Covid Vaccine Wearing Fake Arm
Because Florida Man can't grab all the spotlight.
13. X-Files Star David Duchovny Auditioned for All Three Male Leads on Full House
We're still waiting for the DeepFake on YouTube.
14. What the Shell? Woman Struck in Head by Turtle That Crashed Through Windshield on I-95 in Florida
The turtle screamed "Cowabunga" before the airbags deployed.
15. Couple Breaks Up After Being Handcuffed Together for 123 Days
Here's to better luck in 2022.