12 Famous Authors Who Also Wrote for Children
Sometimes you just want to be a kid again. These literary luminaries quietly tried their hands at writing children's stories. (Caution: spoilers!)
1. James Joyce

Original scan by Maria Popova/Brain Pickings
James Joyce wrote some of the most influential—and impenetrable—literature of the 20th century. When he wasn't doing that, he wrote about cats.
In 1936, Joyce mailed two stories to his grandson, Stephen. The tales would later be published as children's books: The Cat and the Devil and The Cats of Copenhagen. The Cat and the Devil, a riff off a French fable, posthumously became Joyce's first picture book in 1964. In it, a mayor hires the devil to build a bridge. The devil agrees under one condition: he owns the first soul that crosses. When the devil finishes, the mayor tosses a cat across the bridge, sealing the deal and leaving Lucifer with a pet.
Joyce's second story, The Cats of Copenhagen, was published in 2012. Here's a page:
2. e. e. cummings
e. e. cummings wrote around 2900 poems, two novels, and countless essays. He also wrote four stories for his daughter Nancy, which were published in a 1965 collection called Fairy Tales. The stories include The Old Man Who Said "Why", The Elephant and the Butterfly, and The House that Ate Mosquito Pie. The most playful yarn, however, may be The Little Girl named I—an experiment with nouns. At the end, the girl named "I" meets a girl named "you."
3. Upton Sinclair

Upton Sinclair was once called "a man with every gift except humor and silence." Sinclair poured his life's work into criticizing society and politics, but he still found room for fun. In 1936, the muckraker released The Gnomobile: A Gnice Gnew Gnarrative with Gnonsense, but Gnothing Gnaughty.
A girl named Elizabeth discovers the last two gnomes living in the Redwood Forest. The gnomes—Bobo and Glogo—distrust "big people" because they cut trees and destroy gnome homes. After gaining their trust, Elizabeth drives her pointy-hatted friends across the country to find other gnomes. Sinclair couldn't help but moralize, subtly scolding industrialization and pollution along the way. In 1967, Walt Disney turned Sinclair's tale into a movie.
4. Ernest Hemingway
In 1951, Holiday Magazine published Hemingway's only stories for children: The Good Lion and The Faithful Bull. Hemingway likely wrote both fables for Adriana Ivancich (his Venetian love interest) and her nephew.
The Good Lion follows a winged, pasta-eating lion. He visits Africa, where he's bullied by other lions for being different. The big cat, however, never bites back. He stays cheerful, eventually flying away from his bullies in Hemingway style:
"Adios," he said, for he spoke beautiful Spanish, being a lion of culture.
The Faithful Bull is a parody of Munro Leaf's The Story of Ferdinand, a tale about a bull who'd rather smell flowers than fight. Hemingway opens swinging:
One time there was a bull and his name was not Ferdinand and he cared nothing for flowers. He loved to fight and he fought with all the other bulls of his own age, or any age, and he was a champion.
The bull is later sent to pasture to breed, where he falls in love with a beautiful cow. His true love, however, is bullfighting, so he returns—only to be killed by a matador.
5. Aldous Huxley
Thirteen years after writing Brave New World, Aldous Huxley penned a story for his 5-year-old niece called The Crows of Pearblossom. Four years after Huxley died, Random House published the tale as a picture book. The story follows Mr. and Mrs. Crow and their neighbor, Mr. Snake, who always steals and eats their eggs. One day, the Crows leave fake eggs in their nest. When Mr. Snake eats the eggs, he gets a bad stomachache and dies.
6. John Updike
John Updike wrote dozens of novels and won two Pulitzer Prizes for literature. Most, however, forget the five children's books on his resume: A Helpful Alphabet of Friendly Objects, Bottom's Dream, The Magic Flute, The Ring, and A Child's Calendar.
In A Helpful Alphabet, Updike wrote a poem about 26 everyday objects—one for each letter of the alphabet—which his son photographed. Here's letter K:
"A knot is a thing that happens to string, sometimes on purpose and sometimes not. To undo one is hard for a grownup or tot. The eyes and the fingernails must puzzle it away. Another puzzle: why is it spelled with a K?"
Three of Updike's other children's books—Bottom's Dream, The Magic Flute, and The Ring—are playful adaptations of music by Mendelssohn, Mozart, and Wagner. His fifth book, A Child's Calendar, is a collection of 12 poems, one for each month.
7. Salman Rushdie
After The Satanic Verses, Rushdie's nine-year-old son, Zafar, scolded his father for never writing anything for children. Rushdie promised to write a kid-friendly book soon; two years later, he published Haroun and the Sea of Stories. The whimsical narrative follows Rashid, a professional storyteller who lost his ability to tell tales. Haroun, Rashid's son, takes his father on an adventure, hoping to re-inspire him. The fantastical book emphasizes one theme: stories are the building blocks of your identity.
In 2010, Rushdie wrote a book for young adults, Luka and the Fire of Life.
8. Umberto Eco
Philosopher Umberto Eco is best known for his novel Foucault's Pendulum, but he also wrote a trio of children's books: The Three Astronauts, The Bomb and the General, and The Gnomes of Gnu.
All three books are subtly political. The Three Astronauts teaches lessons in tolerance and multiculturalism. Like a bad bar joke, an American, Russian, and Chinese astronaut walk onto a distant planet and discover they're not so different. The Bomb and the General preaches pacifism. The story spotlights sentient atoms stuffed inside an atomic bomb. The particles are sad, so in the dead of night, they escape. When the weapon drops, nothing happens, and humans give up on war. The Gnomes of Gnu is Eco's environmental fable. As earth's climate changes, a space explorer searches for a new planet. He discovers the planet Gnu and meets native space gnomes. The gnomes reject human "civilization" because it already ruined one planet.
9. T.S. Eliot
Like Joyce, T.S. Eliot couldn't resist a good cat story. In the early 1930s, Eliot mailed multiple cat tales to his godchildren, writing under the pseudonym Old Possum. In 1939, those stories were published in Old Possum's Book of Practical Cats. Here's an excerpt.
I have a Gumbie Cat in mind, her name is Jennyanydots;
Her coat is of the tabby kind, with tiger strips and
Leopard spots
All day she sits upon the stair on the steps or on the mat
She sits and sits and sits and sits—and that's what makes
A Gumbie Cat!
Andrew Lloyd Webber called Practical Cats a "childhood favorite," and it inspired his long-running musical, CATS.
10. Gertrude Stein
In 1938, Young Scott Books asked a handful of famous authors if they would try writing a children's book. Most refused, but Gertrude Stein happily agreed: She had a half-written manuscript already sitting in her desk. The draft became The World is Round, a symbolic adventure about a girl who tries to make sense of the world. Here's a taste:
Once upon a time the world was round and you could go on it around and around. Everywhere there was somewhere and everywhere there were men women children dogs cows wild pigs little rabbits cats lizards and animals. That is the way it was. And everybody dogs cats sheep rabbits and lizards and children all wanted to tell everybody all about it and they wanted to tell all about themselves.
Rambling but philosophical, Stein even planted her famous phrase "A rose is a rose is a rose," which she regularly sprinkled in her work. In The World is Round, the girl—named Rose—carves it around a tree, forming an endless loop.
11. James Baldwin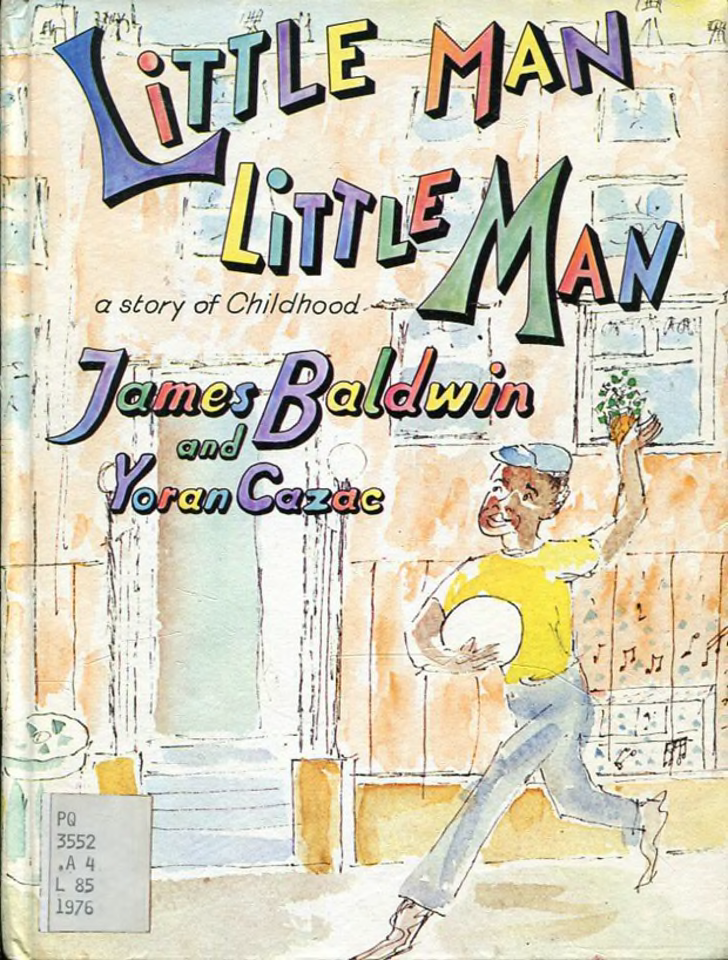 James Baldwin's novel Go Tell It On The Mountain is the story of a boy growing up in Harlem. Baldwin's children's book, Little Man Little Man, tells a similar tale. A 4-year old named TJ—based on Baldwin's young nephew—plays ball in the streets. The story is a collage of his observations, written in a style that "blends black English and child's talk." Here's an excerpt:
"A couple of times a car almost run him over. That ain't nothing. He going to be a bigger star than Hank Aaron one of these days. Soon as he gets a little bit older, he going to jump the roofs."
12. Leo Tolstoy

Original scan by Maria Popova/Brain Pickings
Tolstoy loved kids. At 21, the aristocrat opened a school for peasants on his estate. While writing Anna Karenina, he started working on schoolbooks for his students. Tolstoy wrote about his childhood, adapted Aesop's Fables and Hindu stories, and penned playful fairy tales like Ivan the Fool and The Pheasant and the Cucumbers. When Tolstoy finished, he read the tales to his toughest critics—the tots at his schools. He asked them for pointers and reworked the stories until the tough crowd softened. Tolstoy eventually published the stories in two primers, the ABC Book and the New ABC Book, which became staples at Russian schools.
Interested in what other authors cooked up? Visit the blog We Too Were Children, Mr. Barrie.