25 (Slightly) Cheesy Facts About Wisconsin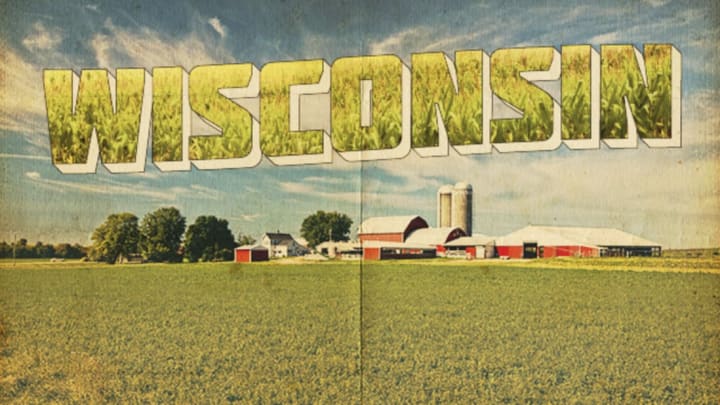 Chloe Effron / Chloe Effron
In 1848, Wisconsin was admitted to the union as America's 30th state. Today it's known for its food, its football team, and its abundance of lakes, farms, and beer. Here are 25 facts that are sure to impress your favorite Cheesehead.
1. Wisconsin gets its name from the Wisconsin River, which was called Meskousing by the region's Algonquian-speaking tribes.The first European explorer to reach the Wisconsin River was Frenchman Jacques Marquette, who recorded the name in 1673. Over time, the word was gradually Anglicized into its current spelling. Since linguists haven't found an Algonquian word similar to the one Marquette wrote down, they think the Native peoples inhabiting the area must have borrowed the name from the Miami word meskonsing. This name translates to "it lies red," and likely referred to the Wisconsin River's red sandstone formations.
2. Wisconsin's official nickname is "The Badger State," but not because the state's forests are teeming with the fuzzy woodland creatures. In the early 19th century, lead was discovered in the tiny town of Mineral Point, Wisconsin. Immigrants from Cornwall, England, settled in the region and dug mines. Some miners without homes lived in the tunnels during the winter months to keep warm, and their dwellings reminded people of badger holes. Today, the badger is proudly featured on Wisconsin's state flag and is also the official state animal.
3. Another unofficial nickname for Wisconsin is "America's Dairyland." As of 2015, the state had a total of 10,290 licensed dairy farms. Together, they produced 13.5 percent of the nation's milk and 25.4 percent of its cheese.
4. Thanks to its fertile farmland, Wisconsin's agriculture industry generated $88.3 billion in economic activity in 2014. The state grows 60 percent of the nation's cranberry crops, as well as a whopping 97 percent of its ginseng. It's also an important producer of corn, green and snap peas, potatoes, carrots, cucumbers, cherries, and apples.
5. Milwaukee is known as "Brew City" because it was once home to four of the world's biggest breweries: Miller, Pabst, Blatz, and Schlitz. Today, Wisconsin has a thriving craft brew scene, but the state's only remaining large-scale brewery is Miller.
6. According to the Guinness World Records, Summerfest—an annual, 11-day music festival held along Lake Michigan's shoreline in Milwaukee—is the world's largest music festival. In 2015, the event drew 772,652 people.
7. Wisconsin's state bird is the robin, its state flower is the wood violet, its state song is "On, Wisconsin," and its state motto is the simple, yet powerful, "Forward."
8. One of Wisconsin's most famous sons is Frank Lloyd Wright. The world-renowned architect was born in the small farming town of Richland Center, and later moved to Madison.
9. Although Wright dropped out of the University of Wisconsin-Madison to pursue employment in Chicago, he never forgot his prairie roots. Mid-career, Wright fell in love with a client's wife, Mamah Borthwick, and the two fled to Germany. Unable to return to Wright's longtime home of Oak Park, Illinois—where Borthwick's husband also lived— Wright constructed himself and his lover a new residence near his maternal grandparents' homestead in Spring Green, Wisconsin. He named the hillside estate Taliesin, and the two lived there for three years until tragedy struck. A house servant set the residence on fire; the conflagration killed seven individuals, including Borthwick and her two children.
Wright rebuilt Taliesin in Borthwick's memory. Despite threats of foreclosure and yet another fire, the architect lived and worked in the home for the remainder of his life. Today, it serves as a museum dedicated to Wright's life and career.
10. A long list of famous actors, writers, musicians, and artists were born in Wisconsin: Willem Dafoe, Chris Farley, Georgia O'Keeffe, Orson Welles, Laura Ingalls Wilder, Liberace, Gene Wilder, and Mark Ruffalo, among others.
11. Inventions from Wisconsin include the blender, the QWERTY keyboard layout, and—fittingly—a rapid beer-dispensing device called the TurboTap.
Wikimedia Commons // Public Domain
12. An economist named Edwin Witte, who worked as a professor at the University of Wisconsin-Madison, created the policies and legislation that comprised the 1935 Social Security Act. Today, he's referred to as "the Father of Social Security."
13. In 1988, two University of Wisconsin–Madison students named Tim Keck and Christopher Johnson created a satirical campus newspaper, The Onion. Over the years, the humble college publication has grown into one of the world's most famous digital media companies, and probably the most famous news satire organization.
14. Wisconsin borders two Great Lakes: Lake Michigan and Lake Superior. Although they don't boast about it on license plates, the state also has at least as many inland lakes as Minnesota, if not more. All together, Wisconsin contains more than 11,188 square miles of water—a greater number than every other state apart from Alaska, Michigan, and Florida.
15. The Milwaukee Mile is a one-mile-long oval race track on the grounds of the Wisconsin State Fair Park in West Allis, Wisconsin. The track has hosted at least one auto race every year since 1903, making it the world's oldest operating motor speedway.
16. The Green Bay Packers joined the National Football League a year after it was founded in 1920. Since then, they've won more NFL championships (13) than any other team in history. Thanks to this distinction, the city of Green Bay is unofficially known as "Titletown USA."
17. Although Wisconsin is filled with rolling farms and prairies, 30 percent of the state's entire population lived in the five-county metropolitan area around Milwaukee as of 2014.
18. Many Wisconsin residents love to hunt. In 2015, hunters killed a staggering 192,327 deer during the state's nine-day season.
19. Les Paul, famed guitarist and a pioneering inventor of the solid-body electric guitar, grew up in Waukesha, Wisconsin as Lester William Polsfuss. When Polsfuss died in 2009, he was buried in the city's Prairie Home Cemetery.
20. Wisconsin has infamously chilly winters. On February 4, 1996, the village of Couderay in Sawyer County, Wisconsin, hit a record low of -55°F. To this day, it remains the coldest temperature ever recorded in the state.
21. Southern Wisconsin is filled with earthen burial mounds shaped like people and animals like birds, bears, and panthers. They were constructed by Native American tribes during the Late Woodland Period, and some are more than 1000 years old. Although thousands of effigy mounds remain in Wisconsin, 80 percent of them are thought to have been destroyed by urban development and farming practices.
22. In 1979, students from the University of Wisconsin–Madison stuck 1008 plastic pink flamingos in the grass in front of the dean's office. In honor of their prank, the city council made the popular lawn ornament Madison's official bird in 2009.
iStock
23. Mount Horeb, Wisconsin, is known as the "Troll Capital of the World." A large main street called the "Trollway" is peppered with large statues of the mythical creatures, and visitors can purchase troll memorabilia in gift stores. The unusual theme was inspired by Nordic folklore, as the town was once more than 75 percent Norwegian.
24. You can also find the "Toilet Paper Capital of the World" in Wisconsin. Green Bay is revered as the home of the first splinter-free toilet paper. The soft paper fabric was invented by Northern Paper, a precursor to Quilted Northern, in the 1930s.
25. Whimsical slang words from Wisconsin include woopensocker (anything that's extraordinary) and wapatuli (a homemade alcoholic drink).