10 Tempestuous Writerly Romances
Hemingway believed "the best writing [happens] when you are in love," which might explain his serial marriages, while others found that romantic tumult spurred their creativity. Norman Mailer's editor even claimed he needed violence to work up the courage to write. For them and eight other writers featured below, turbulent real-life relationships rivaled the dramas that played out on the page.
1. Arthur Miller and Marilyn Monroe
Getty Images
The playwright's rose-tinted glasses came off just two weeks after marrying the blonde bombshell when he witnessed her Jekyll & Hyde transformation on a movie set. Marilyn's demanding behavior and explosive temper, fueled by booze and pills, thrust him into the reluctant roles of caretaker, psychiatrist, parent, and apologist. Miller didn't produce a single work during their five-year marriage, instead becoming "the most talented slave in the world," according to Norman Mailer. After Marilyn's death, he wrote two thinly veiled plays about their turbulent relationship.
2. Ernest Hemingway and Martha Gellhorn
Getty Images
Before tying the knot with journalist Martha Gellhorn, Ernest Hemingway made her sign a mock contract promising she wouldn't leave him to go on assignment since he couldn't stand being alone. Turns out, it was no joke. When his willful wife continued to report on the events of World War II rather than play happy homemaker with him, Hemingway saw red. "Are you a war correspondent or wife in my bed?" he petulantly cabled to Martha during one of her stints in the field. Despite his efforts to sabotage her career by literally stealing her job, Martha persevered with her career and ditched her demanding husband.
3. Tennessee Williams and Pancho Rodriguez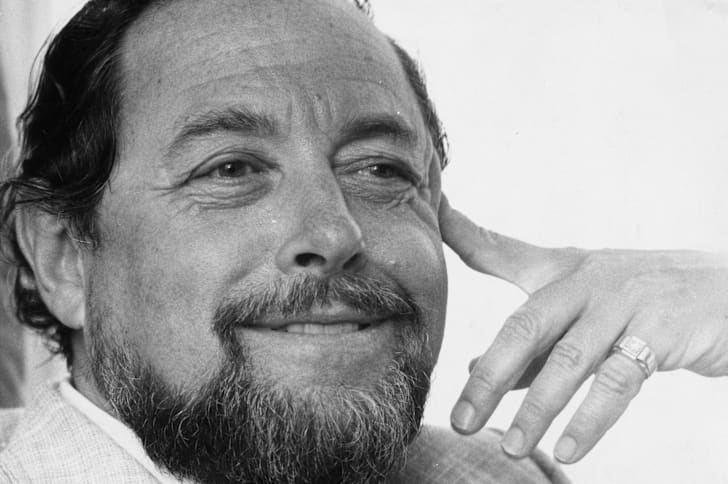 Getty Images
Tennessee Williams' affair with Pancho Rodriguez, an attractive, macho hotel clerk, was doomed almost from the start. Ironically, 25-year-old Pancho, a decade younger than the writer, wanted a stable, committed partnership, while Williams refused to give up sex with other men. He also couldn't tolerate his boyfriend's insecurities, which often led to stormy rows. Pancho once tried to run Williams down with a car when he (rightly) suspected the playwright was returning from an assignation, but what finally made Williams give him the boot was when he tossed his typewriter out a hotel room window. Writing A Streetcar Named Desire at the time, the playwright transferred some of his boyfriend's volatile tendencies into the brutish, short-tempered Stanley Kowalski.
4. Leo and Sophia Tolstoy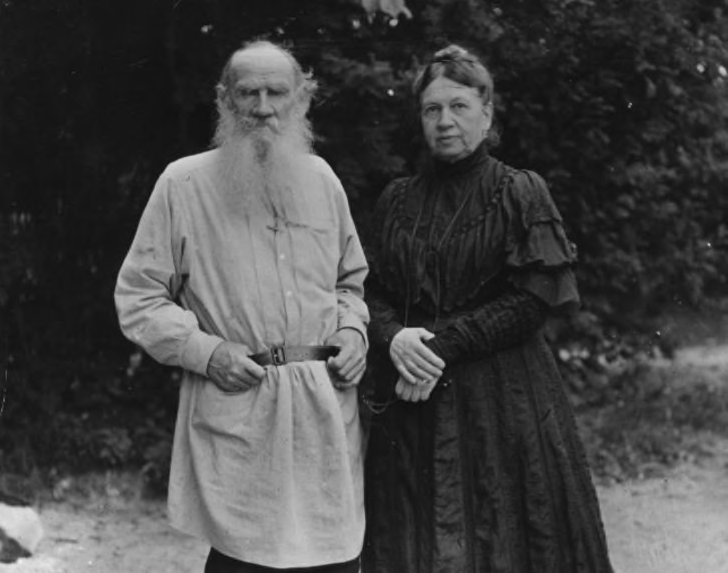 Getty Images
When Leo Tolstoy penned the first line of Anna Karenina, "Happy families are all alike; each unhappy family is unhappy in its own way," he had no idea his own 50-year marriage would be immortalized as one of the unhappiest in literary history. Soon after finishing the novel, the mercurial writer experienced the mother of all midlife crises—but rather than resort to womanizing or flashy spending, he took a vow of poverty and chastity. Tolstoy's radical transformation and devotion to his disciples led to fierce arguments with his long-suffering wife, Sophia. Ultimately, her spying and theatrics drove the writer away shortly before his death at a remote railway station.
5. Norman Mailer and Adele Morales
Norman Mailer bedded Latina beauty Adele Morales within hours of meeting her, winning her over by quoting F. Scott Fitzgerald. Adele should have run for cover, but instead she became wife number two and set in motion a life of spiraling tragedy. Years of domestic violence, alcoholism, and drugs culminated in a shocking act: Mailer stabbed Adele in the back, literally, during a drunken rage at a party. Despite spending a month in the hospital recovering, she refused to press charges (admitting later that she was too scared), and Mailer got off with just five years' probation.
6. F. Scott and Zelda Fitzgerald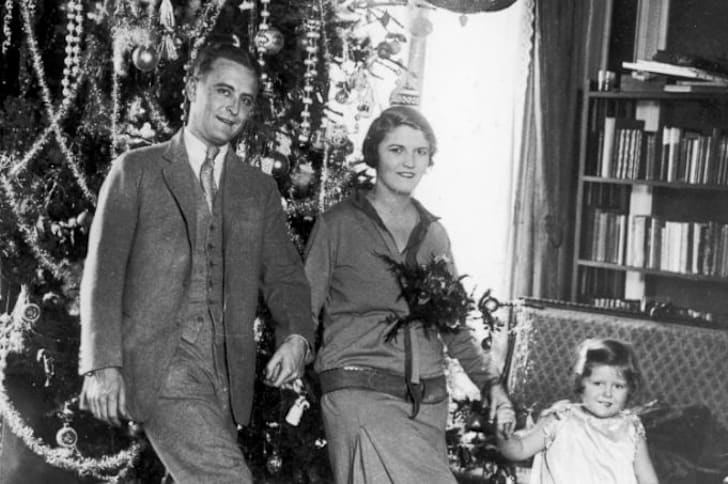 Getty Images
By the time the Jazz Age pair staked a stretch of sand on the French Riviera, their marriage was already on shaky ground. Zelda rocked the boat further by nearly running off with a French aviator, who Scott threatened to challenge to a duel. The golden couple's mutually destructive chemistry spurred them to dangerous heights, as they dared each other to cliff dive and undertake other reckless acts. After they returned stateside, Scott took up with teenage actress Lois Moran and flaunted the relationship in Zelda's face. If this sounds like the plot of a novel, well, the drama offered plenty of fodder for Scott's Tender is the Night.
7. T.S. Eliot and Vivienne Eliot
Getty Images
After spending a miserable night in a deck chair during his honeymoon, married life only got worse for T.S. Eliot. He finally called it quits after 18 years, cowardly ending the relationship in a letter from his lawyer. Heartbroken, his unstable wife Vivienne resorted to stalking him and even attempted to place an ad in the Times personals imploring him to return home. Her desperate measures failed to win him back, and she was eventually committed to an asylum. Eliot later admitted, "To her the marriage brought no happiness … to me, it brought the state of mind out of which came The Waste Land." The bleak confessional poem was largely composed while he was being treated for his own breakdown in a Swiss sanitarium.
8. D.H. Lawrence and Frieda Weekley
When D.H. Lawrence and Frieda Weekley weren't hitting each other, hurling dishes, or sparring in public, the pair had a hot and heavy sex life. Throughout their 15-year marriage, Frieda also indulged her libido elsewhere with her husband's blessing, once seducing a Sicilian mule driver by stripping off her clothes and running naked through a vineyard. As the inspiration for Lady Chatterley and other characters, fiery Frieda believed she was equally deserving of the credit for her husband's stories for having unleashed his passionate side.
9. Dylan Thomas and Caitlin Macnamara
Getty Images
"Ours was a drink story, not a love story," Caitlin Macnamara said of her marriage to Welsh poet Dylan Thomas. The pair met in a pub, where Thomas announced they would wed the moment he saw her. Their alcoholism and his rampant infidelities fueled Caitlin's epic rages, sometimes leading her to bang her husband's head against the floor so hard that he would pass out. When Thomas died at 39, after consuming a reported 18 whiskies, Caitlin lashed out at hospital nurses and pulled a four-foot crucifix from the wall before being hustled off in a straitjacket.
10. George Sand and Alfred de Musset
Getty Images
Novelist George Sand courted controversy in 19th century France by writing racy novels, smoking cigars, cross-dressing, and dating younger men. Her on-again, off-again relationship with philandering poet Alfred de Musset took a dramatic turn during a trip to Italy when she dumped him for the physician who treated him for a mysterious ailment, likely an STD. When she returned to Paris, she reconciled briefly with the poet before breaking it off for good. As a parting gesture, she cut off her long, dark hair and sent it to him in a skull.