A Handy Map of All the Royal Residences in the UK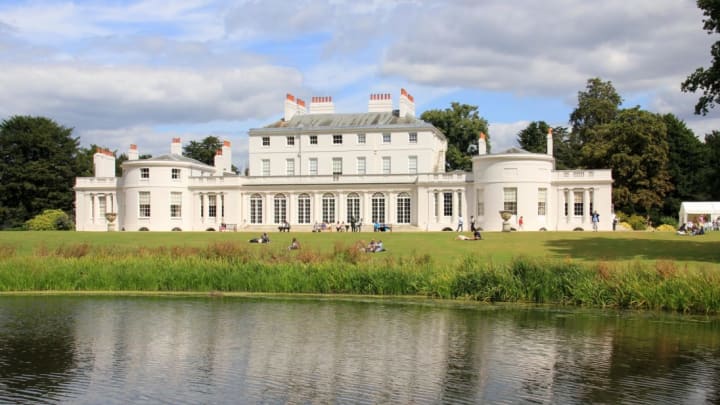 Frogmore House, Prince Harry and Meghan Markle's one-time estate on the grounds of Windsor Castle. / Karen Roe, Wikimedia Commons // CC BY 2.0
Somewhere along the way, you probably learned that Buckingham Palace is home to the ruler of the United Kingdom and many unflinching, fancily clad guards. And, if you watch The Crown or keep a close eye on royal family news, you might recognize the names of other estates like Windsor Castle and Kensington Palace.
But what about Gatcombe Park, Llwynywermod, or any of the other royal residences? To fill in the gaps of your knowledge, UK-based money-lending site QuickQuid created a map and corresponding illustrations of all 20 properties, and compiled the need-to-know details about each place.
QuickQuid
Queen Elizabeth II and Prince Philip kept eight estates for themselves, and divvied up the rest among their children and grandchildren, some of whom have purchased their own properties, too. Though Buckingham Palace was considered the official residence of the Queen, she split most of her time between Windsor Castle and other holiday homes like Balmoral Castle in Scotland and Sandringham House, which Prince Philip was responsible for maintaining.
QuickQuid
Windsor shares its grounds with two other properties: Prince Harry and Meghan Markle's one-time home, Frogmore House, and the Royal Lodge, where Prince Andrew (the Queen's second youngest child) lives.
QuickQuid
Southwest of Windsor is Highgrove House, King Charles III's countryside home with wife Camilla, Queen Consort. They also own Birkhall in Scotland, Clarence House in London, Tamarisk House on the Isles of Scilly, and the aforementioned Llwynywermod in Wales. Much like Queen Elizabeth II did, Charles and Camilla basically have a different house for each region they visit. (As king, Charles stands to inherit all of his mother's properties, though it remains to be seen where he and Camilla plan to live.)
QuickQuid
In 2011, Queen Elizabeth II gave Anmer Hall—which is on the grounds of Sandringham House—to William and Kate, now Prince and Princess of Wales, as a wedding gift. They then lived at Kensington Palace, and in the summer of 2022, they relocated to Adelaide Cottage, not far from Windsor Castle.
Queen Elizabeth and Prince Philip's only daughter, Anne, resides in Gatcombe Park with her daughter, Zara Tindall. Anne also owns St. James's Palace in London.
Lastly, there's Edward, Elizabeth and Philip's youngest son, who lives with his wife in Bagshot Park, which architectural historian Nikolaus Pevsner called "bad, purposeless, [and] ugly."
QuickQuid
If you're feeling particularly cramped in your tiny one-bedroom apartment (or even regular-sized house) after reading about the royal family's overabundance of real estate, take solace in the knowledge that at least you'll never have to follow their strict fashion rules.