10 Facts About Your Favorite Thanksgiving Foods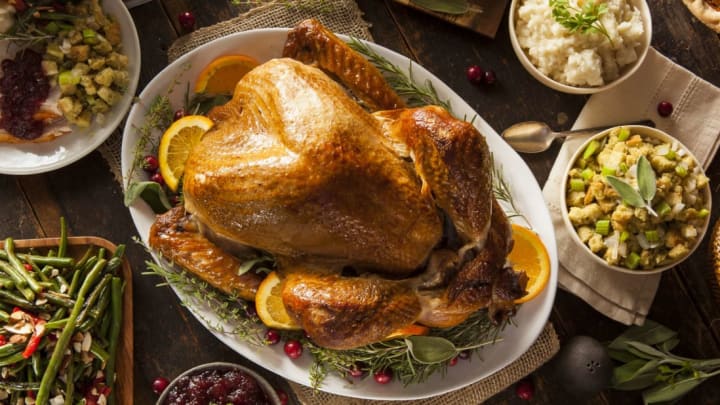 Use these tips to avoid Thanksgiving Day disasters. / bhofack2/iStock via Getty Images
Sure, there may be football and a parade on Thanksgiving, but true fans of the holiday know it's all about the food. A traditional Thanksgiving meal consists of special dishes that celebrate America's history—including some fairly recent developments in the country's cuisine. You may not be thrilled to see a ridged tube of cranberry sauce or marshmallow-topped sweet potatoes any other time of the year, but on Thanksgiving, they're a welcome treat. From side dishes to desserts, here are some facts you should know about your favorite Thanksgiving foods before sitting down to dinner.
1. Green bean casserole was invented by a Campbell Soup employee.
DreamBigPhotos/iStock via Getty Images
Campbell's test kitchen supervisor Dorcas Reilly was responsible for developing recipes for the backs of soup cans in the 1950s. Her most successful dish—green bean bake, or green bean casserole as it later came to be known—featured condensed cream of mushroom as one of its six ingredients. Home cooks are still making her original recipe 60 years later.
2. Cranberry sauce is canned upside down.
NWphotoguy/iStock via Getty Images
Ocean Spray knows you love the sight of a cylindrical, perfectly ridged mass of cranberry sauce sliding out of the can. To facilitate this process, the company packages the condiment so that the rounded end of the can is up top and the sharper, rimmed end is at the bottom—which is the opposite of what you see in most canned products. This design creates an air bubble vacuum at the top of the can. When you remove the bottom panel and loosen the contents with a knife, the air bubble gently pushes the cranberry sauce out of the can and onto your plate. So when serving jellied cranberry sauce at Thanksgiving, remember to open it upside-down for the best results.
3. Some festivals feature mashed potato wrestling.
DronG/iStock via Getty Images
Mashed potatoes are extremely versatile. You can eat them, sculpt with them, and at some American festivals, you can wrestle in them. The Potato Blossom Festival in Maine, Potato Day in South Dakota, and the Potato Days festival in Minnesota all include mashed potato wrestling matches as part of the festivities. If it pains you to think of gallons of potatoes going to waste, don't worry: According to Guinness World Records, these potatoes are made out of "(inedible) floor sweepings from a factory or outdated flakes that are no longer saleable." They usually become feasts for local cattle afterwards.
4. Sweet potatoes aren't really potatoes.
bhofack2/iStock via Getty Images
True potatoes like russets are members of the nightshade botanical family, while sweet potatoes belong to the morning glory family. But that doesn't make sweet potatoes yams either; though they aren't actually potatoes, orange sweet potatoes are their own thing. Yams, which are often white or yellowish on the inside, are related to lilies and grasses and mostly grow in tropical environments.
5. The pumpkin pie you have at Thanksgiving likely doesn't contain pumpkin.
artisteer/iStock via Getty Images
Any pies baked with canned pumpkin puree are often criticized as not being "pumpkin" pies at all, but the truth is more complicated. There's no hard and fast rule as to what is or isn't a pumpkin, but the most iconic pumpkin is a variety of Cucurbita pepo, while most store-bought canned pumpkin is made from Dickinson pumpkin, or Cucurbita moschata. However, many authorities argue pumpkin either has no botanical meaning or consider C. moschata to be a valid type of pumpkin. For their part, the FDA comments that since 1938 they have "consistently advised canners that we would not initiate regulatory action solely because of their using the designation 'pumpkin' or 'canned pumpkin' on labels for articles prepared from golden-fleshed, sweet squash, or mixtures of such squash with field pumpkins."
6. Turkey probably won't make you sleepy.
bhofack2/iStock via Getty Images
Many people feel tired at the end of Thanksgiving dinner, which is a natural reaction to gorging on heavy foods and washing it down with alcohol. Despite this logical explanation, people have chosen to blame the amino acid L-tryptophan for their drowsiness instead. It's true that tryptophan is present in turkey, but the bird doesn't contain enough of it to put you to sleep. The stuffing, pumpkin pie, and three glasses of merlot are more likely to blame for your post-dinner nap.
7. Whether you call it dressing or stuffing depends on where you're from.
bhofack2/iStock via Getty Images
Some say that there is a difference between stuffing and dressing: The former is "stuffed" into the turkey and cooked that way while the latter is cooked separately in a pan (to avoid turning what's arguably the best dish at Thanksgiving into a salmonella bomb, many people prefer cooking their cubed bread mixture outside their turkey). According to others, though, whether you call it dressing or stuffing comes down to where you live. People in the South are more likely to call it dressing, while people from northern and western states tend to stick with stuffing.
8. The largest serving of macaroni and cheese weighed 2469 pounds.
Roxiller/iStock via Getty Images
In 2010, the Cabot Creamery Cooperative and Chef John Folse & Company made every cheese-lover's dream come true by whipping up the world's largest serving of mac and cheese. The gooey monstrosity weighed 2469 pounds—and that's not including the 1902-pound kettle it was cooked in. It earned the title of largest macaroni and cheese ever made from Guinness World Records.
9. The origins of the turducken go back to the 18th century.
levkr/iStock via Getty Images
While the turducken may seem like a modern Thanksgiving monstrosity, its origins actually predate the current version of the holiday. The 1774 book The Art of Cookery contains the earliest known instructions for cooking a bird within a bird. But instead of a chicken and a duck inside a turkey, the recipe calls for a pigeon, partridge, fowl, and goose to all be stuffed inside a turkey.
10. There's a "Brussels sprout gene."
bhofack2/iStock via Getty Product
If you're the only person you know who can't stand the taste of Brussels sprouts, blame your genes. Some people have a variant gene called TAS2R38 that allows them to taste certain bitter compounds, such as those found in Brussels sprouts. The presence or absence of the so-called "Brussels sprouts gene" may explain why some people hate Brussels sprouts and others can't get enough of them.