The 11 Best Comedies to Stream on Netflix Right Now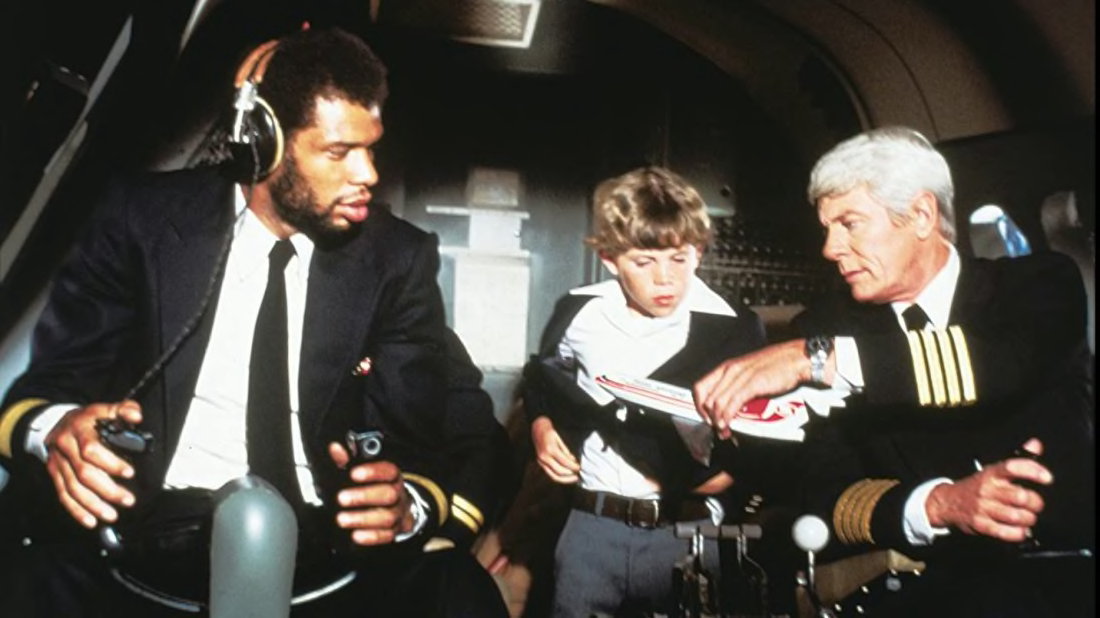 If you've exhausted your go-to list of reliable comedies, there's hope: Netflix has a steady flow of classics and contemporary hits, including a handful of originals. Check out 11 of the funniest movies currently streaming on the service.
Spoofing the self-important disaster movies of the 1970s, Airplane! sees stressed-out pilot Robert Hays forced to take the controls when the crew is incapacitated. The film's barnside-broad humor went on to become a trademark of the ZAZ (David Zucker, Jim Abrahams, and Jerry Zucker) directing trio.
As the celebrity whose diagnosis with COVID-19 helped alert the world to the pandemic's far-reaching, permanent risks, Tom Hanks seems to re-earn "beloved" status every few years, for a different reason. Two years after Splash and two years before Big, he charmed Cheers star Shelley Long—and audiences—with this surprisingly resilient comedy about a couple buying a cheap house that costs them their sanity. The enduring time frame of each repair on their fixer-upper—"two weeks"—will undoubtedly ring familiar to anyone who has ever tried to motivate a landlord or contractor. Meanwhile, Hanks's acumen as a physical comedian—here subjected to some truly hilarious indignities—has seldom been better showcased.
Based on the short-lived television series of the same name, The Naked Gun made a comedy star out of serious leading man Leslie Nielsen. As Lieutenant Frank Drebin, Nielsen struggles with his own incompetence, that of his partners, and the gag-a-minute pace created by the Airplane! trio of David Zucker, Jim Abrahams, and Jerry Zucker.
Jim Carrey left nothing behind while taking part in this broad send-up of detective films—his Ace is an animal lover out to recover the Miami Dolphins mascot—but it paid off. Carrey's brand of physical humor is so relentless in its desire to please that he becomes as close to a flesh and blood cartoon as audiences are ever likely to see.
Stephen Chow's juxtaposition of tones is virtually peerless in world cinema; almost no one else can slam Looney Tunes-style comedy and heart-wrenching pathos together and pull it off, but he almost always does. In this martial arts comedy, a feckless crook reluctantly discovers his destiny as a great fighter after coming between a ruthless gang and the eccentric residents of a rundown slum. Chow's cinematic references are conspicuous, but they only add to a tone that would become unwieldy, or even schizophrenic, were it not for his sure directorial hand, which elevates even the silliest gag to something emotionally meaningful.
Suffice it to say that there's been plenty of time for self-inventory during the quarantine, but Edgar Wright's adaptation of Bryan Lee O'Malley's graphic novel series of the same name offers a unique bit of wish-fulfillment as the young, decidedly immature Mr. Pilgrim (Michael Cera) gets to wrestle, quite literally, with the romantic history of his would-be partner—rollerblading dream girl Ramona Flowers (Mary Elizabeth Winstead). From Chris Evans to Kieran Culkin to Brie Larson, the casting choices offer an embarrassment of riches, while each new showdown—peppered with an exhilarating blitz of pop culture references—shepherds young Scott ever closer to the woman he thinks he loves, and of course, a few important life lessons of his own.
Richard Curtis's story of a young man named Tim (Domhnall Gleeson) who discovers he can travel through time offers an often extremely funny but beautifully bittersweet tribute to the special, meaningful, and always too-short time we get to spend with the ones we love. If anyone could make a lovesick boy turn down an invitation to Margot Robbie's hotel room, it's a delightfully daffy Rachel McAdams, with whom Tim builds a beautifully messy life. But it's his relationship with his father James (Bill Nighy) that truly teaches him how to experience and appreciate each moment with friends and family for how precious they are, with or without magical abilities.
The ever-reliable Paul Rudd stars in this amiable indie film about a writer who takes on a side hustle as a caregiver for a teen (Craig Roberts) with muscular dystrophy. Lessons are naturally learned, but it's also a prime example of the affability that's made Rudd one of the more pleasant screen actors of the past two decades.
Armando Iannucci never pulls punches in his political satires, from The Thick of It to In the Loop to Veep. This slightly off-the-radar comedy is no exception, depicting the ferocious, petulant battle for power that ensues after, well, the death of Joseph Stalin. As the most politically overt film on this list of winners, it offers some insights to more than a few recent parallels in world events—a bonus to some, but too close to reality for others—but it also delivers a merciless takedown of world leaders and the sniveling, manipulative sycophants who all seem destined to destroy themselves as they claim the fleeting, fragile power they crave.
Eddie Murphy returned to form with this funny and moving biopic of Rudy Ray Moore, a struggling stand-up comic in the 1970s who finds his big break as Dolemite, a butt-kicking alter ego that became the subject of Moore's low-budget film debut. After years spent in the kiddie pool of family comedies, it's nice to see Murphy embrace the edge that made his name.
Ali Wong was already a treasure as a stand-up, but this romantic comedy cemented her unique, irresistible charms, playing a celebrity chef reconnecting as an adult with her childhood crush (played by Randall Park). The cultural specificities of a largely Asian-led cast and crew give the film a decidedly different flavor than others, even as those details underscore the universality of its ultimate truths. Meanwhile, Internet Boyfriend Keanu Reeves plays himself as a love interest for Wong's character, offering some truly choice lines to replay for those eager to hear the actor whisper sweet nothings in their ear.