10 Cool Retro Gifts for the Gen Xer in Your Life
This article contains affiliate links to products selected by our editors. Mental Floss may receive a commission for purchases made through these links.
It can be tricky to find the perfect gift for the Gen Xer in your life. Born between 1965 and 1979, these now-40 and 50-somethings experienced all the '70s and '80s had to offer in real-time (think hot pants, discos, Beetlejuice, and, of course, slap bracelets).
From classic '80s candies to Golden Girls shot glasses (yes, really), here are 10 retro-inspired, Gen X-approved gifts that won't disappoint.
1. Victrola Vintage 3-Speed Bluetooth Portable Suitcase Record Player; $45
This adorable suitcase record player features Bluetooth capability, built-in speakers, and a headphone jack. Simply connect it to your smartphone and stream your favorite podcasts or tunes. In addition to your records, pop in your favorite CDs. And, thanks to its suitcase design, it's incredibly easy to transport—take it with you on road trips, outdoor picnics, and anywhere else the day takes you.
Buy it: Amazon
2. Retro Vinyl Record Disk Coasters; $10
Any '70s or '80s baby will appreciate these nostalgia-inducing vinyl record disk coasters. The creative coasters—which feature an innovative non-slip design—will protect against spillage, slips, accidents, or mishaps. Use them for hot and cold drinks alike.
Buy it: Amazon
3. '80s Pop Culture Trivia Game; $15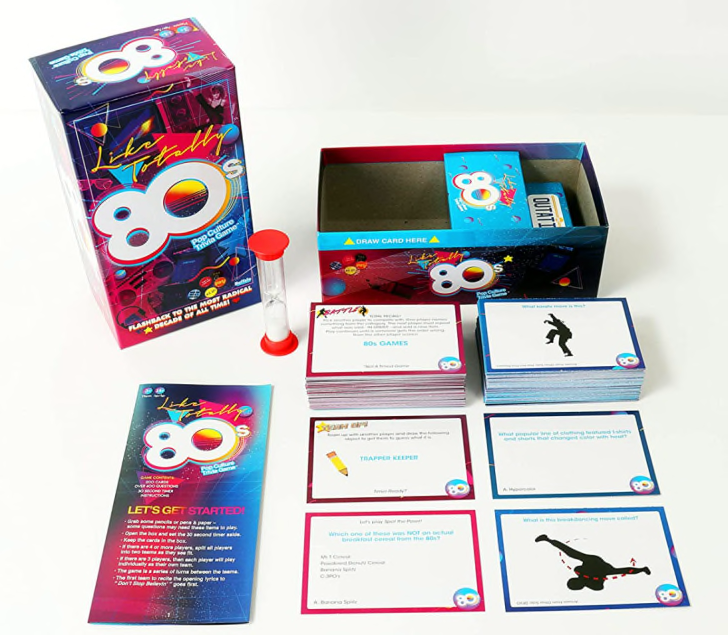 Put your '80s knowledge to the test with this retro-themed trivia game, which is complete with over 400 pop culture questions on all things film, fashion, and more. You can even listen to the complimentary game soundtrack on Spotify for extra throwback vibes.
Buy it: Amazon
4. Garbage Pail Kids Monopoly Game; $43
Transport yourself back in time with this Monopoly set, which is sure to be a hit. Featuring all of your favorite Garbage Pail Kids characters, the retro-inspired board game is ideal for kids and adults alike.
Buy it: Amazon
5. Thomas Magnum Funko Pop; $11

Who doesn't love Funko Pop! figures? These classic figurines are just as popular today as they were 20 years ago. '80s TV buffs will surely appreciate this Funko of Thomas Magnum of the hit show Magnum, P.I. (played by the iconic Tom Selleck)—clad in his classic Hawaiian shirt and signature 'stache, of course.
Buy it: Amazon
6. Polaroid Bluetooth Vintage Camera; $140
Swap out your iPhone camera for this modern-day, easy-to-use Polaroid. The camera offers a 60-day battery life, two lenses (standard and portrait), a powerful flash, and a self-timer. It's also Bluetooth-enabled and compatible with both Androids and iPhones.
Buy it: Amazon
7. Golden Girls Shot Glasses (Set of Four); $23
While The Golden Girls debuted more than 35 years ago, the classic sitcom is still incredibly popular. (After all, how could you not love Dorothy, Rose, Blanche, and Sophia?) Any Golden Girls fan—regardless of age—will appreciate this set of shot glasses, which even comes complete with a drinking game. (Rules are labeled on each glass.)
Buy it: Amazon
8. Never Forget Vintage Cassette T-Shirt; $8 - $30
This whimsical graphic T-shirt is ideal for everyday wear and comes in sizes S to 5XL. Whether you're buying it for yourself (no judgment) or a loved one, expect lots of laughs and turning heads (in a good way, of course). Choose from 19 different colors, including basic black, coral, and hot pink.
Buy it: Amazon
9. Peanuts Gift Box Set; $68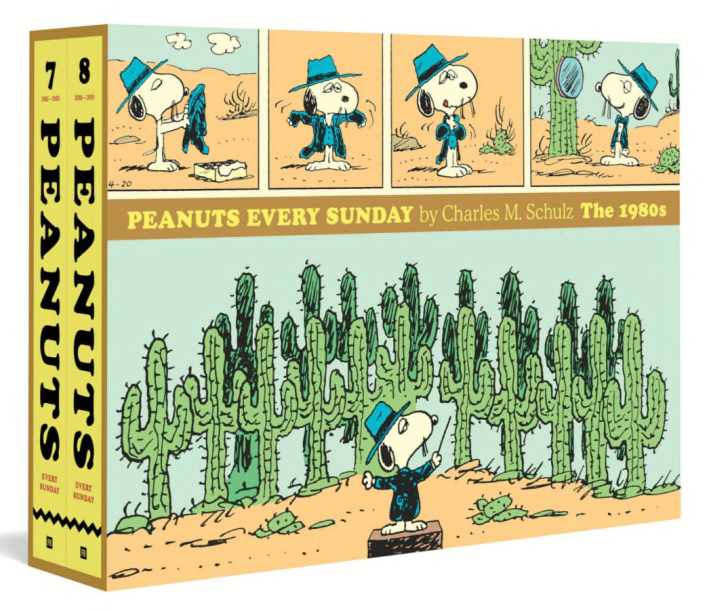 Charles Schulz's iconic Peanuts comic strips have become an American staple. This gift box is perfect for comic lovers and collectors. It features all (!) of the Sunday Peanuts strips in deluxe hardcovers, which you can proudly display in your home for all to see.
Buy it: Amazon
10. 1980s Retro Candy Gift Box; $40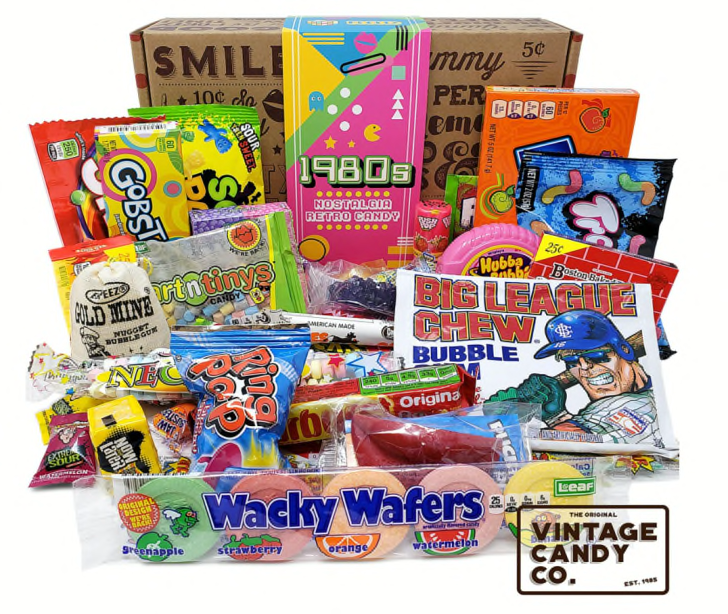 Remember Gobstoppers? How about Big League Chew? This candy gift basket—which features 57 of the best '80s treats—is sure to delight. The best part? Sharing is optional, so dig in and enjoy. (Don't worry, we won't tell anyone if you end up buying it for yourself.)
Buy it: Amazon
Sign Up Today: Get exclusive deals, product news, reviews, and more with the Mental Floss Smart Shopping newsletter!