ENTERTAINMENT
The 14 Best Movies to Stream on Hulu Right Now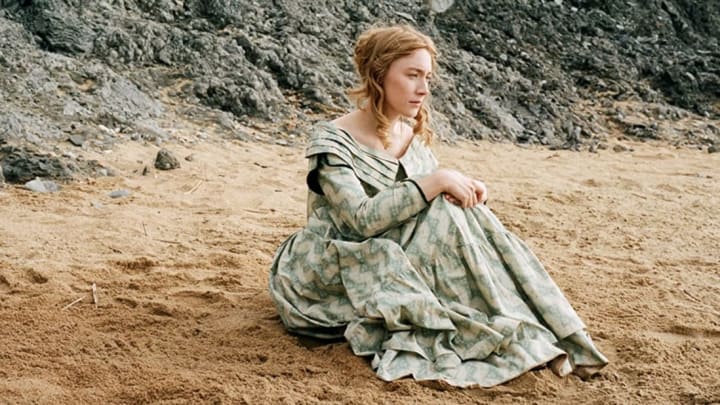 Saoirse Ronan in Ammonite (2020). / Courtesy of Neon
Hulu, one of the largest streaming services around, keeps a steady selection of new and classic films in rotation. If you're looking for something to watch, check out what's currently available.
Guillermo del Toro directs this new adaptation of the 1946 novel about a con man (Bradley Cooper) who learns the mentalism grift from experts but ignores their warnings not to get too greedy. Leonardo DiCaprio originally flirted with the Cooper role.
Kristen Stewart drew critical accolades for her portrayal of the late Diana Spencer in the time leading up to her divorce from Prince Charles. At the end of each shooting day, director Pablo Larraín had Stewart dance to different songs. Compiled, the montage makes up a sequence near the end of the film.
Action star Frank Grillo takes a more violent approach to Groundhog Day, trying to slowly figure out who's marked him for death before he dies--again. Director Joe Carnahan and Grillo have a bit of a Scorsese/De Niro partnership: They've made several films together, including The Grey, Wheelman, and Copshop.
Al Pacino stars in this true story about whistleblower Jeffrey Wigand (Russell Crowe), who takes on the tobacco industry with the help of news producer Lowell Bergman (Pacino). The film is engrossing but chatty, which led producers to joke about calling the movie The Phone.
Denzel Washington and Chris Pine are railroad workers out to stop a runaway train carrying toxic explosives. Oddly, Washington and director Tony Scott collaborate on two train movies: Their remake of The Taking of Pelham 123 was released in 2009.
Julia Roberts solidified her star status in this romantic comedy about a businessman (Richard Gere) who decides he wants to negotiate a different kind of deal with a sex worker (Roberts). Though the film's poster has become iconic, it's not actually Roberts's body: Her head was superimposed on top of a body double.
Emma Stone scored her first major starring role as a high schooler who opts to take a lewd rumor and turn it into an advantage. Co-star Cam Gigandet was 28 when he played a classmate.

Kate Winslet is a celebrated fossil hunter in 1840s England who strikes up a then-scandalous romance with Saoirse Ronan's character in this moving drama. The film is inspired by Mary Anning, who often risked her life in pursuit of fossils but rarely got credit because of her sex.

Russell Crowe and Ryan Gosling make an unlikely buddy pairing in this comedy written and directed by Shane Black. In 1970s Los Angeles, the two detectives bumble through a seedy underworld to find a missing girl. Black originally wrote it as a television show pilot before deciding it worked better as a movie.
10. Pig (2021)

Nicolas Cage stars in this thoughtful drama about a hermitic truffle hunter whose beloved pet pig goes missing, leading him back to the urban restaurant scene he thought he had left behind. Cage trained with professional chef Gabriel Rucker so he could cook convincingly on camera.

If you missed this 2020 Best Picture Oscar winner, you no longer have any excuse: Bong Joon-ho's darkly funny drama about members of a low-income family grifting their way into the lives of a rich one has a lot to say and does it deftly and delightfully. Even though it's right out in the open, the Korean director's social commentary feels effortlessly injected into the intriguing drama of the story, where opportunities for financial and social advancement lead to unexpected—and tragic—revelations that leave both families forever changed. A black and white version was released in 2020; Bong Joon-ho felt it gave more weight to the performances.

Olivia Wilde's directorial debut gives coming-of-age movies a fresh coat of paint, focusing on two young overachieving girls and their efforts to get into their first-ever bit of trouble on the night before graduation. Beanie Feldstein and Kaitlyn Dever play Molly and Amy (respectively), two young women eager for life experiences as if they're checkmarks on their permanent record, only to get into some hijinks that change them forever. (At the behest of Wilde, Dever and Feldstein lived together for 10 weeks before and during the movie to strengthen their chemistry.) Alternately hilarious, heartbreaking, and eye-opening, Wilde presented a new side of her own creativity while delivering one of the year's most entertaining films.

Jennifer Lopez headlines this ripped-from-the-headlines drama about exotic dancers in New York City who decide to strip customers of their cash. Among their targets was a doctor who rang up $135,000 in bills at the strip club.

Jon Bernthal is a physically weathered former rodeo rider who crosses paths with a killer (Christopher Abbott) in a small town in this effective crime tale. Though it's steeped in American sensibilities, the script was written by Benjamin and Paul China, two brothers hailing from England and living in Australia.