The "Hendrick's High Wheel" Is a Cheeky Victorian Version of the Modern Stationary Bike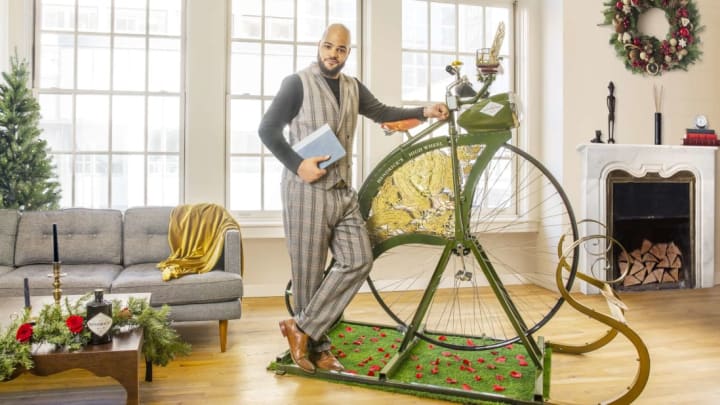 Who said Oxfords couldn't be gym shoes? / Hendrick's Gin
There's a limitless number of futuristic contraptions for toning down and bulking up every muscle in the human body. But some of us still long for the days when "exercising" entailed a leisurely stroll through the gardens.
The cheeky innovators at Hendrick's Not-So-Convenient Department of Technology have developed an apparatus that matches this sentiment exactly: the Hendrick's High Wheel. Like any good stationary bike, this gleaming green machine is stationary, and it's also a bike. But unlike its contemporary counterparts, you won't have to worry about gasping and sweating your way through a High Wheel workout.
You won't need a shower after this workout. / Hendrick's Gin
When penny-farthings—so named because the size discrepancy between the two wheels evoked British coins—were invented during the 19th century, they were meant to transport people with as little effort as possible. Hence the massive front wheels, which completed one full rotation with every turn of the pedals. Hendrick's version of the bicycle also values ease over exertion; and since you're not actually going anywhere, you're not at risk of toppling head-first over the handlebars, as befell so many Victorian cyclists.
The Hendrick's High Wheel lacks a touch screen, a tracking system, and all the other trappings of a high-tech stationary bike, but it does have a few bells and whistles of its own. Affixed to the front of the bicycle is a light bulb, illuminated by your pedaling power, and you can rest a well-worn Charles Dickens novel in the golden book stand. Directly to its left is a drink holder large enough for a 1-liter water bottle (or a more modestly sized cocktail). The High Wheel also features cucumber-shaped steps for easy mounting, and golden cucumbers etched onto the wheel that catch the afternoon sunlight—nods to the signature cucumber infusion in Hendrick's Gin.
Better for gin rats than gym rats. / Hendrick's Gin
At $2493, the Hendrick's High Wheel might not be for everyone. In fact, since there are only three in existence, it quite literally can't be. That said, you don't need to own the machine itself to enjoy what it stands for: a stiff drink, a good book, and a loose definition of exercise.