8 Unique Women-Owned Businesses You Can Support Right Now
In celebration of Women's History Month, we've curated a list of women-owned businesses that you can support on Amazon and Etsy. These shops offer original and handmade jewelry, games, decor, and accessories that highlight each owner's unique skills and passions. Check them out below.
1. Geschmeide Unter Teck
Geschmeide Unter Teck is a jewelry shop on Etsy started by German designer and typographer Isabell Kiefhaber. The name comes from Kiefhaber's hometown of Kirchheim unter Teck, along with the German word for jewelry, geschmeide. For her jewelry, Kiefhaber painstakingly recreates miniature versions of objects from everyday life and places them inside earrings, necklaces, bracelets, and more. One of Kiefhaber's most notable rings, an aquarium of fish swimming among stones and moss, was an Etsy Design Awards finalist.
"It [started] with my weakness for unusual rings. In 2010, I produced my first ring out of cast resin for myself as a project during summertime," Kiefhaber tells Mental Floss. What was once a small summer project is now a full-time business that she runs by herself—that includes taking photos, writing text, shooting videos, communicating with customers, and dealing with shipping.
She creates her unique designs out of cast resin and sterling silver like the knitting ring above. "I really like to raise ordinary objects [that] generally nobody pays attention to, into jewels with another viewpoint. In addition, I add materials like gold leaf, silver, or pearls," Kiefhaber says.
Shop the store: Etsy
2. Who's She? By Playeress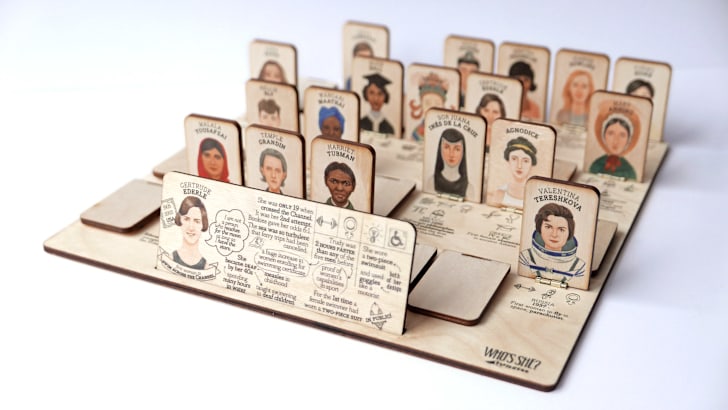 Zuzia Kozerska-Girard is a designer from Warsaw, Poland, who took inspiration from her daughter Leia to make her own version of the classic game Guess Who? called Who's She? But instead of identifying random cartoon figures, players have to pick out important women from history. Kozerska-Girard said her goal is to "create inspiring, motivating and durable games, [and] to bring into light those inspiring women we know and [don't] know."
This new version of the game, produced through her company Playeress, uses Baltic wood instead of plastic; features hand-drawn, water-colored portraits by artist Daria Gołąb; and is laser-cut by women in the Warsaw workshop. And the game is about more than just portraits—the pieces also provide background on these important women to highlight their achievements: Each round, you'll learn a little about trailblazers like paleontologist Mary Anning, activist Wangari Maathai, and suffragist Kate Sheppard. But deciding which women to add to the game was a lengthy process.
"I had this big whiteboard with all the women written on it, lots of post-its ... I tried to represent all domains, but I have intentionally tried to put more emphasis on less feminine professions," Kozerska-Griard says. That's why you'll see more scientists and inventors and fewer artists and musicians when playing Who's She?
Shop the store: Etsy
3. CA Souls
Childhood friends Chau Jessup and An Shoemake are the founders of the custom-made Morse code jewelry brand, CA Souls. "Being friends from a young age gave us the advantage of having similar backgrounds. Luckily as we grew older, our beliefs, values, and goals are also aligned," Jessup tells Mental Floss. "Although it was very organic how CA Souls was born, I believe it happened because, in our hearts and minds, we both had a burning intention of starting a business."
The duo set out to make custom jewelry with a personal touch, and during their research on coded messages, they discovered Morse code would be the perfect solution to incorporate into their work.
"As the creators, we [wondered] if there would be a way to let the customers include personal messages in the gifts to make them even more meaningful but still maintain the artistic design of the jewelry pieces and the secrecy of the messages. We knew that the message would have to be coded to satisfy all the requirements above," Jessup says.
They launched their first Morse code collection in 2016 and have been getting positive feedback ever since. The store itself allows you to customize Morse code messages on bracelets, keychains, earrings, and more.
Shop the store: Etsy
4. Literary Emporium
After finishing her English degree in 2012, Rio Brown decided to combine her love of the written word and her passion for handmade crafts to create her store, Literary Emporium. The designer, who lives in Frome, Somerset, England, has since expanded her business into clothing, pins, stationery, jewelry, and accessories that include quotes from notable works.
"The quotes that inspire our work are taken directly from my [favorite] novels and poems," Brown says. Fans of writers like Emily Brontë, Virginia Woolf, and Edith Wharton will find their quotes scattered across the products. "My love of gothic literature in particular inspired our first products, and we took delight in taking our [favorite] passages and quotes and trying to imagine the design that would best represent each passage or extract that we chose," Brown says.
The brass bookmark above in the shape of a serpent with the Lady Macbeth quote, "Look like the innocent flower but be the serpent under it," will undoubtedly catch the eye of Shakespeare fans. "We're currently developing a range of brass bookmarks and 2021 promises to be another year of exciting products," Brown says.
Shop the store: Etsy
5. xNStudio by Nasozi

Ugandan-American designer Nasozi Kakembo used to work in international human rights before starting her full-time home décor business, xNStudio. The decision came from her wanting to do more with her education and passion combined with the logistics of being a working mother who has to also contend with her child's school schedule. "Many families have long felt this crunch, and the pandemic has demonstrated in part how unnecessary it was, but we were bound to it out of outdated habit," Kakembo tells Mental Floss.
A former member of the Bed-Stuy community in Brooklyn, New York, Kakembo blends African-inspired textiles with the neighborhood's vibrant culture and infuses it into her designs and business practice. Her shop, which was voted 2021's Best African Accents Shop in America by House Beautiful, characterizes itself as a home and lifestyle store without borders, and you can find her unique designs on pillows, face masks, chair covers, and more. Kakembo explains that even though she isn't into fashion, the street style and people of Bed-Stuy and greater Brooklyn inform her work.
"The practicality of it while keeping it beautiful results in a minimalist 'mash-up' that also characterizes my work. Materials and designs that you wouldn't naturally assume work together end up complementing and amplifying one another," Kakembo says.
Shop the store: Etsy
6. Persistent Sisters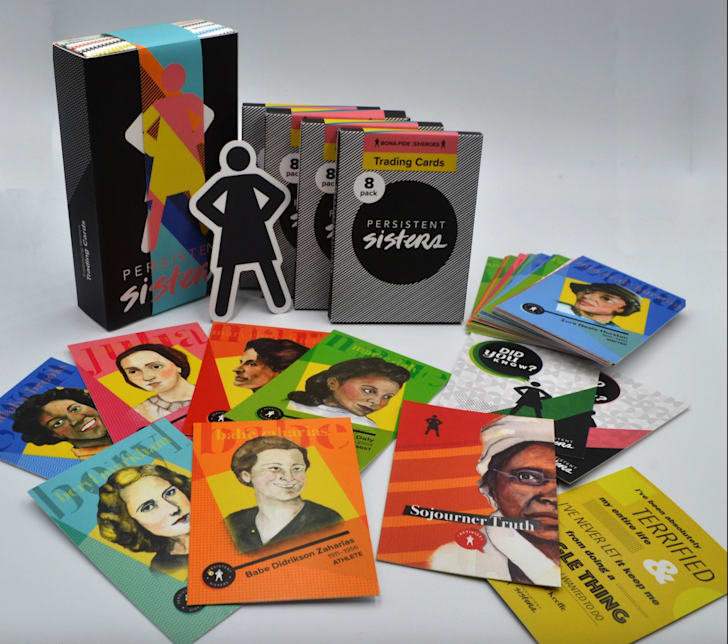 When artist Ellen Schaeffer's son found a community of sports trading card fans to bond with, she was motivated to create a similar communal experience for her 14-year-old daughter. With an eye on positive role models, she started Persistent Sisters, an illustrated trading card line with influential women from history at the forefront.
"I found myself wishing that my daughter had an interest and a similar network of young women. Using the trading card format, would it be possible to create a similar sense of community and interaction for young women and a deep knowledge of their collective history?" Schaeffer says. Schaeffer kept thinking about this question and decided to research influential women, illustrate them, and gather stories.
"I learned more about women I thought I was already familiar with and discovered many women that were new to me. I wanted to reproduce this experience in the cards, expanding on the already familiar stories and including women that were not as well known," Schaeffer says. She was able to split the influential women into different categories based on professions, such as writers, activists, and artists, as well as historical movements. In the packs, you'll find familiar faces like Vice President Kamala Harris and writer Virginia Woolf alongside lesser-known figures like Native American activist and writer Zitkála-Šá and Amrita Sher-Gil, called by The New York Times, "a pioneer of modern Indian art."
Shop the store: Etsy
7. MustardFringe
Kate Guzman, a nurse and midwife student, started her Etsy store, MustardFringe, during the coronavirus pandemic. "I needed some positivity in my life. I've always loved crafting, so starting a little shop was the perfect solution," Guzman tells Mental Floss.
MustardFringe features handmade home decor and clothing items based on literary puns like "When it rains, it Poes," featuring Edgar Allan Poe; famous quotes from notable figures, like the late Supreme Court Justice Ruth Bader Ginsburg; and motivational sayings with universal messages of love and acceptance.
"The quotes and products I choose to incorporate into my shop are reflective of the incredible experiences I have with strong women every day," Guzman says. "My goal for MustardFringe is to spread compassion and kindness while empowering women to recognize their own strength." Each piece in Guzman's shop is handmade to order, so customers know they are getting something truly unique.
Shop the store: Etsy
8. Date Lady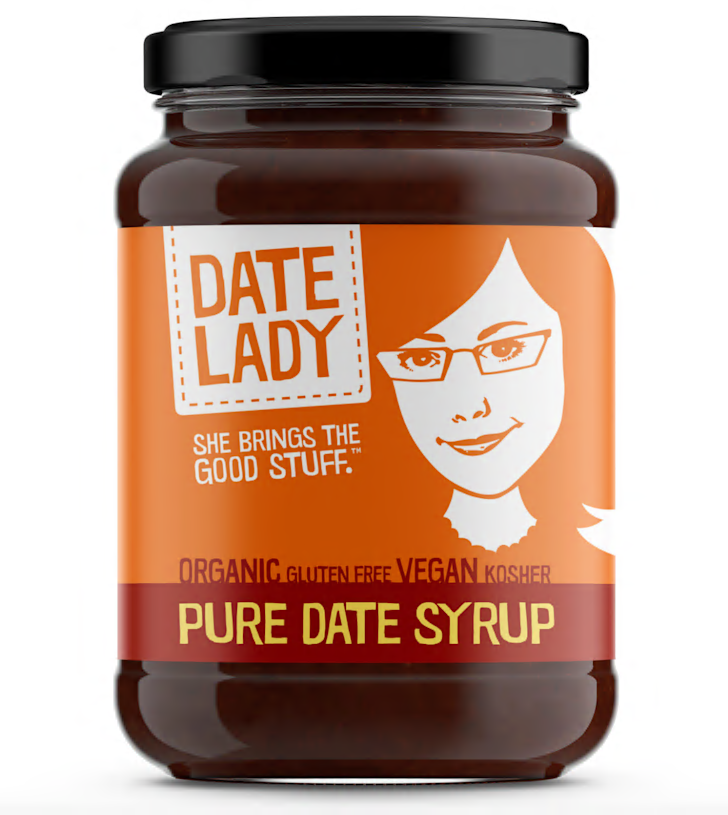 Colleen Sundlie discovered the power of dates while living in the United Arab Emirates. It's a fruit with many uses, one of them being a syrup that can be used on virtually everything as an alternative sweetener. Since the popularity of dates, let alone date syrup, had yet to really reach the United States, Sundlie brought suitcases of the precious fruit and liquid home after her travels.
Seeing a hole in the market, Sundlie started her own company, Date Lady, in May 2012, offering date syrup, date sugar, and more. "Americans have responded very well to date syrup! When we first started Date Lady, there was no U.S. date syrup brand, so we spent a lot of time educating customers on its uses and benefits," Sundlie says.
The evolution from an obscure new sweetener to a popular product has been exponential. Sundlie explains that date syrup is a staple in recipes from notable chefs like Yotam Ottolenghi and Nik Sharma, and it's even catching on throughout social media. And Date Lady is continuing to ride this wave of popularity. "We are currently making plans to expand our production facility to provide [much-needed] space and larger equipment to meet the [ever-increasing] demand. We have a couple [of] new products up our sleeves—including one launching in spring," Sundlie says.
Shop the store: Amazon
Sign Up Today: Get exclusive deals, product news, reviews, and more with the Mental Floss Smart Shopping newsletter!